Lemony Chicken Kabab Recipe | Food Diaries | Zarnak Sidhwa | Desi Food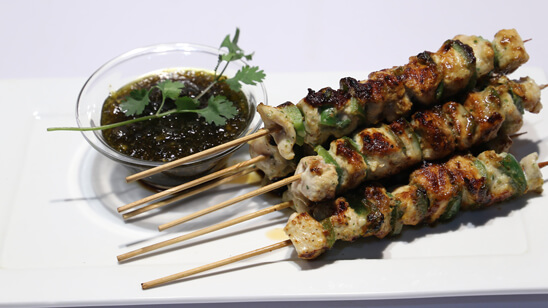 Oct 21, 2021 at 08:27 AM (GMT -04:00)

Check out the Lemony Chicken Kabab Recipe in Urdu. Learn how to make best Lemony Chicken Kabab Recipe , cooking at its finest by chef Zarnak Sidhwa at Masala TV show Food Diaries. Check all the Pakistan Cooking recipes in Urdu of Masala TV. Also Check Lemony Chicken Kabab Recipe , ingredients and complete Method.
This is just the kind of food you need to make for a family get together to earn yourself some praise for your cooking skills. This Lemony Chicken Kabab will be loved by all !
Watch this Masala TV video to learn how to make Lemony Chicken Kabab and Double Chocolate Banana Bread Recipes. This show of Food Diaries with Chef Zarnak Sidhwa aired on 24 September 2020.
Ingredients:
Garlic (chopped) 4 cloves
Ginger (sliced) 1 inch piece
Coriander leaves 2 cups
Refrigerated lemonade 1 cup
Spring onion 1
Olive oil 2 tbsp
Salt and pepper to taste
Chicken breast (cubed) 1/2 kg
Capsicums (cubed) 2
Method:
In a blender, pulse garlic, ginger, coriander, lemonade, spring onion, olive oil, ½ tsp salt, and ¼ tsp pepper until finely chopped; put half of the mixture to marinate the chicken. Let sit 20 minutes. Transfer remaining mixture to a small saucepan and simmer until thickened, 8 minutes. Heat a grill to medium. Thread chicken and capsicums onto earlier soaked skewers; discard marinade. Lightly oil the grill pan, then grill kebabs, turning occasionally, until just cooked through, 8 to 12 minutes. Serve with reduced sauce.
Ingredients:
Flour 1 1/2 cups
Cocoa powder 1/2 cup
Baking soda 1 tsp
Baking powder 1/2 tsp
Sea salt 1/2 tsp
Eggs 2
Ripe bananas 3 (large)
Yogurt 1/2 cup
Maple syrup 1/4 cup
Brown sugar 1/4 cup
Vanilla essence 1 tsp
Chocolate chips 1/2 cup
Method:
Mix flour, cocoa, baking soda, baking powder and salt. Beat the eggs. Add mashed bananas, yogurt, maple syrup, brown sugar and vanilla. Stir until well combined. Pour the wet ingredients into the dry ingredients and stir gently (do not overmix). Fold in the chocolate chips. Pour the batter into a greased and lined loaf pan, bake at 180 degrees C for 50-55 minutes, or until a toothpick inserted into the center comes out clean. If necessary, cover with foil to prevent the top from getting too brown, after 30 minutes of baking. Remove from the oven and let cool for about 10 minutes in the loaf pan, before transferring to a cooling rack to cool completely.

Lemony Chicken Kabab Recipe in Urdu and English
At Masala TV you can check complete Lemony Chicken Kabab Recipe in Urdu and English. This is one of the best recipes by chef Zarnak Sidhwa at Masala TV show Food Diaries. Check out the other best recipes of chefs Zarnak Sidhwa.
Top relevant recipes of Lemony Chicken Kabab Recipe in Urdu