Macaroni Keema Recipe | Tarka | Continental Food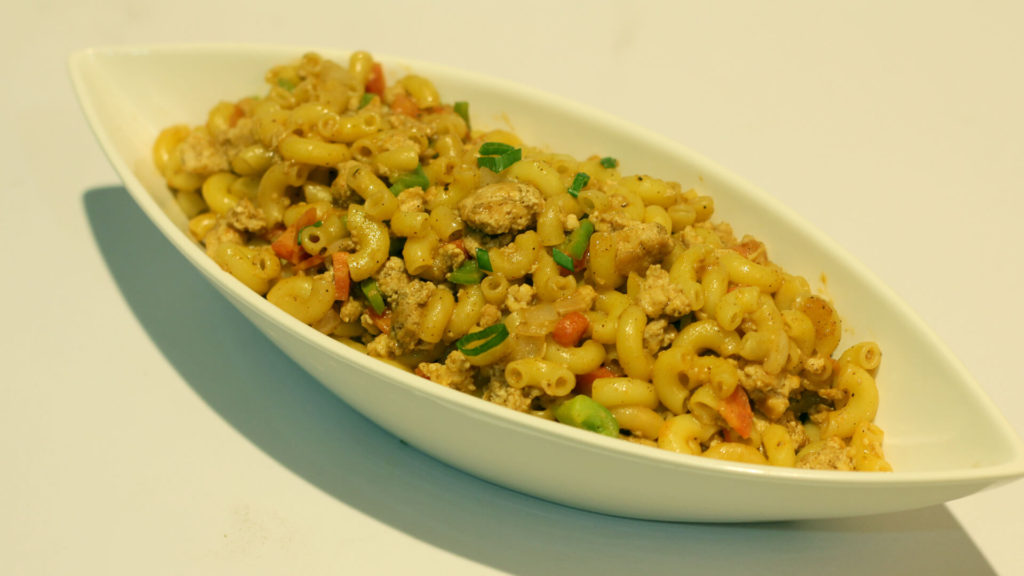 Jun 10, 2023 at 03:10 AM (GMT -04:00)

Check out the Macaroni Keema Recipe in Urdu. Learn how to make best Macaroni Keema Recipe, cooking at its finest by chef Rida Aftab at Masala TV show Tarka. Check all the Pakistan Cooking recipes in Urdu of Masala TV. Also Check Macaroni Keema Recipe, ingredients and complete Method.
Some food mixtures never grow old. Macaroni Keema has a nostalgic feel to it that you need to try today!
Watch this Masala TV video to learn how to make Macaroni Keema,Fried Gola Kabab and Degi biryani Recipes. This show of Tarka with Chef Rida Aftab aired on 17 January 2020.
INGREDIENTS:
Boiled Macaroni 1 packet
Chicken Minced ½ kg
Onions 2
Tomatoes 2
Capsicum 1 cup
Carrots 1 cup
Tomato Ketchup ½ cup
Ginger Garlic 2 tsp
Black Pepper 1 tsp
Salt 1 tsp
All Spices Powder 1 tsp
Worcestershire Sauce 4 tbsp
Finely Chopped Green Chilies 1 tbsp
Milk 1 cup
Oil 3 tbsp
Butter 50 gm
METHOD:
In ½ kg chicken mince, add 2 tsp ginger garlic, ½ tsp salt and 1 cup water and tender it. When chicken mince is done, then turn off the stove. Now heat the oil and add 2 finely chopped onions. When it becomes golden brown, then add the onions in the chicken mince and cook it on high heat. Then add 1 tsp black pepper, 1 tsp salt, 1 tsp all spices powder, 4 tbsp Worcestershire sauce, 1 tbsp finely chopped green chilies, 1 cup milk, 2 tomatoes, 1 cup capsicum, 1 cup carrots and ½ cup tomato ketchup. In the end, add 1 packet boiled macaroni and put it on simmer for 5 minutes.
Ingredients:
Beef mince ½ kg
Fried onion 250 gm
Egg 1
Ginger garlic paste 1 tbsp
Yogurt 4 tbsp
Coconut 4 tbsp
Red chili powder 2 tsp
Mace ½ tsp
Nutmeg ½ tsp
All spice powder ½ tsp
Oil as required
Papaya 2 tbsp
Green chilies 4
Salt 1 tsp
Method:
In the beef mince add fried onion, ginger garlic paste, coconut, green chilies, papaya paste, red chili powder, and all spice powder, mace, nutmeg and salt. Mix well. Now add yogurt and egg. Mix well and leave it for 1 hour. Then make gola kababs out of it and shallow fry in the hot oil.
Ingredients:
Sela rice(boiled) ½ kg
Potatoes 3
Boiled beef ½ kg
Yogurt 250 gram
Tomatoes 250 gram
Green chili paste 2 tbsp
Coriander powder 2 tsp
Salt 2 tsp
Crushed red chilies 2 tsp
Red chili powder 1 tsp
Turmeric ½ tsp
Mix garam masala 1 tbsp
Anise seed 4
Nutmeg powder ½ tsp
Mace powder ½ tsp
Chaat masala 2 tsp
Finely cut ginger `1 tbsp
Ginger garlic paste 1 tbsp
Plum 50 gram
Curry leaves 6
Green coriander ½ bunch
Mint leaves ½ bunch
Yellow food color ½ tsp
Oil 1 cup
Fry onion as required
Whole all spice as required
Method:
In a bowl mix water, yogurt, crushed red chilies, turmeric, red chili powder, salt, oil, mix gram masala, whole garam masala, ginger garlic paste, Chinese salt, nutmeg powder, mace powder and anise seed. Now put this in a pan, add boiled meat and cook for 10 minutes. Then add aalu and cook well. When they are half done then mix yellow food color in yogurt and spread over it. Now add fry onion, slice tomatoes, plum, green coriander, mint leaves, chaat masala, curry leaves and finely cut ginger and then add boiled rice. Now add oil and leave on dum for half an hour then turn off the flame.

Macaroni Keema Recipe in Urdu and English
At Masala TV you can check complete Macaroni Keema Recipe in Urdu and English. This is one of the best recipes by chef Rida Aftab at Masala TV show Tarka. Check out the other best recipes of chefs Rida Aftab.
Top relevant recipes of Macaroni Keema Recipe in Urdu