Malfatti Recipe | Food Diaries | Chef Zarnak Sidhwa | Traditional Food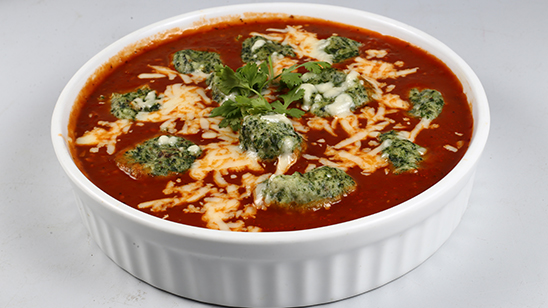 Sep 27, 2023 at 10:23 AM (GMT -04:00)

Check out the Malfatti Recipe in Urdu. Learn how to make best Malfatti Recipe , cooking at its finest by chef Zarnak Sidhwa at Masala TV show Food Diaries. Check all the Pakistan Cooking recipes in Urdu of Masala TV. Also Check Malfatti Recipe , ingredients and complete Method.
Enjoy the taste of this Malfatti recipe with your family and friends.
Watch this Masala TV video to learn how to make Malfatti , Apple Pie Smoothie Bowl and Namkeen Chaat Recipes. This show of Food Diaries with Chef Zarnak Sidhwa aired on 27 July 2021.
Ingredients:
Olive oil 1 tbsp
Spinach 500gm
Ricotta cheese 250gm
Fresh breadcrumbs 50gm
Parmesan cheese (grated) 50gm
Eggs 2
Semolina 1 tbsp
Nutmeg a pinch
Salt and pepper to taste
Red pasta sauce 2 cups (to serve)
Cheese (grated) to garnish
Method:
Heat the oil and wilt the spinach, about 2-3 minutes. Tip the spinach into a colander and press out any excess liquid using the back of a spoon. Leave to cool completely. Squeeze out any remaining liquid with your hands, then finely chop the spinach. Tip the chopped spinach into a bowl with the ricotta cheese, breadcrumbs and parmesan. Add the eggs and semolina. Season and add nutmeg. Stir to form an evenly combined, sticky mixture. Spoon around ½ tbsp of the spinach mixture onto a floured tray and roll into a ball. Bring a large pan of salted water to the boil. Drop in the malfatti in batches and simmer for 2 minutes, or until they float to the surface. Scoop the malfatti out with a slotted spoon and drain well. When ready to serve, pour the red pasta sauce over the malfatti and top with more grated cheese.
Ingredients:
Apple 1
Yogurt 1/4 cup
Water 2 tbsp
Oats 1 1/2 tbsp
Maple syrup 1 tbsp
Ground cinnamon 1/2 tsp
Coconut oil 1 tbsp
Apple 1
Maple syrup 1 tbsp
Ground cinnamon 1/2 tsp
Toasted walnuts 1/3 cup
Husk 2 tbsp
Method:
Blend the yogurt, water, oats, maple syrup and ground cinnamon. Heat the coconut oil, add in chopped apple, maple syrup and cinnamon and sauté until the apple is al dente. Pour the smoothie into a shallow bowl. Top with sautéed apple, walnuts, husk and serve immediately.
Ingredients:
Potato salli 1/4 cup
Mix nimco 1/4 cup
Chewra 1/4 cup
Gathiya 1/4 cup
Sev 1/4 cup
Namak paray 1/4 cup
Spicy peanuts 1/4 cup
Spicy channa 1/4 cup
Onion (chopped) 1
Tomato (chopped) 1
Raw mango (chopped) 2 tbsp
Roasted cumin powder 1/2 tsp
Green chilies (chopped) 1-2
Chaat masala 1/2 tsp
Coriander leaves 2 tbsp
Dried mango powder 1/2 tsp
Red chili powder 1/2 tsp
Salt a pinch
Lemon juice 1
Method:
Mix all the ingredients well. Transfer into paper cones and serve immediately.

Malfatti Recipe in Urdu and English
At Masala TV you can check complete Malfatti Recipe in Urdu and English. This is one of the best recipes by chef Zarnak Sidhwa at Masala TV show Food Diaries. Check out the other best recipes of chefs Zarnak Sidhwa.
Top relevant recipes of Malfatti Recipe in Urdu