Milkshakes Recipe | Food Diaries | Zarnak Sidhwa | Beverage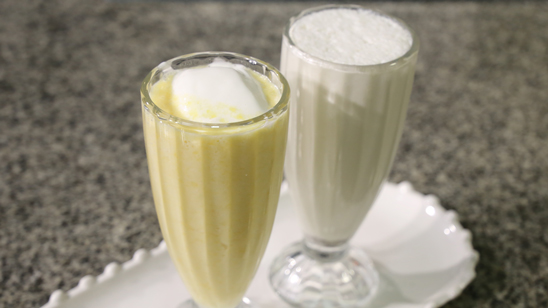 May 31, 2023 at 12:12 PM (GMT -04:00)

Check out the Milkshakes Recipe in Urdu. Learn how to make best Milkshakes Recipe , cooking at its finest by chef Zarnak Sidhwa at Masala TV show Food Diaries. Check all the Pakistan Cooking recipes in Urdu of Masala TV. Also Check Milkshakes Recipe , ingredients and complete Method.
You can never go wrong with Milkshakes in Ramadan. Have these milkshakes at Sehri time and it will keep you energized all throughout the day!
Watch this Masala TV video to learn how to make Milkshakes and Mutton Masala Recipe. This show of Food Diaries with Zarnak Sidhwa aired on 28 April 2020.
Coconut milkshake Ingredients:
Coconut 1
Coconut meat 2 cups
Coconut water 3/4 cup
Cold milk 2 cups
Ice cubes as required
Sugar syrup 3-4 tbsp
Cardamom powder 1/2 tsp
Vanilla ice cream 2 scoops
Peach and almond milkshake Ingredients:
Pineapple 1 cup
Peaches 2 cups
Almonds (blanched) 1/4 cup
Sugar 2-3 tbsp
Vanilla ice cream 2 scoops
Crushed ice as required
Milk 2 cups
Method:
Coconut:
Take a coconut, make hole and take out the coconut water.Take out the coconut meat from coconut.In a blender add coconut meat, coconut water, cold milk, sugar, cardamom powder, ice cubes, vanilla ice cream and blend it well.Pour in a serving glass and garnish with roasted coconut flakes.Your coconut milk shake is ready to serve.
Peach and almond:
In a blender add everything and blend it well.Pour the shake in a serving glass, add a scoop of vanilla ice cream.Garnish with peach slice and serve chilled.
Ingredients:
Mutton 1 kg
Curd 200 gm
Garlic 1 tsp
Ginger 1 tsp
Red chili 1 tsp
Cumin powder 1 tsp
Chili sauce 1 tbsp
all spice powder 1 tsp
Coriander powder 1 tsp
Salt 1 tsp
Clarified butter 2 tbsp
Cardamoms 5
Black peppercorns 6
Cloves 6
Cinnamon stick 1
Bay leaf 1
Onions 2
Coriander for garnishing
Method: 
Mix mutton, curd, garlic, ginger, red chili, cumin powder, chili sauce, all spice powder, coriander powder, salt well. Marinate for 2 hours. Heat clarified butter, add cardamoms, black peppercorns, cloves, cinnamon stick, bay leaf, onions and fry till golden. Remove from heat and transfer this into a blender.
Blend it into a paste and keep aside. Heat more ghee in a pan, add the marinated mutton in it and cook covered until done, add the blended onion paste and cook for another 10 minutes. Garnish with coriander.

Milkshakes Recipe in Urdu and English
At Masala TV you can check complete Milkshakes Recipe in Urdu and English. This is one of the best recipes by chef Zarnak Sidhwa at Masala TV show Food Diaries. Check out the other best recipes of chefs Zarnak Sidhwa.
Top relevant recipes of Milkshakes Recipe in Urdu