Mohinga Recipes | Food Diaries | Zarnak Sidhwa | 22 Sep 2022 | Fast Food | Masala Tv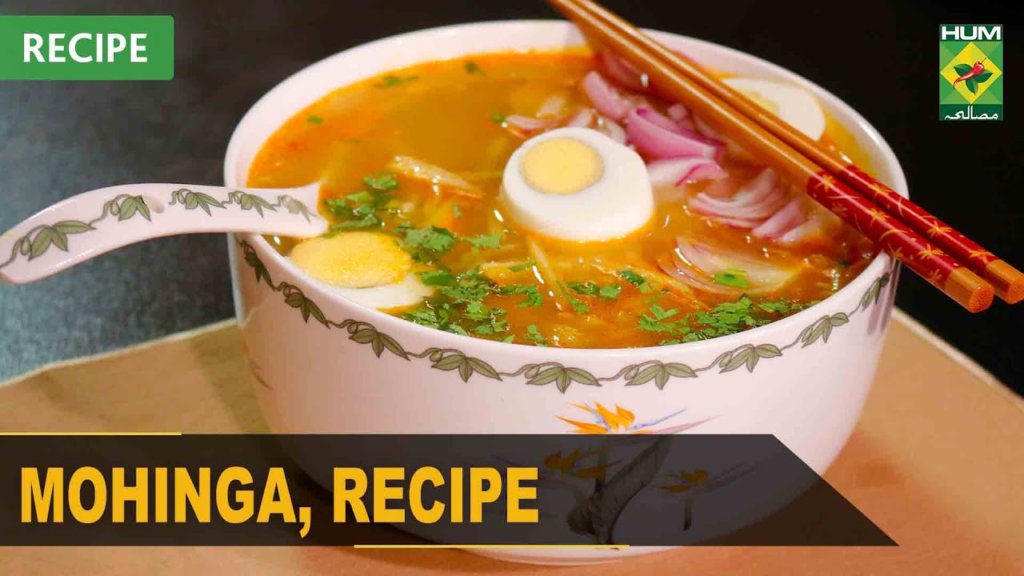 Sep 25, 2023 at 03:23 PM (GMT -04:00)

Check out the Mohinga Recipes in Urdu. Learn how to make best Mohinga Recipes , cooking at its finest by chef Zarnak Sidhwa at Masala TV show Food Diaries. Check all the Pakistan Cooking recipes in Urdu of Masala TV. Also Check Mohinga Recipes , ingredients and complete Method.
Subscribe To Masala TV Recipes YouTube Channel! https://bit.ly/MasalaTV
Who doesn't love Mohinga Recipe. Make this recipe at home and you'll love it.
#Mohinga #MagicCookieBars #food #pakistanifood #masalatv
This show of Food Diaries with Zarnak Sidhwa aired on 22 September 2022.
If you enjoy cooking Pakistani food and are looking for recipes, videos of LIVE shows, totkas, and other food stories in both Urdu and English, subscribe to this YouTube channel or go to our Website: https://www.masala.tv/
Ingredients:
For The Stock:
Water 3 cups
Lemongrass, cut into 3-inch pieces 3 stalks
Ginger thickly sliced crosswise 1"
Bay leaves 5
Ground black pepper 1 1/2 tsp
Ground white pepper 1/2 tsp
Salt 2 tsp
Fish ½ kg
For The Soup:
Oil 1/3 cup
Lemongrass, minced 1 stalk
Minced garlic 1/4 cup
Minced ginger 3 tbsp
Paprika 1 tbsp
Turmeric 1 tsp
Onions, diced 2
Fish sauce 1/4 cup
Salt a pinch
Rice noodles 10 oz
For The Serving:
Hard boiled eggs, sliced 3
Chopped coriander 1/2 cup
Lemons, cut into wedges 2
Thinly sliced onion 1
Method:
For the mohinga, spread the rice across a baking pan and bake at 180 degrees C, giving the pan an occasional stir, until the rice is an even golden color and aromatic, for about 20 minutes. Cool to room temperature and grind. To make the broth, boil fish with the water, lemongrass, ginger, bay leaves, black and white pepper and salt. Simmer for 15 minutes or until the fish is done and let cool and then strain the stock and flake the fish, discarding bones and skin. Strain the broth through a fine strainer. Put it in a clean pan and simmer again. In a bowl, whisk together the powdered rice and a ladleful of the stock until no lumps remain. Stir into the broth. To make the soup, heat the oil. Add the lemongrass, garlic and ginger and stir-fry for 1 minute. Add the cooked fish, paprika, and turmeric, mashing the fish gently with a spoon to turn it into a coarse paste, and cook for about 1 minute. Pour the contents of the wok into the broth and bring to a brisk simmer. Add the onions and fish sauce. To serve, divide the boiled noodles among the bowls. Ladle the soup over the noodles and serve the hard-boiled eggs, crackers, coriander and lemon wedges alongside.
Ingredients:
Salted butter, melted 1/2 cup
Biscuit crumbs 1 1/2 cups
Condensed milk 1 can
Chocolate, chopped 2 cups
Flaked coconut 1 1/3 cups
Chopped nuts 1 cup
Method:
Combine the biscuit crumbs and the salted butter. Press the mixture into the bottom of a pan. Pour the condensed milk over the crust. Sprinkle even layers of the chocolate, coconut and the nuts. Press down firmly with the back of a spoon into the condensed milk Bake at 180 degrees C for 25 minutes until lightly browned. If you notice the top browning too fast you can cover with a piece of foil for a few minutes and keep baking. Remove and cool. Cool the bars completely before slicing.

Mohinga Recipes in Urdu and English
At Masala TV you can check complete Mohinga Recipes in Urdu and English. This is one of the best recipes by chef Zarnak Sidhwa at Masala TV show Food Diaries. Check out the other best recipes of chefs Zarnak Sidhwa.
Top relevant recipes of Mohinga Recipes in Urdu