Mutton Kunna Recipe | Tarka | Rida Aftab | Desi Food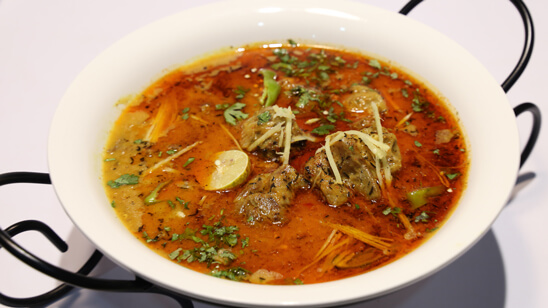 Jul 01, 2022 at 06:28 PM (GMT -04:00)

Check out the Mutton Kunna Recipe in Urdu. Learn how to make best Mutton Kunna Recipe , cooking at its finest by chef Rida Aftab at Masala TV show Tarka. Check all the Pakistan Cooking recipes in Urdu of Masala TV. Also Check Mutton Kunna Recipe , ingredients and complete Method.
What better than Mutton Kunna to have on a weekday to enjoy? Have it with a naan and you'll enjoy it even more!
Watch this Masala TV video to learn how to make Mutton Kunna, Masala Murgh Sabzi and Makhni Garlic Naan Recipes. This show of Tarka with Chef Rida Aftab aired on 5 August 2020.
Ingredients:
Mutton ½ kg
Onions (chopped ,large) 2
Clarified butter 1 cup
Flour ½ cup
Water ¼ cup
Ginger garlic paste 1 tbsp
Turmeric powder ¼ tsp
Black cumin seeds 2 tsp
Red chili powder 3 tsp
Coriander powder 1-1/2 tsp
Salt 1-1/2 tsp
All spice 1 tsp
Yogurt 250 gm
Coriander leaves, green chilies for garnish
Method:
In a pot, heat ghee add onions and fry.
add beef af shank,ginger garlic paste, water, red chili powder, coriander powder,salt, turmeric powder,yogurt and fry well.
Now add water cover it and cook untill mutton are tenders and apply flour in sides let it cook on 1 hour.
Flour dissolve in water and make paste and pour it.
In the end, aadd black cumin seeds, cover it and let it cook untill ghee boil the surfaces.
Removes from the stove, add garam masala powder, green chillies and coriander.
Delicious mutton kunna is ready.
Ingredients:
Chicken (boneless) ½ kg
Crushed red chili 1 tsp
Turmeric ½ tsp
Salt ½ tsp
Cumin 1 tsp
Soy sauce 1 tbsp
Worcestershire sauce 1 tbsp
Ketchup 4 tbsp
Capsicum 2
Onion 2
Carrot 2
Green chilies 3
Butter 4 tbsp
Oil 4 tbsp
Ginger garlic 1 tbsp
Tomato 1
Method:
Heat oil and add ginger garlic. By the time add chicken and tomato and saute well. Now add crushed red chili, turmeric, salt, cumin, soy sauce, Worcestershire sauce and ketchup and cover for 10 minutes. In a separate pan heat oil and butter and slightly fry finely cut vegetables in it. Now add them in chicken. Then add green chilies and put it on dum for 5 minutes.
Ingredients:
White flour ½ kg
Yeast 2 tsp
Salt ½ tsp
Oil 4 tbsp
Hot water as required
Garlic chopped 2 tbsp
Green coriander 2 tbsp
Butter 50 gm
Method:
In a bowl mix yeast, salt, flour and oil with hot water, knead well. Leave for 1 hour. When dough rise, knead it again. Make naan from the batter. In separate bowl add garlic, coriander and butter mix well. Apply on naan and bake at 180 C for 30 minute.

Mutton Kunna Recipe in Urdu and English
At Masala TV you can check complete Mutton Kunna Recipe in Urdu and English. This is one of the best recipes by chef Rida Aftab at Masala TV show Tarka. Check out the other best recipes of chefs Rida Aftab.
Top relevant recipes of Mutton Kunna Recipe in Urdu