Orange Chocolate Shot Glasses Recipe | Masala Mornings | Shireen Anwar | Dessert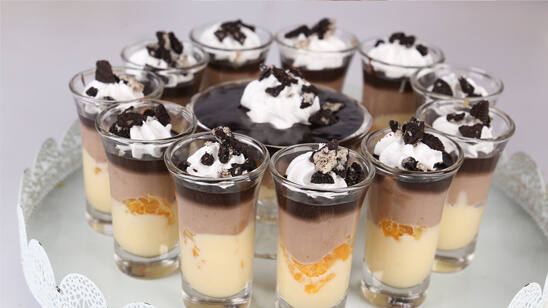 Sep 24, 2023 at 12:33 PM (GMT -04:00)

Check out the Orange Chocolate Shot Glasses Recipe in Urdu. Learn how to make best Orange Chocolate Shot Glasses Recipe , cooking at its finest by chef Shireen Anwar at Masala TV show Evening with Shireen. Check all the Pakistan Cooking recipes in Urdu of Masala TV. Also Check Orange Chocolate Shot Glasses Recipe , ingredients and complete Method.
Orange Chocolate Shot Glasses has the perfect combination of chocolate with orange. It makes a remarkable dessert that you must have; enjoy the orange season this time like never before.
Watch this Masala TV video to learn how to make Orange Chocolate Shot Glasses , Alfredo lasagna and Katakat qeema Recipes. This show of Masala Mornings with Shireen Anwar aired on 7 January 2021.
Ingredients:
Vanilla custard 2 cups
Chocolate pudding mix 1 packet
Chilled milk 2 cups
Orange chopped 2 cups
Sugar ½ cup
Lemon juice 2 tbsp
Cookies 1 cup
Fresh cream whipped 1 cup
Chocolate grated 150 gm
Cream 200 gm
Method:
Mix 2 cups chilled milk with 1 cup chocolate pudding, beat till chill, melt 100 gm chocolate with 3 tbsp cream to make ganache, cook 2 cups orange chopped with ½ cup sugar, also add 2 tbsp lemon juice, keep aside.
To assemble:
In shot glasses first put 2 tbsp of vanilla custard in each glass then the orange, pipe chocolate pudding mixture, top with ganache and 1 put oreo for garnishing with piped cream. Serve chilled.
Alfredo lasagna:
Ingredients
Lasagna sheet boiled 8
Chicken boneless cut in cubes 500 gm
Cheddar cheese grated 2 cups
Ingredients for chicken
Garlic paste 1 tbsp
Crushed red pepper 1 tsp
Salt 1 tsp
Black pepper 1 tsp
Vinegar 3 tbsp
Oregano 1 tsp
Chicken powder 1 tsp
Oil ¼ cup
Ingredients for sauce
Butter 3 tbsp
Cream 2 cups
Cream cheese ½ cup
Chopped garlic 1 tbsp
Milk 2 cups
Grated cheddar cheese 1 cup
Black pepper crushed 1 tsp
Garlic powder 1 tsp
Chicken powder 1 tsp
Salt ½ tsp
Oregano 1 ½ tsp
Soya sauce 2 tbsp
Worcestershire sauce 1 tbsp
Parsley 1 tbsp
Ingredients for topping
Oregano as required
Parsely as required
Black olives as required
Method for chicken
Heat oil in a pan, add chicken cubes with garlic paste, fry for 2 mins, add salt, pepper, chili powder, chicken powder, oregano and vinegar, and remove chicken. Now prepare garlic alfredo sauce.
Method for alfredo sauce
Heat butter in a pan, fry garlic, add in cream, milk, cream cheese, grated cheddar cheese and all the remaining ingredients mentioned in the ingredients, when mixture slightly thick, remove from heat.
To assemble
Arrange boiled lasagna sheet in a glass ovenproof dish, spread a generous amount of sauce, then spread grated cheddar cheese, then spread chicken mixture, again some cheese, cover with next layer of lasagne strips, repeat layers till the last layer is lasagne sheet, now cover top with remaining sauce, grated cheese, arrange sliced olives, parsley and oregano on top, bake for 20 mins till the cheese melts.
Katakat qeema:
Ingredients
Boneless chicken 500 gm
Water ½ cup
Tomatoes finely minced 4
Onion finely minced 1 ½ cup
Green chilies 6
Ginger coarsely minced 1 tbsp
Garlic 2 tbsp
Yogurt ½ cup
Lemon juice ½ cup
Chopped coriander leaves ½ cup
Roasted grounded coriander 2 tbsp
Roasted grounded cumin 1 tbsp
Cardamom powder ¾ tsp
Turmeric ½ tsp
Chili powder 1 ½ tsp
Crushed red pepper ½ tsp
Chat masala ½ tsp
Allspice ½ tsp
Clarified butter ½ cup
Salt 1 tsp
Fenugreek dried 1 tsp
Butter 2tbsp
Method|:
Heat a big tawa, put chicken mince with water, spread the mince in the center of the tawa, cover with a lid, cook on medium flame for 5 mins, now open the lid and add ghee and start frying the mince, now add ginger garlic, green chilies, onion and tomatoes, take 2 flat metal spoons and start mixing the onion, tomatoes and ingredients with spoons, chopping well, add in all the dry spices and continue to do katakat with the spoons, add yogurt, coriander leaves and lemon juice, again cover and cook for 10 mins, lastly add kasuri methi, coriander leaves, cook until ghee separates.

Orange Chocolate Shot Glasses Recipe in Urdu and English
At Masala TV you can check complete Orange Chocolate Shot Glasses Recipe in Urdu and English. This is one of the best recipes by chef Shireen Anwar at Masala TV show Evening with Shireen. Check out the other best recipes of chefs Shireen Anwar.
Top relevant recipes of Orange Chocolate Shot Glasses Recipe in Urdu