Paella & Spanish Sangria Recipe | Fusion Food | Chef Mahnoor Malik | 25 October 2022 | Masala Tv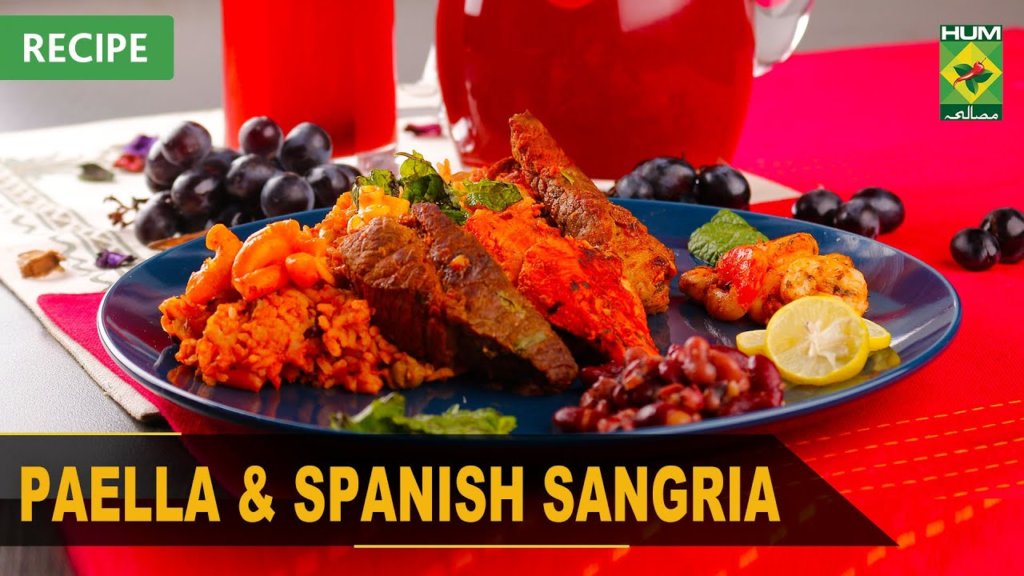 Dec 11, 2023 at 04:19 AM (GMT -05:00)

Check out the Paella & Spanish Sangria Recipe in Urdu. Learn how to make best Paella & Spanish Sangria Recipe , cooking at its finest by chef Mahnoor Malik at Masala TV show Fusion Food. Check all the Pakistan Cooking recipes in Urdu of Masala TV. Also Check Paella & Spanish Sangria Recipe , ingredients and complete Method.
This show is hosted by Chef Mahnoor Malik who gives a personalized fusion twist to international cuisines. The chef also makes sure to provide a calorie count for each dish in the episode as well as to mention healthy substitutes for the ingredients to ensure a touch of healthiness in her dishes.
We bet you have never had as good as this one!
#paellarecipe #SpanishSangria #masalatv
Watch this Masala TV video to learn how to make Paella And Spanish Sangria recipe.
Calories 645
Fats 26.1 gm
Carbs 63.3 gm
Protein 36 gm
Serving size 3
Ingredients For Meat And Marinade:
Chicken 500 gm
Seafood 500 gm (it can be fish or prawns)
Beef 500 gm
Olive oil 3 tbsp
Garlic chopped 2 cloves
Dry oregano leaves 1 tbsp
Paprika 1 tbsp
Salt 1 tsp
For The Sofrito:
Olive oil 2 tbsp
Garlic chopped 2-3 cloves
Tomatoes 2-3 (2 cups)
Peeled tomatoes chopped 1 tin
Sweet onion chopped 1 ½ cups
Sea salt 1-2 tsp
Vegetables And (Optional) Toasted Nuts and Garnish:
Chopped mix vegetables 3 cups
Green onion chopped ½ cup
Fresh parsley, chopped ½ cup
Almonds or hazelnuts toasted 2 tbsp
Fresh lemon (sliced) 1-2
For Saffron, Liquid And Rice:
Saffron 3-5 threads
Chicken stock 5-6 cups
Soy sauce 2 tbsp
Small grain rice 2 cups
Method
PREPARE THE MEAT/SEAFOOD:
• Up to one day before making paella, mix 3 tablespoons of olive oil, minced garlic, oregano, paprika and salt together in a bowl. Place the meat or shrimp for marination. Refrigerate until ready to cook.
PREPARE THE SOFRITO:
• Place pan on stove, turn heat to medium. Add 2 tablespoons olive oil and garlic and let cook for about one minute. Add chopped tomatoes, onion and 1 teaspoon sea salt. Cook on medium low heat until the mixture is completely softened. Let cool. Blend until smooth or leave chunky.
PREPARE THE NUTS (OPTIONAL BUT HIGHLY RECOMMENDED):
• Place the almonds or hazelnuts on a baking sheet and bake for about 5-8 minutes. Crush the nuts until they are the consistency of flour.
PREPARE THE VEGETABLES:
• Wash and chop the vegetables, set aside. Wash and cut lemons into wedges for serving. Set aside.
PREPARE THE STOCK AND SAFFRON:
• Place the saffron threads on a small plate and microwave for 10 seconds. Heat 6 cups of chicken broth and bring it to boil. Turn off and remove from heat. Crush the toasted saffron threads into the stock and add 2 tablespoons of soy sauce to the stock as well. Set aside
BEGIN COOKING PAELLA (FINALLY!)
1. In a pan , Add 2 tablespoons olive oil to pan. Add the meat and/or shrimp to the pan. Cook chicken for about 6 minutes per side or until almost done. If cooking shrimp, cook for about 2 -3 minutes per side. Remove to a plate, cover and set aside.
2. Add vegetables to the pan cook for 2 to 3 min add salt.
3. Add the prepared sofrito to the pan over medium high heat and cook for about 1-2 minutes until bubbly. Add 2 cups rice, 1/4 cup parsley, chopped green onion and mix with the sofrito and vegetables in the pan.
4. Add the stock to the pan. Sprinkle the nuts onto the paella evenly.
5. Add meat chicken back to the pan at this time. For prawns, wait until later to avoid overcooking
6. Gently spread out the meat and vegetables evenly with the rice and broth. Do not stir. The mixture should look very soupy at this time. Do not ever cover the paella while cooking!
7. Cook for about 5 minutes on high heat. Turn heat to medium high after 5 minutes.
1. The paella is about 5-10 minutes from being done. At this point, turn the heat to medium. The liquid should still be boiling. Add the shrimp and seafood to the paella. Continue to cook until the liquid is absorbed. Sprinkle with additional 1/4 cup chopped parsley or peas.
2. Remove from heat when rice is done. Cover with a clean kitchen towel and let paella rest for 5-10 minutes. And serve with your favorite dressing.
Calories
Carbs
Fats
Protein
Ingredients
Red grape juice 3 cups (750 ml)
Soda drink 1.5 cups (375 ml)
Orange juice 1.5 cups (375 ml)
Mixed fruits 2 cups (500 g)
Ice as required
Herbs and fresh citrus slices to garnish
Method
• Add the grape juice, orange juice, and chopped fruit to a large jug shake a little.
• Chill in the refrigerator for a minimum of 1 hour. Or you can add frozen slices of fruit and ice cubes then add soda on top.
• Garnish with herbs and fruit before serving. Add a little red food colour for more beauty.

Paella & Spanish Sangria Recipe in Urdu and English
At Masala TV you can check complete Paella & Spanish Sangria Recipe in Urdu and English. This is one of the best recipes by chef Mahnoor Malik at Masala TV show Fusion Food. Check out the other best recipes of chefs Mahnoor Malik.
Top relevant recipes of Paella & Spanish Sangria Recipe in Urdu