Seafood Soup Recipe | Food Diaries | Masala TV | Chef Zarnak Sidhwa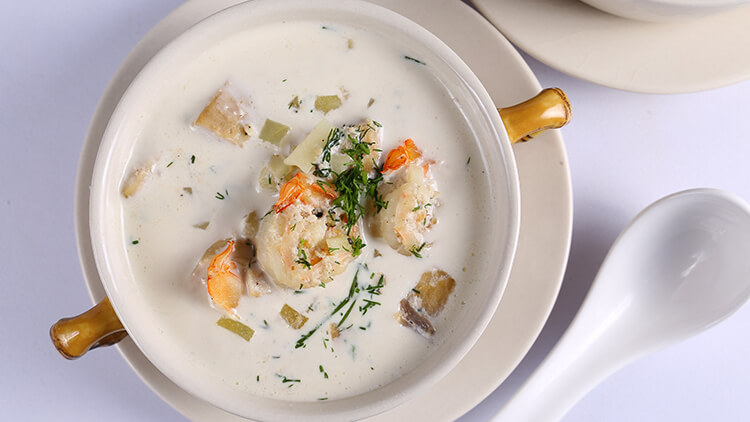 May 18, 2022 at 01:59 AM (GMT -04:00)

Check out the Seafood Soup Recipe in Urdu. Learn how to make best Seafood Soup Recipe, cooking at its finest by chef Zarnak Sidhwa at Masala TV show Food Diaries. Check all the Pakistan Cooking recipes in Urdu of Masala TV. Also Check Seafood Soup Recipe, ingredients and complete Method.
This is the season for seafood so why not consume it as much as possible especially when you know the health benefits. Try out this seafood soup recipe and let us know.
Watch this Masala TV video to learn how to make Seafood Soup ,Mulli Gatawny Soup and Garlic Bread Recipes. This show of Food Diaries with Chef Zarnak Sidhwa aired on 3 December 2019.
Ingredients:
Fish fillets 500gm
Prawns 5-6
Cubed potatoes 4
Diced onion 1
Crushed whole spice 1 tbsp
Milk 250ml
Cream 284ml
Chopped dill 2 tbsp
Method:
Put the potato, onion and spices in a pan with 500ml water, milk and a pinch of salt. Bring to a boil and simmer for about 15 minutes until the potato is tender. Add the fish, cover, and cook for 3 minutes until opaque, then stir in the prawns, cream and dill and season. Heat through gently, make sure not to boil.
Ingredients:
Butter ¼ cup
Chopped onion 1
Carrot 1
Jalapeno 1
Minced garlic 3 cloves
Minced ginger 2 tsp
Peeled apples 2
Diced tomatoes 1 cup
Curry powder 1 tbsp
Ground cumin 1 tsp
Paprika ½ tsp
Ground cinnamon ½ tsp
Turmeric ½ tsp
Ground cardamoms ¼ tsp
Black pepper ¼ tsp
Thyme ½ tsp
Red lentils ½ cup
Chicken or vegetable stock 3 cups
Coconut milk 2/3 cup
Salt to taste
Black pepper as required
Roasted cashews for garnish
Chopped spring onions for garnish
Method:
Melt the butter in a large pot. Add the onion, carrot, and jalapeno, then saute for 4 to 5 minutes. Add the garlic, ginger, apples and diced tomatoes. Saute for another 3 minutes, then add in all of the spices and toss to coat. Add in the lentils and stock and let it boil. Turn the heat down and simmer uncovered for 30 minutes. Puree about 75% of the ingredients. Leave some of the chunks whole, as it adds a nice texture and consistency to the soup. Return the soup to the pot, and then stir in the coconut milk. Taste, and adjust salt and black pepper as needed. Serve topped with cashew and spring onions.
Ingredients:
Crushed garlic 4 cloves
Butter 2 tbsp
Olive oil 2 tbsp
Crusty bread 1 loaf
Grated parmesan cheese 3 tbsp
Chopped fresh parsley as required
Method:
Combine garlic, butter, and oil in a small saucepan. Toast the split bread. Brush bread liberally with garlic oil. Sprinkle with cheese and parsley. Return to broiler or place under a hot grill and brown 30 seconds. Cut into chunks and serve.

Seafood Soup Recipe in Urdu and English
At Masala TV you can check complete Seafood Soup Recipe in Urdu and English. This is one of the best recipes by chef Zarnak Sidhwa at Masala TV show Food Diaries. Check out the other best recipes of chefs Zarnak Sidhwa.
Top relevant recipes of Seafood Soup Recipe in Urdu