Shawarma Nachos Recipe | Food Diaries | Zarnak Sidhwa | Fusion Food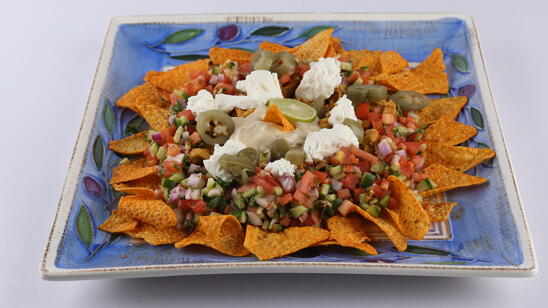 May 28, 2023 at 12:09 PM (GMT -04:00)

Check out the Shawarma Nachos Recipe in Urdu. Learn how to make best Shawarma Nachos Recipe , cooking at its finest by chef Zarnak Sidhwa at Masala TV show Food Diaries. Check all the Pakistan Cooking recipes in Urdu of Masala TV. Also Check Shawarma Nachos Recipe , ingredients and complete Method.
Shawarma Nachos has the combination of all our favorite ingredients that makes it taste out of this world. There are nachos, chopped vegetables, cheese, jalapenos and all things that will make it difficult for you to hold yourself back on finishing it off in minutes.
Watch this Masala TV video to learn how to make Shawarma Nachos and Chocolate shortbread cookies Recipes. This show of Food Diaries with Chef Zarnak Sidhwa aired on 18 January 2020.
Ingredients:
Skinless breasts ½ kg
Thick yogurt 1/4 cup
Turmeric 1/2 tsp
Ground cardamom 1/2 tsp
Ground cinnamon 1/2 tsp
Paprika 1/2 tsp
Cumin 1/2 tsp
Salt 1 tsp
For Salsa:
Tomatoes, diced 3
Onion, diced 1
Garlic, minced 3
Parsley, finely chopped 3/4 cup
Cucumber, diced 1
Red chili powder 1 tsp
Jalapenos chopped 4-6
Lemon juice 3 tbsp
Corn chips 2 cups
Feta cheese 6oz
Sesame Tahini Sauce
Tahini 1 cup
Lemon juice 1/2 cup
Garlic minced 4
Water 1 cup
Salt 1 tsp
Method:
Mix the yogurt, turmeric, cardamom, cinnamon, paprika, cumin and 1/2 tsp of salt. Pour the marinade over the chicken. While the chicken is marinating stir together tomatoes, onions, garlic, parsley, cucumber, red chilli powder, jalapenos, salt, lemon juice and salt in a bowl. Bake chicken in the oven at 180 degrees C for 25 minutes or until done or cook in a pan on low. On a large baking sheet lay a single layer of chips, add chicken then a handful of feta. Repeat the layering process until ingredients are used up. Cook until the cheese turns golden. To make the salsa, mix tomatoes, onion, garlic, Parsley, cucumber, red chilli powder, half jalapenos and Lemon juice. Serve topped with a generous scoop of salsa, jalapenos and a drizzle of tahini sauce. Serve immediately.
INGREDIENTS:
Unsalted butter 250g
Brown sugar ½ cup
Vanilla essence 1 tsp
Flour 1-¾ cups
Corn flour ½ cup
Cocoa powder 2 tbsp
Soda bicarbonate ¼ tsp
Dark chocolate, grated 60gm
METHOD:
Beat butter, sugar and vanilla in a bowl until light and creamy. Sift flours, cocoa and bicarbonate soda together. Add to butter mixture with chocolate and stir well to combine. Halve dough and roll one portion out between 2 sheets of baking paper until 5 mm thick. Using a round cutter, cut rounds from dough. Transfer to trays. Bake at 160 degrees C for 15 minutes or until firm. Stand for 10 minutes. Transfer to a wire rack to cool.

Shawarma Nachos Recipe in Urdu and English
At Masala TV you can check complete Shawarma Nachos Recipe in Urdu and English. This is one of the best recipes by chef Zarnak Sidhwa at Masala TV show Food Diaries. Check out the other best recipes of chefs Zarnak Sidhwa.
Top relevant recipes of Shawarma Nachos Recipe in Urdu