Shrimp Pasta Salad Recipe | Lively Weekends | Salad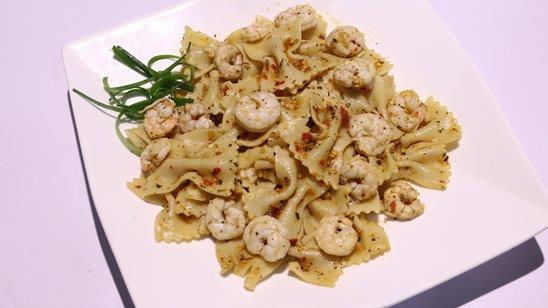 Nov 27, 2022 at 09:41 PM (GMT -05:00)

Check out the Shrimp Pasta Salad Recipe in Urdu. Learn how to make best Shrimp Pasta Salad Recipe , cooking at its finest by chef at Masala TV show Lively Weekends. Check all the Pakistan Cooking recipes in Urdu of Masala TV. Also Check Shrimp Pasta Salad Recipe , ingredients and complete Method.
Shrimp and Pasta is a classic combination that can never go wrong. This Shrimp Pasta Salad will make you adore this combination even more!
Watch this Masala TV video to learn how to make Shrimp pasta salad ,Fish and Thandai Recipes. This show of Lively Weekend with Host Kiran Khan aired on 21 March 2020.
Ingredients:
Pasta ½ pound
Shrimps Peeled 2 pounds
Salt 1tbsp
Onion diced 1
Garlic minced 3 to 4 cloves
Basil leaves 1 to 3 tsp
Extra virgin olive oil 1/3 cup
Lemon juice ¼ cup
Vinegar ¼ cup
Red Chili flakes 1 to 2tsp
Black pepper to taste
Method :
Blanch shrimps for 5 to 6 mints in hot water …once get pink in color add into chilled water for 5 mints , drained and keep it dry. Now boiled bow tie pasta for 7 to 8 mints, drained and wash with cold water and keep it on a side Now for dressing, take a jar add olive oil, garlic mince, salt, red chilli flakes, basil leaves, lemon juice and vinegar..shake it well and a thick dressing will be ready to coat on pasta and shrimps. , Now in a mix bowl add pasta and shrimps…add dressing as per required amount…mix well and serve.
Ingredients for batter:
fish fillet ½ kg
Flour 1 cup
Corn flour 1/3 cup
Vinegar ¼ cup
Black pepper powder ½ tbsp
Salt pinch
Sugar ½ tsp
Mustard powder 2 tsp
Egg White 1
Cold water 2-1/5 cups
Baking powder 1- 1/2 tsp
Oil for frying
Ingredients for coating :
Flour ½ cup
Corn flour 2tsp
Black pepper ½tsp
Salt pinch
Ingredients for Chips:
Potatoes 2
Oil for frying
Salt and pepper ½ tbsp
Ingredients for tater sauce :
Mayonnaise 1 cup
Chopped pickle 50 gm
Onion powder ½tsp
Vinegar 1/3 cup
Salt pinch off
White pepper ½ tsp
Method for fish fry :
Clean and dry fish fillets and season them with salt and pepper, set a side.
Now in a mixing bowl add flour, cornflour, salt , pepper , mustard powder, Vinegar, egg white, baking powder and cold water. Mix well and make a nice batter . Keep in fridge for 20 to 30 mints.
In an other bowl mix dry ingredients flour, cornflour , salt and pepper for fish coating .
Now put oil in a woke or any deep pan for frying .. and put it on a medium to high flame.
Now take out the wet batter from fridge, first coat the fish with dry batter and shareded excess amount …Now put in dry batter and coat nicely .
Now slow down the flame of oil high to medium and fry fish fillets till golden brown.
Method For Chips :
1.Washed and pilled potatos skin then cut them into long 1 inch slices
2. In a pan add water and keep it on high flame to get boiled.. once the water strat getting boiled add potato slices and keep them for hardly 5 to 7 mints and drain …( this will make potatos softer and you can frizz them for long period of time)
3. Now let the potatoes get dry . Now in a pan add oil and fry the potatoes for 7 to 8 mints till they get crispy.
Method for tarter sauce :
1. In a bowl add mayounise, chopped pickle, vinegar, salt, white pepper and onion powder. Mix well and serve.
Ingredients;
Milk ½ litter
Almonds 3 tbsp
Warm water 1 cup
Pistachio 2 tbsp
Cashews 2 tbsp
Poppy seeds 2 tbsp
Melon seeds ¼ cup
Rose water 2 tbsp
Sugar ½ cup
Fennel seeds 1-1/2 tbsp
Whole black pepper ½
Green cardamoms 3
Rose petals for garnishing
Method :
1. In a bowl add 1 cup of warm water .
2. Now add all listed ingredients in water and keep them cover for over night atlest for 8 to 9 hours ( don't included sugar are cardamoms)
3. Now pour the whole mixture including the soaking water, sugar and cardamoms in a grinder or blender jar. Do make sure to use a good grinder or blender.
4. Grind the mixture to a very smooth and fine paste. Remove in a bowl and keep aside. You can cover and refrigerate if not using immediately. No need to add extra water while grinding.
5. Take 4 tablespoons of the thandai paste in a glass. You can add less or more as per your requirements.
6. add chilled milk. You can also use half-half combination of milk and water , you can also mix milk , ice cubes and thandi paste in a blender and shake well
7. Garnish with rose petals. You can also garnish with some chopped almonds or pistachios.. Serves immediately.

Shrimp Pasta Salad Recipe in Urdu and English
At Masala TV you can check complete Shrimp Pasta Salad Recipe in Urdu and English. This is one of the best recipes by chef at Masala TV show Lively Weekends. Check out the other best recipes of chefs .
Top relevant recipes of Shrimp Pasta Salad Recipe in Urdu