Slice And Bake Biscuits Recipe | Food Diaries | Zarnak Sidhwa | Dessert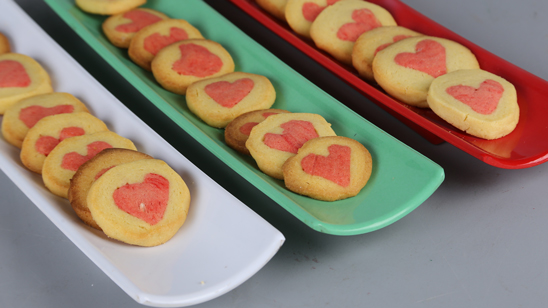 Mar 25, 2023 at 01:37 PM (GMT -04:00)

Check out the Slice And Bake Biscuits Recipe in Urdu. Learn how to make best Slice And Bake Biscuits Recipe , cooking at its finest by chef Zarnak Sidhwa at Masala TV show Food Diaries. Check all the Pakistan Cooking recipes in Urdu of Masala TV. Also Check Slice And Bake Biscuits Recipe , ingredients and complete Method.
Slice And Bake Biscuits make the most adorable looking biscuits. These look so pretty that you'll like them even before you try them out and once you try them, you won't realize how many you have had.
Watch this Masala TV video to learn how to make Slice And Bake Biscuits And Chinese Chicken And Corn Recipes. This show of Food Diaries with Chef Zarnak Sidhwa aired on 17 February 2021.
Ingredients:
Flour 300g
Salted butter 200g
Caster sugar 120g
Egg yolks 2
Vanilla essence 2 tsp
Rosewater ½ tsp
Red or pink food coloring as required
Method:
Tip the flour and butter into a food processor and whizz to fine crumbs. Add the sugar and yolks then whizz to smooth dough. Remove one-third of the dough, add vanilla to what's left and pulse to whizz in. Wrap this dough in cling film and leave at room temperature. Put the reserved dough back in the processor with the rosewater and a drop of red food coloring. Pulse and add more coloring to achieve an intense color. If the dough has become too soft, pulse in a few spoonful more flour until a similar consistency to the vanilla dough. Put the dough in the fridge, remembering to remove it 30 minutes before you need to roll it out. Thickly roll out the coloured dough. Use a small heart cutter to stamp out hearts. Keep re-rolling and stamping until all the dough is used. Line up hearts on top of each other and press to form a cylinder, taking care to retain the heart shape. Wrap in cling film and freeze for 3 hrs until solid. When the heart dough is hard, roll the vanilla dough, using your hands, into 3 cylinders the length of the heart stack. Stick one to each 'side' of the hearts, pat together to form a fat cylinder, then gently roll on your work surface until it completely encircles the coloured dough, with the frozen heart dough hidden in the center. Chill for 2 hours. Use a sharp knife to slice the log into 1cm-thick discs. Place on trays lined with baking parchment, allowing space for spreading, and bake at 180 degrees C for 20 minutes. Cool on wire racks.
Ingredients:
Boneless chicken sliced ½ kg
Baby corn slice 10
Oyster sauce 3 tbsp
Corn flour 2 tbsp
Chicken stock 1 cup
Oil 2 tbsp
Garlic cloves 2
Onion 1
soya sauce 1 tbsp
Salt to taste
Crushed black pepper 1/2 tsp
Spring onion slice 2
Basil leaves 3-4
Capsicum Thin strips for garnishing
Method:
Mix corn flour with three tablespoons chicken stock to make slurry and set aside. Heat oil in a non-stick wok, add garlic and onion and sauté till they become light golden. Add chicken and stir-fry for a few minutes. Add baby corn and toss for a minute. Add oyster sauce, soya sauce, remaining chicken stock, salt and crushed black peppercorns and bring to a boil. Add corn flour slurry and cook, stirring continuously, till the sauce thickens. Add spring onion greens and basil leaves and mix. Remove from heat and transfer into a serving bowl. Garnish with capsicum strips and basil sprig and serve hot with steamed rice.

Slice And Bake Biscuits Recipe in Urdu and English
At Masala TV you can check complete Slice And Bake Biscuits Recipe in Urdu and English. This is one of the best recipes by chef Zarnak Sidhwa at Masala TV show Food Diaries. Check out the other best recipes of chefs Zarnak Sidhwa.
Top relevant recipes of Slice And Bake Biscuits Recipe in Urdu