Spicy Chewra Recipe | Food Diaries | Masala TV | Zarnak Sidhwa | Fast Food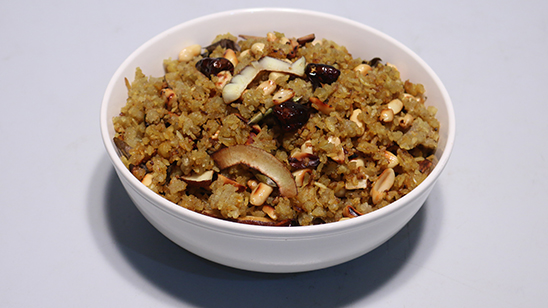 Jun 08, 2023 at 12:22 AM (GMT -04:00)

Check out the Spicy Chewra Recipe in Urdu. Learn how to make best Spicy Chewra Recipe , cooking at its finest by chef Zarnak Sidhwa at Masala TV show Food Diaries. Check all the Pakistan Cooking recipes in Urdu of Masala TV. Also Check Spicy Chewra Recipe , ingredients and complete Method.
Spicy Chewra is one amazing dish that will make your day. Give it a try today!
Watch this Masala TV video to learn how to make Spicy Chewra and Prawn Pulao Recipes. This show of Food Diaries with Chef Zarnak Sidhwa aired on 6 October 2021.
Ingredients:
Flattened rice flakes (poha) 6 cups
Black mustard seeds 1 1/2 tsp
Raw peanuts 1 cup
Dried red chilies (broken into large pieces) 8
Turmeric 1/2 tsp
Curry leaves 25-30
Coconut flakes 1 cup
Salt to taste
Sugar 3 tsp
Oil 8 tsp
Method:
Heat 4 tsp oil. Add the poha and reduce the heat to very low. Toast the poha, stirring constantly to make sure the flakes are evenly toasted. The poha should curl around the edges and gain a little colour very gradually over about 20 minutes. When the poha has slightly browned and crumbles easily between your fingers, pour it into a large bowl and set aside.
Turn the heat up to medium and heat the remaining 4 tsp oil. Add the mustard seeds and when they have finished popping, add the peanuts. Take care not to burn the mustard seeds. Fry the peanuts on medium heat, stirring constantly until they are a golden brown colour. Add the turmeric and curry leaves and fry, stirring, until the curry leaves have crisped. Add the coconut flakes and fry, stirring, until they have browned a little. Add the toasted poha back into the pan with the other ingredients with about 1/2 tsp salt and the sugar. Stir to mix well, but be gentle so that you do not crush the poha too much. Taste and add a little more salt if needed, then stir again. Transfer the chivda to a large bowl and allow to cool completely before packing into an airtight container.
Ingredients:
Prawns 1/2 kg
Rice 200 gm
Cinnamon stick 1"
Cashews 5-8
Screw pine water 2 tsp
Edible food color a pinch
Onions (chopped) 2 large
Black cardamoms 2
Cloves 2
Mace powder 1/2 tsp
Sugar a pinch
Clarified butter 3 tbsp
Salt as required
Ginger paste 1 tbsp
Nutmeg powder 1/4 tsp
Turmeric ½ tsp
Bay leaves 2
Raisins handful
Garlic paste 1 tbsp
Method:
Marinate the prawns in salt, turmeric, cinnamon, cardamom, cloves, raisins, mace powder and bay leaves. Heat clarified butter. Add onions and fry till they turn brown. Add edible food color and spices. Add ginger garlic paste and fry, next add prawns and little water and earlier soaked and drained rice to it. Add salt, sugar, cashews and nutmeg powder. Cook till rice absorbs all the water. Add some clarified butter and screw pine water. Serve hot.

Spicy Chewra Recipe in Urdu and English
At Masala TV you can check complete Spicy Chewra Recipe in Urdu and English. This is one of the best recipes by chef Zarnak Sidhwa at Masala TV show Food Diaries. Check out the other best recipes of chefs Zarnak Sidhwa.
Top relevant recipes of Spicy Chewra Recipe in Urdu