Tangri Kabab Recipe | Food Diaries | Zarnak Sidhwa | Desi Food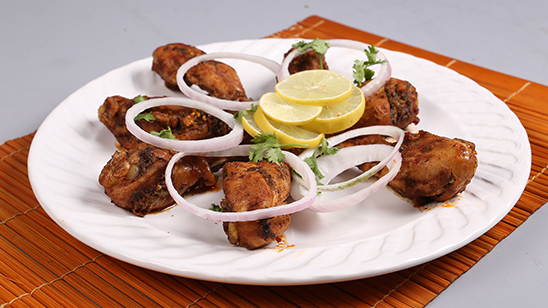 May 31, 2023 at 01:03 PM (GMT -04:00)

Check out the Tangri Kabab Recipe in Urdu. Learn how to make best Tangri Kabab Recipe , cooking at its finest by chef Zarnak Sidhwa at Masala TV show Food Diaries. Check all the Pakistan Cooking recipes in Urdu of Masala TV. Also Check Tangri Kabab Recipe , ingredients and complete Method.
Tangri Kabab are a mood changer. These are juicy, succulent and flavorful. Pair them with rice and you'll have yourself the most incredible tasting dinner!
Watch this Masala TV video to learn how to make Tangri Kabab and Pistachio Cardamom Cookies Recipes. This show of Food Diaries with Chef Zarnak Sidhwa aired on 29 March 2021.
Ingredients:
Chicken drumsticks 500 grams
Hung yogurt 1 cup
Ginger paste 1 tsp
Garlic paste 1 tsp
Salt to taste
Kashmiri chilli powder 1 tsp
All spice powder 1 tsp
Coriander powder 1 tsp
Green chilies, chopped 1 tsp
Coriander leaves, chopped 1 tbsp
Charcoal piece 1 pieces
Oil 2 tbsp
To serve:
Lemon wedges as required
Onion rings as required
Method:
Prick the drumsticks with a fork or make slashes with a knife. Mix together with all the ingredients, except onion rings and lemon wedges. Marinate for 4-5 hours, or preferably overnight. Heat oil and add chicken with marination and let cook till done. Put a hot piece of charcoal in pan and pour oil over it and immediately close lid and let it be for a while. Serve with onion rings and lemon wedges on the side.
INGREDIENTS:
For the cookies:
Unsalted butter 10 tbsp
Cardamom powder 1 tbsp
Flour 1 cup
Salt 1 tsp
Baking powder 1/4 tsp
Sugar 1/2 cup
Egg 1
Chopped unsalted pistachios 1/2 cup
For the chocolate glaze:
White chocolate, chopped 8 oz
Oil 1-1/2 tsp
Chopped unsalted pistachios 1/2 cup
Method:
Cook butter and cardamom in a saucepan until butter is golden brown and fragrant. Let stand 15 minutes, then strain butter through a fine sieve into a bowl. Freeze until just firm, about 15 minutes. Meanwhile, mix flour, salt and baking powder. Transfer butter to the bowl of a stand mixer fitted with the paddle attachment; add sugar. Beat until pale and add egg and beat until combined. Add dry ingredients and pistachios and beat on low speed just until combined. Turn out dough onto a clean work surface. Divide in half. Place each half on a sheet of parchment paper. Roll dough into 2 logs. Wrap each in parchment paper, making sure to cover ends completely. Chill until firm, at least 1 hour or up to overnight. Let dough stand at room temperature until soft enough to slice, about 15 minutes. Slice logs into 1/4″ thick rounds. Bake cookies, rotating sheets halfway through, until bottoms are lightly golden, 12–15 minutes. Transfer sheets to wire racks and let cool. To make the glaze combine chocolate and oil in a bowl. Heat at intervals in microwave, stirring, until melted and dip cookies halfway into melted chocolate and transfer to parchment-lined baking sheets. Sprinkle chocolate with pistachios. Chill until chocolate is set, about 10 minutes.

Tangri Kabab Recipe in Urdu and English
At Masala TV you can check complete Tangri Kabab Recipe in Urdu and English. This is one of the best recipes by chef Zarnak Sidhwa at Masala TV show Food Diaries. Check out the other best recipes of chefs Zarnak Sidhwa.
Top relevant recipes of Tangri Kabab Recipe in Urdu