Tater Tots Recipe | Food Diaries | Zarnak Sidhwa | Italian Food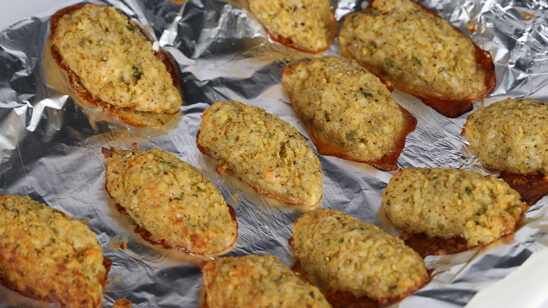 Jun 08, 2023 at 12:45 AM (GMT -04:00)

Check out the Tater Tots Recipe in Urdu. Learn how to make best Tater Tots Recipe , cooking at its finest by chef Zarnak Sidhwa at Masala TV show Food Diaries. Check all the Pakistan Cooking recipes in Urdu of Masala TV. Also Check Tater Tots Recipe , ingredients and complete Method.
Tater Tots are made with grated potatoes and deep fried to perfection. Give this incredible tasting recipe a try today!
Watch this Masala TV video to learn how to make Tater Tots and Portuguese Tart Recipes. This show of Food Diaries with Chef Zarnak Sidhwa aired on 23 December 2020.
Ingredients:
Oil 2 tbsp
Potatoes ½ kg
Salt 1 tsp
Onion powder 1/2 tsp
Corn flour 1 tbsp
Chopped parsley 2 tbsp
Cheddar cheese, grated 3 oz
Ground black pepper as required
Method:
Place peeled and grated potatoes in a bowl of cold water for few seconds. Drain.
Transfer to a clean kitchen towel and squeeze well to remove as much liquid as possible. Put in a food processor along with the salt, onion powder, corn flour, parsley, cheese and black pepper. Do not over process the potatoes. Shape into cylinders or croquettes. Place tater tots onto oiled baking sheet. Drizzle with remaining oil then bake at 180 degrees c until golden brown on the bottom, about 10 minutes. Carefully flip each tater tot, using two forks and then bake until the second side is golden brown, another 10 minutes.
Ingredients:
Puff pastry ½ kg
Egg white 1
Milk 1-1/4 cups
Cinnamon stick 1
Lemon zest 1
Flour 1/4 cup
Egg yolks 7
Caster sugar 1 cup
Method:
Roll out the pastry. Trim the corners slightly. Line a pie dish with the pastry, pressing it into the side of the dish. Place in the freezer for 15 minutes. Just before baking, line the pastry with paper and fill with rice or beans to weigh it down. Bake blind at 190 degrees C for 15 minutes. Remove the paper and beans and bake for a further 8 minutes or until golden and crisp. Brush the pastry lightly with egg white and bake for 2 minutes more. Set aside on a wire rack to cool completely. Meanwhile, place 1 cup milk in a saucepan. Add the cinnamon stick and lemon zest and heat, stirring, until the milk just comes to the boil. Remove from heat, cover and set aside for 20 minutes. Place the flour in a bowl and whisk in the remaining 1/4 cup milk. Add the egg yolks. Combine the sugar and 1/3 cup water in a saucepan. Simmer, without stirring for 3-5 minutes or until thickened. Remove from the heat. Remove the cinnamon stick and lemon zest from the milk and discard. Reheat the milk until hot. Add gradually to the yolk mixture, whisking constantly. Pour in the sugar syrup, whisking constantly. Place in the fridge to cool for 20 minutes or until the custard is at room temperature, but not chilled. Place the pastry-lined pie dish on a baking tray. Trim the pastry edges to neaten, if necessary. Strain the custard into a jug, then pour into the pastry case. Bake for 30 minutes or until just set. Transfer to a wire rack. Use a kitchen blowtorch to scorch the surface, if desired. You may do so in the oven using the top grill for just a few seconds. Cool, then cut into slices to serve.

Tater Tots Recipe in Urdu and English
At Masala TV you can check complete Tater Tots Recipe in Urdu and English. This is one of the best recipes by chef Zarnak Sidhwa at Masala TV show Food Diaries. Check out the other best recipes of chefs Zarnak Sidhwa.
Top relevant recipes of Tater Tots Recipe in Urdu