Wheat Dough Pizza Recipe | Fusion Food | Chef Mahnoor Malik | 19 October 2022 | Masala Tv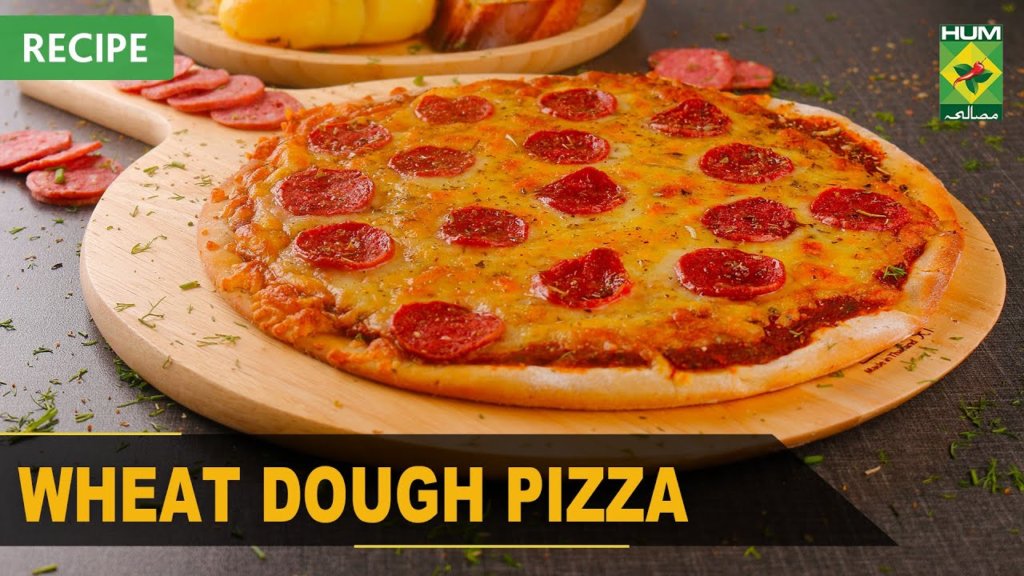 Nov 29, 2023 at 04:33 AM (GMT -05:00)

Check out the Wheat Dough Pizza Recipe in Urdu. Learn how to make best Wheat Dough Pizza Recipe , cooking at its finest by chef Mahnoor Malik at Masala TV show Fusion Food. Check all the Pakistan Cooking recipes in Urdu of Masala TV. Also Check Wheat Dough Pizza Recipe , ingredients and complete Method.
Subscribe To Masala TV Recipes YouTube Channel! https://bit.ly/MasalaTV
This show is hosted by Chef Mahnoor Malik who gives a personalized fusion twist to international cuisines. The chef also makes sure to provide a calorie count for each dish in the episode as well as to mention healthy substitutes for the ingredients to ensure a touch of healthiness in her dishes.
We bet you have never had as good as this one! This Wheat Dough Pizza is one of the best in
#WheatDoughPizza #garlicbread #masalatv
Watch this Masala TV video to learn how to make Wheat Dough Pizza And Garlic Bread And Cheesy Potatoes recipe.
Calories 594
Carbs 62g
Fat 26g
Protein 29g
Ingredients For Wheat Dough
Warm water (38-43°C) 1 and 1/2 cups
Active dry or instant yeast 1 Tablespoon
Honey 1 Tablespoon
Olive oil, plus extra for pan and brushing dough 2 Tablespoons
Salt 1 teaspoon
Whole wheat flour (spoon & leveled) 3 and 1/4 cups
Flour to sprinkle
For Sauce And Topping
Tomatoes, peeled 2-3
Tomato paste 3 tbsp
Whole Leek, celery 1
White pepper 1tsp
Black pepper 1tsp
Salt 1tbsp
Chicken powder 1 tbsp
Garlic 2-4 cloves
Oregano 1tsp
Pesto 1tbsp (if basil is available)
Pepperoni slices 1 tin
Mozzarella cheese, finely shredded 4 ounces
Method for wheat dough
1. Whisk the warm water, yeast, and honey together in the bowl of your stand mixer fitted with a dough hook attachment. Cover and allow to rest for 5 minutes or until foamy on top. *If you don't have a stand mixer, simply use a large mixing bowl and mix the dough with a wooden spoon or rubber spatula in the next step.
2. Add the olive oil, salt, and flour. Beat on low speed for 3 minutes. Turn the dough out onto a lightly floured surface. It will be slightly tacky to the touch. With lightly floured hands, knead the dough for 5 minutes. The dough can be a little too heavy for a mixer to knead it, but you can certainly use the mixer on low speed if needed instead. After kneading, the dough should still feel a little soft. Poke it with your finger – if it slowly bounces back, your dough is ready to rise. If not, keep kneading.
1. Lightly grease a large bowl with olive oil or non-stick spray– just use the same bowl you used for the dough. Place the dough in the bowl, turning it to coat all sides in the oil. Cover the bowl with aluminum foil, plastic wrap, or a clean kitchen towel. Allow the dough to rise at room temperature for 2 hours or until double in size. Turn the oven off, place the dough inside, and keep the door slightly ajar. This will be a warm environment for your dough to rise. After about 30 minutes, close the oven door to trap the air inside with the rising dough. When it's doubled in size, remove from the oven.)
2. Preheat oven to 475°F (246°C). Allow it to heat for at least 15- 20 minutes as you shape the pizza. (If using a pizza stone, place it in the oven to preheat as well.) .
3. Shape the dough: When the dough is ready, punch it down to release any air bubbles. Divide the dough in as much flat bread you want. On a lightly floured work surface using lightly floured hands or rolling pin, gently flatten the dough into a disc. Place on prepared pan and, using lightly floured hands, stretch and flatten the disc into a 12-inch circle. Lift the edge of the dough up to create a lip around the edges. I simply pinch the edges up to create the rim.
4. Cover dough lightly with plastic wrap or a clean kitchen towel and allow to rest for a few minutes as you prepare your pizza toppings.
6. Top & bake the pizza: To prevent the filling from making your pizza crust soggy, brush the top lightly with olive oil. Using your fingers, push dents into the surface of the dough to prevent bubbling.
7. Add sauce loads or mozzarella cheese and pepperoni on top you can add Italian herbs for flavors.
8. Bake for 15-16 minutes.
9. Slice hot pizza and serve immediately. Store leftover pizza covered tightly in the refrigerator and reheat as you prefer. Baked pizza slices may be frozen up to 1 month.
Garlic Bread
Calories 107
Carbs 10.3 gm
Fat 6.2 gm
Protein 2 gm

Ingredients
Garlic, minced 4 cloves
Butter, softened 1/2 cup
Baguette or French bread, cut lengthwise 1
Kosher salt 1/2 tsp
Freshly chopped parsley 2 tbsp
Grated Parmesan (if available) 1/4 cup
Cheesy Potatoes
Calories 322
Carbs 35 gm
Fat 10 gm
Protein 19 gm
Serving size 1
The method is according to 4 serving.
Ingredients
Potatoes (preferably waxy ones) 800 grams
Salt ½ tsp
Dill leaves or chives 1 bunch
Cottage cheese or cream cheese 500 gm
Black pepper ½ tsp
Olive oil 2tbsp
Cheddar cheese for topping

Wheat Dough Pizza Recipe in Urdu and English
At Masala TV you can check complete Wheat Dough Pizza Recipe in Urdu and English. This is one of the best recipes by chef Mahnoor Malik at Masala TV show Fusion Food. Check out the other best recipes of chefs Mahnoor Malik.
Top relevant recipes of Wheat Dough Pizza Recipe in Urdu