Almond Rose Cake Recipe | Masala Mornings | Masala TV | Shireen Anwar | Desserts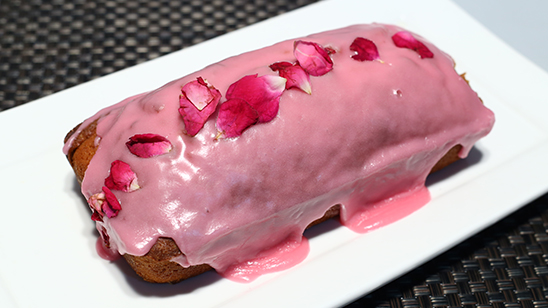 Sep 22, 2023 at 06:37 PM (GMT -04:00)

Check out the Almond Rose Cake Recipe in Urdu. Learn how to make best Almond Rose Cake Recipe , cooking at its finest by chef Shireen Anwar at Masala TV show Masala Mornings. Check all the Pakistan Cooking recipes in Urdu of Masala TV. Also Check Almond Rose Cake Recipe , ingredients and complete Method.
Almond Rose Cake is as beautiful to eat, as much as it is to look at! Dwell in the richness of dessert like never before!
Watch this Masala TV video to learn how to make Almond Rose Cake , Chicken corn pasta and Dynamite chicken wrap Recipes. This show of Masala Mornings with Chef Shireen Anwar aired on 9 September 2021.
Ingredients:
Butter 5 ounces
Sugar 6 ounces
Eggs 2
Yogurt ¼ cup
Vanilla essence 1 tsp
Rose water 1 tbsp
Flour 1 cup
Almond meal ½ cup
Cardamom powder 1 tsp
baking powder
Ingredients for glaze:
Icing sugar sieved 1 cup
Milk 2-3 cups
Method for glaze:
Mix all together, pour on cake, and decorate with rose petals.
Method for cake:
Beat butter add sugar and beat well, add eggs one at a time and continue to beat till both well incorporated, add thick yogurt, cardamom powder, rose water and vanilla powder. In a bowl, mix together flour, almond meal, baking powder and fold it in the egg mixture, beat on low speed, do not overbeat, pour it into an 8 inch round pan and bake on 180 d for 45 mins. Cool cake, drizzle with glaze, and decorate with rose petals.
Ingredients to marinate:
Boneless breasts 2
Salt 1 tsp
Black pepper 1 tsp
Oregano 1 tsp
Chili sauce 1 tbsp
Egg 1
Corn flour 2 tbsp
Other ingredients:
Oil ¼ cup
Crushed garlic 1 tbsp
Capsicum Julian 1
Mushrooms sliced 6
Sweet corn 1 cup
Pan pasta boiled 3 cups
Mozzarella cheese grated 1 cup
Chili garlic sauce 3 tbsp
White sauce 3 cups
Oregano 1 ½ tsp
Parmesan cheese 1 tbsp
Butter 1 tbsp
Method:
Marinate chicken breast with salt, black pepper, oregano, chili sauce, egg and corn flour. Heat ¼ cup oil in a wok, add crushed garlic, when golden add marinated chicken, cook for 5 mins, add veggies with boiled pan pasta. In a greased dish, add chicken and pasta mixture, top with white sauce, drizzle with chili garlic sauce, oregano, parmesan cheese and butter, grated mozzarella cheese, bake for 15 mins on 180 d until done.
Ingredients to marinate:
Thick chicken strips ½ kg
Soya sauce 1 tbsp
Chili powder 1 ½ tsp
Salt ½ tsp
Garlic powder 1 tsp
Ingredients for batter:
Corn flour 3 tbsp
Flour 3 tbsp
Paprika ½ tsp
Black pepper ½ tsp
Oregano ½ tsp
Egg 1
Water ¼ cup
Ingredients for dynamite sauce:
Mayonnaise ½ cup
Chili garlic sauce ¼ cup
Ketchup ¼ cup
Vinegar 1 tbsp
Sugar 1 tsp
Method for sauce
Mix all together. Now coat fried chicken strips with prepared dynamite sauce and keep aside.
Method for chicken
Dip marinated chicken into prepared batter, and deep fry on medium flame until golden brown, keep aside.
Method:
Heat 1 tbsp oil in a fry pan, add carrot julienne ½ cup, cabbage julienne ½ cup, capsicum julienne ½ cup mix with salt and pepper, and 6 tortillas.
To assemble:
Put tortillas on a surface, spread with dynamite sauce, then the stir fried vegetable, then chicken mixed with dynamite sauce. Wrap and serve immediately.

Almond Rose Cake Recipe in Urdu and English
At Masala TV you can check complete Almond Rose Cake Recipe in Urdu and English. This is one of the best recipes by chef Shireen Anwar at Masala TV show Masala Mornings. Check out the other best recipes of chefs Shireen Anwar.
Top relevant recipes of Almond Rose Cake Recipe in Urdu