Baklava Cake Recipe | Food Diaries | Zarnak Sidhwa | Dessert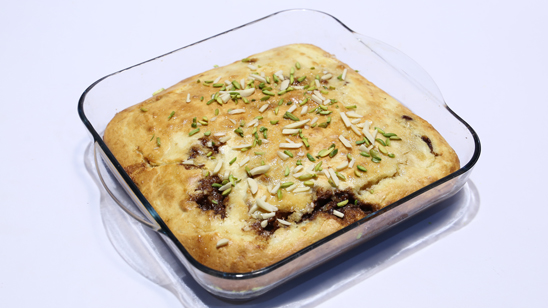 May 15, 2021 at 09:13 AM (GMT -04:00)

Check out the Baklava Cake Recipe in Urdu. Learn how to make best Baklava Cake Recipe , cooking at its finest by chef Zarnak Sidhwa at Masala TV show Food Diaries. Check all the Pakistan Cooking recipes in Urdu of Masala TV. Also Check Baklava Cake Recipe , ingredients and complete Method.
This Baklava Cake is ultimate dessert treat that everyone will love. Enjoy this one!
Watch this Masala TV video to learn how to make Baklava Cake and Chicken Chaat Recipes. This show of Food Diaries with Chef Zarnak Sidhwa aired on 30 June 2020.
Ingredients For Filling:
Walnuts, chopped 1 cup
Brown sugar ¾ cup
Cinnamon 2 tsp
Sea salt a pinch
Butter, melted 2 oz
For The Cake:
Flour 3 cups
Baking powder 1 tbsp
Baking soda 1 tsp
Sea salt ¼ tsp
Sugar 1 cup
Eggs 2
Butter, melted 4 oz
Milk 1 ½ cup
Yogurt ½ cup
Vanilla essence 1 tsp
Extra sugar and butter for pan
Honey ½ cup
Method:
Mix the filling ingredients until well combined. Mix flour, baking powder, baking soda and sea salt. Beat sugar, eggs & melted butter until smooth. Add milk, yogurt and vanilla essence. Mix in the flour mixture until combined well. Butter the cake tin and line it with sugar and tap all excess is out. Gently place 1/2 the cake batter in the bottom of your pan. Be sure it is evenly distributed and smooth it. Gently place the filling you made over it without touching the sides of the pan as this can cause it to stick to the pan once it is done baking. Then top it with the remaining the cake batter, be sure it is even and smooth. Bake at 180 degrees C for 45 minutes (rotating it half way), or until a toothpick comes out clean. Let the cake cool before serving, drizzle with honey and serve.
Ingredients:
Boneless chicken, cubed 250 gm
Ginger garlic 1 tsp
Green chili paste 1 tsp
Red chili powder ½ tsp
Cumin powder ½ tsp
All spice powder ½ tsp
Salt to taste
Curd 1 tbsp
Chopped Coriander 2 tbsp
Oil 1-2 tsp
Other Ingredients:
Curd 1 ½ cups
Tamarind chutney 2 tbsp
Coriander mint chutney 2 tbsp
Nimco sev 2 tbsp
Papri 6-7
Salt as required
Black Pepper as required
Chaat masala powder as required
Chopped Coriander for garnish
Method:
Mix all ingredients (except oil) in a bowl and keep in the refrigerator for half an hour. Now take a pan – heat oil and the marinated chicken. Stir on high heat for a couple of minutes and lower the heat. Cook until the chicken is tender. Adjust the seasoning and keep aside and let it cool. For preparing Chaat as final dish: In a bowl, take the cooked chicken and add 1 cup of curd, 1 tbsp of tamarind chutney, 1 tbsp of coriander mint chutney and mix well. Check for seasoning and taste by adding salt, black pepper powder and chaat masala powder – you should get that sweet and tangy taste. You can adjust the taste by increasing or reducing the chutney and seasoning. Now spread this chicken mixture in a serving plate. Top it with aloo bhujia or sev namkeen, crushed papri, chopped green coriander and then top it with remaining curd, imli chutney and coriander mint chutney. Sprinkle chaat masala and roasted cumin powder and serve.

Baklava Cake Recipe in Urdu and English
At Masala TV you can check complete Baklava Cake Recipe in Urdu and English. This is one of the best recipes by chef Zarnak Sidhwa at Masala TV show Food Diaries. Check out the other best recipes of chefs Zarnak Sidhwa.
Top relevant recipes of Baklava Cake Recipe in Urdu