Brownie Recipe | Tarka | Rida Aftab | Desi Food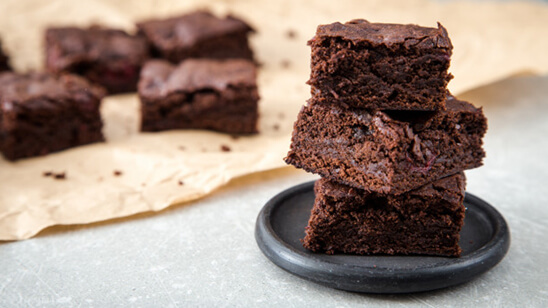 Sep 21, 2023 at 12:37 PM (GMT -04:00)

Check out the Brownie Recipe in Urdu. Learn how to make best Brownie Recipe , cooking at its finest by chef Rida Aftab at Masala TV show Tarka. Check all the Pakistan Cooking recipes in Urdu of Masala TV. Also Check Brownie Recipe , ingredients and complete Method.
This is the easiest Brownie Recipe that we all need for our midnight cravings!
Watch this Masala TV video to learn how to make Brownie , Chicken Kofta Handi and Yakhni Pulao Recipes. This show of Tarka with Chef Rida Aftab aired on 20 August 2020.
Ingredients:
Water ¼ cup
Oil ½ cup
Butter 2 tbsp
Eggs 2
Brownie mix 1 packet
Method:
Pre heat the oven. Grease the pan. add brownie mix in bowl then add oil and water blend well. Pour in a pan. keep in oven at 180C bake for 20 to 35 minutes. Remove from oven and allow it to cool for 10 minutes.
INGREDIENTS:
Chicken kofta 1 packet
Yogurt Lassi ½ liter
Tomatoes 250g
Onions 4
Red Chili Powder 1- ½ tsp
Coriander Powder 1 tsp
Turmeric Powder 1 tsp
Small Cardamoms 6
Salt 1 tsp
Bay Leaves 2
Green Coriander ½ bunch
Green Chilies 6
Clarified butter 1 cup
Ginger Garlic 2 tsp
Ready parathas for serving
METHOD:
In a clay pothandi, add 4 onions and make them brown. Chop 250g tomatoes. Put 2 tsp ginger garlic, 1- ½ tsp red chili powder, 1 tsp chopped coriander, 1 tsp turmeric powder, 6 small cardamoms, 1 tsp salt and 2 bay leaves. When aroma comes, then add chopped tomatoes in it. Then add Chicken kofta and cook. Put ½ liter lassi and put it on simmer for 30 minutes. When gravy becomes thick, then turn off the stove and serve with parathas
Ingredients:
Rice ½ kg
Beef ½ kg
Potato ½ kg
Ginger 1 piece
Garlic 8 cloves
Salt 1-1/2 tsp
Onion 1
Fennel seeds 1 tsp
Whole coriander 1 tsp
Green chilies 12
Curry leaves 2
Mint leaves ½ bunch
Whole black pepper 1 tsp
Ingredients for dum:
Black cumin 2 tsp
Fry onion 1 cup
Star Anise 4
Whole black pepper 2 tsp
Fennel seeds 2 tsp
Whole coriander 2 tsp
Oil ½ cup
Method:
Add 6 glass water, salt, fennel seeds and whole coriander in beef and cook on low flame till meat get tender. Then separate meat from stock. In another pan heat oil and fry onion. Now add black cumin, black pepper, curry leaves, potato and meat, sauté well. Then add green chilies, ginger and garlic crushed. When they cook well then add stock and soaked rice. When rice simmer then add whole black pepper, anise star and fennel seeds crushed. Now add fry onion and mint leaves from top and leave it on dum. Then mix and turn off the flame.

Brownie Recipe in Urdu and English
At Masala TV you can check complete Brownie Recipe in Urdu and English. This is one of the best recipes by chef Rida Aftab at Masala TV show Tarka. Check out the other best recipes of chefs Rida Aftab.
Top relevant recipes of Brownie Recipe in Urdu