Butter Garlic Prawns Recipe | Masala Mornings | Masala TV | Shireen Anwar | Sea Food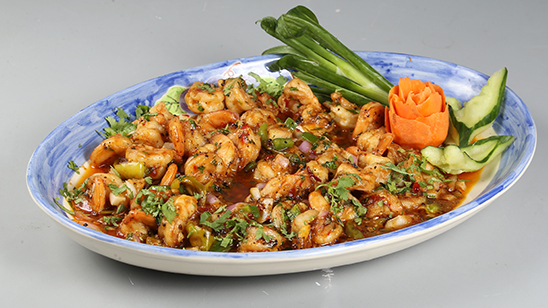 Feb 04, 2023 at 07:00 AM (GMT -05:00)

Check out the Butter Garlic Prawns Recipe in Urdu. Learn how to make best Butter Garlic Prawns Recipe , cooking at its finest by chef Samina Jalil at Masala TV show Masala Mornings. Check all the Pakistan Cooking recipes in Urdu of Masala TV. Also Check Butter Garlic Prawns Recipe , ingredients and complete Method.
Butter Garlic Prawns is one of those Pan Asian Dishes that you'll absolutely fall in love with.
Watch this Masala TV video to learn how to make Butter Garlic Prawns , Fruit China Grass Halwa and Naanza Recipes. This show of Masala Mornings with Chef Shireen Anwar aired on 26 May 2021.
Ingredients:
Butter 3 ounce
Oil ¼ cup
Chopped garlic 2 tbsp
Green chili 3 slit
White pepper ½ tsp
Black pepper ½ tsp
Crushed black pepper 1 tsp
Salt 1 tsp leveled
Prawns de-veined ½ kg
Lemon juice 2 tbsp
Chopped coriander 2 tbsp
Corn flour mix in water 1 tbsp
Soy sauce 1 tbsp
Sambal oleak 1 tbsp
Sweet chili sauce 2 tbsp
Method:
Heat butter and oil in a wok, add chopped garlic, green chilies, fry for 1 min, add prawns, cook on high flame till water dries, add seasonings, lemon juice, thicken with corn flour paste, garnish with chopped coriander.
Ingredients:
Mango finely cubed 1 ½ cup
Milk 1 liter
China grass small pieces ½ cup
Sugar ¾ cup
Whole dried milk ½ cup
Vanilla essence ½ tsp
Method:
Heat milk, add chopped china grass, stirring well till grass melts, blend to make sure no grass pieces left, add sugar, cook for 5 mins, add khoya, cook till it melts, remove from heat, add vanilla, cool slightly, spread the chopped mangoes in a dish, now pour this milk grass mixture on chopped mangoes, let it set at room temperature for 30 mins, then chill in the fridge for 2 hours, serve cold.
Ingredients for dough:
Flour 2 cups
Sugar 1 tbsp
Salt ½ tsp
Garlic powder 1 tsp
Milk powder 1 tbsp
Instant yeast 1 ½ tsp
Lukewarm water to knead
Ingredients for filling:
Chicken tikka chunks ½ packet
Pizza sauce ½ cup
Butter to spread
Mozzarella cheese 1 ½ cup
Onion chopped 2 – 3 tbsp
Capsicum chopped 2 – 3 tbsp
Tomatoes chopped 2 tbsp(seeds removed)
Olives sliced 1 tbsp
Jalapenos sliced 1 tbsp
Oregano 1 tsp
Crushed red pepper 1 tsp
Method
In a bowl mix together flour, sugar, salt, garlic powder, powdered milk, instant yeast, mix well, knead with lukewarm water into a soft dough, cover and leave to rise for 30 mins, add little oil, roll a ball of dough to form a oblong shape, and coat the top with a splash of water, put the wet side on the hot tawa and grill for 1 min, now turn your tawa, so the nan is facing direct flame, grill till the nan is cooked well, apply butter on top followed by pizza sauce, spread with mozzarella cheese, followed by chicken tikka pieces, all the veggies, oregano, chili flakes, bake for 10 mins until cheese melts, cut into pieces and serve hot.

Butter Garlic Prawns Recipe in Urdu and English
At Masala TV you can check complete Butter Garlic Prawns Recipe in Urdu and English. This is one of the best recipes by chef Samina Jalil at Masala TV show Masala Mornings. Check out the other best recipes of chefs Samina Jalil.
Top relevant recipes of Butter Garlic Prawns Recipe in Urdu