Chatpatay Drumsticks Recipe | Mehboob's Kitchen | Mehboob Khan | Fusion Item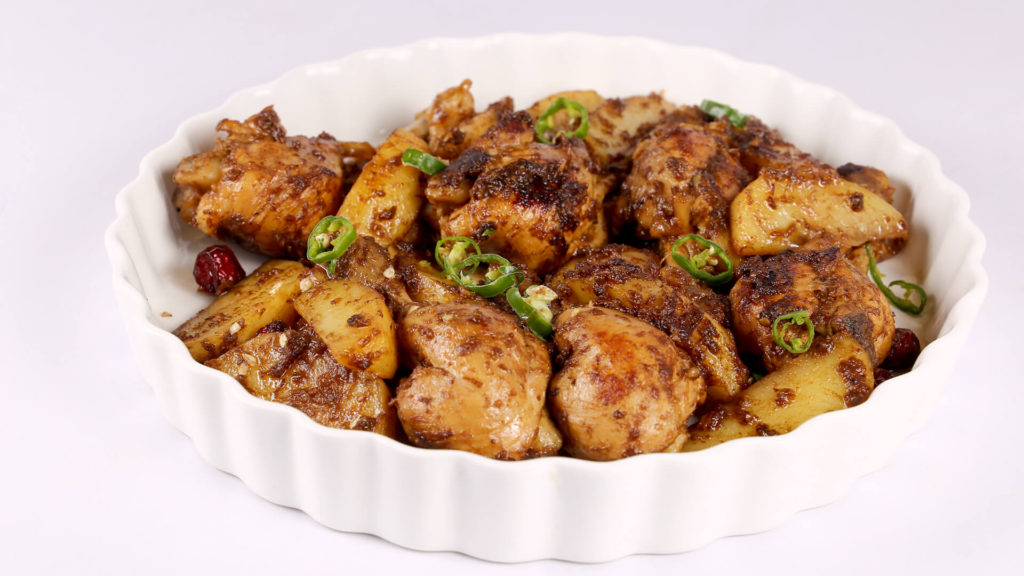 Sep 27, 2023 at 11:28 AM (GMT -04:00)

Check out the Chatpatay Drumsticks Recipe in Urdu. Learn how to make best Chatpatay Drumsticks Recipe , cooking at its finest by chef Mehboob Khan at Masala TV show Mehboob's Kitchen. Check all the Pakistan Cooking recipes in Urdu of Masala TV. Also Check Chatpatay Drumsticks Recipe , ingredients and complete Method.
Craving for drumsticks? Here is an extra ordinary tasting recipe that will please your taste buds. Try it and go crazy about it!
Watch this Masala TV video to learn how to make Chatpatay Drumsticks ,Beef Barbecue Burger and Mughlai Chicken Roast Recipes. This show of Mehboob's Kitchen with Chef Mehboob Khan aired on 30 January 2020.
Ingredients:
Drumsticks ½ kg
Cayenne pepper 4
Lemon juice 1 tbsp
Potatoes (sliced) 2
Whole red pepper 4-6
Green chilies 4-6
Garlic 6-8 cloves
Cumin 1 tsp
Ginger (chopped) 1 tbsp
Sugar 1 tbsp
Tamarind paste 2-3 tbsp
Oil 8-10 tbsp
Salt to taste
Method:
Heat oil in a pan add garlic, whole red pepper, cayenne pepper and cumin. Stir well. Then in another pan sauté garlic and add drumsticks, Fry and add water. Now blend all the spices well. Then in another pan heat oil and fry sliced potatoes. Now add water and cook well. Then add salt and chopped green chilies. Now add blended spice mixture to drumsticks. Now add tamarind paste, salt, sugar, lemon juice and ginger. Then in a platter add potatoes and drumsticks. In the end add the remaining masala from the pan and garnish with ginger. Serve hot.
Ingredients:
Beef mince 1 kg
Mustard paste 2 tbsp
Black pepper 2 tbsp
Butter 5 tbsp
Salt 1 ½ tsp
Barbecue sauce ½ cup
Charcoal 1 piece
Burger buns 8
Cheddar cheese (slices) 16
Onion (chopped) 1 ½ cup
Eggs 2
Mayonnaise 1 cup
Bread crumbs 1 ½ cup
Method:
In a bowl add beef mince, bread crumbs, butter, black pepper, salt and mustard paste. Mix well. Then give smoke flavor with charcoal. Now make 8 patties and refrigerate for an hour. Now steam the onions and set aside. Then toast the burger buns. Now heat oil in a pan and fry the patty well from both sides for at least 10 minutes. Then spoon some mayonnaise on both sides of the buns. Now add barbecue sauce on both sides. Then place cheese slice, beef patty, again cheese slice and spoon some onion. Cover with another half and serve.
Ingredients:
Whole chicken 1 kg (put cuts on the chicken)
Fried onions 1/2 cup (crushed)
Ginger & garlic paste 1 tbsp
Cashew nuts 8 (grind to powder)
Desiccated coconut 1 tbsp
Red chili powder 1 tsp
Turmeric 1/4 tsp
Coriander powder 1 & 1/2 tsp
Salt 1 tsp
Garam masala powder 1/2 tsp
Screwpine water 1 tbsp mixed with saffron 1/4 tsp
Yogurt 2 cups
Cream 1/4 cup
Oil 1/2 cup
Serve With:
Fries 2 cups
Boiled eggs 2
Green chilies 2
For Marination:
1: in a bowl add yogurt, cream, fried onions, cashew nuts, coconut, ginger & garlic paste, coriander powder, red chilli powder, turmeric, salt, garam masala powder mix well and add the chicken cover the chicken with the mixture and leave it for 30 minutes.
2: heat oil and add the marinated chicken in it facing the breast side down, add all marination as well, wait for a boil on high flame then cover and cook on low to medium flame till the chicken is cooked and the oil comes on the surface (change the side of the chicken after 10 minutes so it cooks evenly).
3: then add the mixture of kewra water and saffron.
4: serve hot with boiled eggs, fries, bullet green chilli and naan.

Chatpatay Drumsticks Recipe in Urdu and English
At Masala TV you can check complete Chatpatay Drumsticks Recipe in Urdu and English. This is one of the best recipes by chef Mehboob Khan at Masala TV show Mehboob's Kitchen. Check out the other best recipes of chefs Mehboob Khan.
Top relevant recipes of Chatpatay Drumsticks Recipe in Urdu