Qormay Wali Chicken Biryani Recipe | Mehboob's Kitchen | Mehboob Khan | Desi Food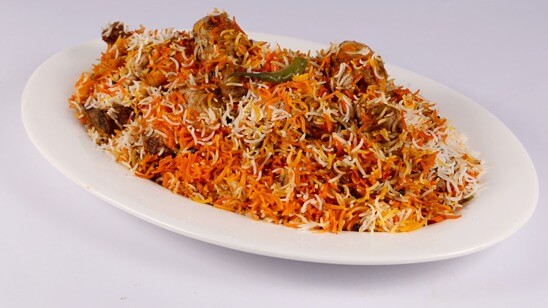 Nov 29, 2023 at 03:32 AM (GMT -05:00)

Check out the Qormay Wali Chicken Biryani Recipe in Urdu. Learn how to make best Qormay Wali Chicken Biryani Recipe , cooking at its finest by chef Mehboob Khan at Masala TV show Mehboob's Kitchen. Check all the Pakistan Cooking recipes in Urdu of Masala TV. Also Check Qormay Wali Chicken Biryani Recipe , ingredients and complete Method.
This Qormay Wali Chicken Biryani will teach you how to easily convert your leftover Qorma into a Biryani. It's one epic Biryani recipe that you do not want to miss.
Watch this Masala TV video to learn how to make Qormay Wali Chicken Biryani ,Jheenga Toast And Fajita Chicken Wings Recipes. This show of Mehboob's Kitchen with Chef Mehboob Khan aired on 20 March 2020.
Ingredients:
Screwpine ½ cup
Chicken 1-1/2 kg
Rice ½ kg
Red chili powder 1 tbsp
Coriander powder 2 tbsp
Yogurt 250 gm
Onion 2
Ginger garlic paste 1 tbsp
Black cumin ½ tsp
Whole red chilies 1 tbsp
Cardamom 8
Salt 1 tsp
Food color (soaked milk) ½ tsp
Clarified butter ½ cup
Mint 4-5
Green chilies as required
Black pepper as required
Lemon juice 1 lemon
Method:
Wash chicken with water add chicken in pan with all spices and clarified butter, cook on low flame. When water is dried out add yogurt cook. Add 2 cup of water keep for simmer. Boil rice in separate pan. add mint leaves, green chilies, black pepper and cumin. When rice is done sieve water. Layer rice in pan then layer chicken. Add food color, lemon juice keep for simmer. Serve with yogurt raita.
When you talk about one of the most famous Pakistani dishes your mind will instantly think about biryani! It is one of the most varied component of Pakistani cuisine, and there are so many different types of biryanis around the world, shahi biryani, Kolkata Biryani, Hyderabadi Biryani, Chicken Tikka Biryani etc., and many of these are also available in Pakistan. And not just that but different cities of Pakistan also have their own specialty when it comes to Biryani. Like Sindh is famous for its Sindhi Biryani, then there is Hyderabad famous for some amazing Hyderabadi Chicken Biryani Recipes and then there is Lahori Biryani famous in the city of Lahore.
This dish is said to be originated from south India where the staple food is rice, and some say it originated from different Muslim communities which were present in the subcontinent in cities like Dehli, Lucknow and Kerala. But after that since this dish has gotten very popular it today is found in almost every part of the world with shops famously annoyed by Pakistanis or Indians since these two countries are most famously known for Biryani.
Each type of Biryani has its unique taste, and each household in Pakistan has mastered an amazing Chicken Biryani Recipe till now, best part is biryani is also a major source of food business a lot for people these days. A part from serving biryani at restaurants and hotels, a lot of home-based startups are also selling their unique Chicken Biryani Recipes which has also led to an increase in the competition.
Biryani could be cooked using different meats, you can use beef, chicken, lamb etc., depending on your preference and taste, but children most commonly prefer eating Chicken Biryani. A good recipe of Chicken Tikka Biryani could be find on different website, you can also search Chicken Biryani Recipe in Urdu for your ease. Any Pakistani Chicken biryani requires some basic ingredients like some rice, chicken, spices like salt, garam masala, cardamom, cumin seeds, ginger paste, ginger, or if you want instead of using homemade spices you can always use biryani masala packets of different companies. Then you need some green chilies, onions, tomatoes, potatoes etc. This list of ingredients could be found very easily and in great detail if you follow any Chicken Biryani Recipe in Urdu.
Once you have all ingredients, you can follow some basic steps to make your type of biryani. So you can start by sautéing onions and tomatoes for 2-3 minutes, then add some spices to it, after onions turn brown add chicken to it and let it get tender. Add remaining spices or packet spices to chicken and cook for good 10 minutes. Then add your rice in it and cook it all together, and in no time your biryani will be ready!
Biryani is also considered one of the most important dishes for any event in Pakistan be it a wedding, birthday celebration, any other occasion, there has to be a dish of chicken biryani there otherwise it will be incomplete because no doubt, biryani is most famous dish amongst everyone. Along with this people from abroad mostly from western countries visit Pakistan and cannot go without trying biryani, it is like the most important dish along with some gulab jamans. A lot of foreigners, regardless of how spicy they find this dish actually can't stop having more of it that is how much they love it.
You can also follow some simple steps and your tasty Pakistani Chicken Biryani will be ready in no time, and then you can enjoy it right away!
Ingredients:
Prawns 250 gm
Bread 6 sliced
Corn flour ½ cup
Black pepper 2 tbsp
Flour 3 tbsp
Salt 1 tsp
Egg 2
Oil as required
Method:
Mix two eggs. Add corn flour, flour, black pepper and salt. Add small pieces of prawn. Mix well. Cut bread and coat with batter. Heat oil fry bread slices.
Ingredients:
Oregano 1 tbsp
Chicken wings 1 kg
Lemon juice 2 tbsp
Oil ¼ cup
Coriander 3 tbsp
Garlic 1 tbsp
Cumin 1 tsp
Salt 1 tsp
Corn flour 1 tbsp
Sesame ½ tsp
Crushed red chilies 1 tbsp
Method:
Apply lemon juice, coriander, garlic, cumin, salt, oregano and crushed red chilies on chicken wings. Keep chicken in air tight plastic bag keep in fridge for 4 to 5 hour. pre Heat oven at the 180C. Place chicken on baking tray and bake in oven. Heat oil add remaining marination. Add corn flour cook till it become thick. Add baked chicken mix well. Remove in plate garnish with sesame.

Qormay Wali Chicken Biryani Recipe in Urdu and English
At Masala TV you can check complete Qormay Wali Chicken Biryani Recipe in Urdu and English. This is one of the best recipes by chef Mehboob Khan at Masala TV show Mehboob's Kitchen. Check out the other best recipes of chefs Mehboob Khan.
Top relevant recipes of Qormay Wali Chicken Biryani Recipe in Urdu