Cheese Spinach Puff Recipe | Food Diaries | Zarnak Sidhwa |Bakery Item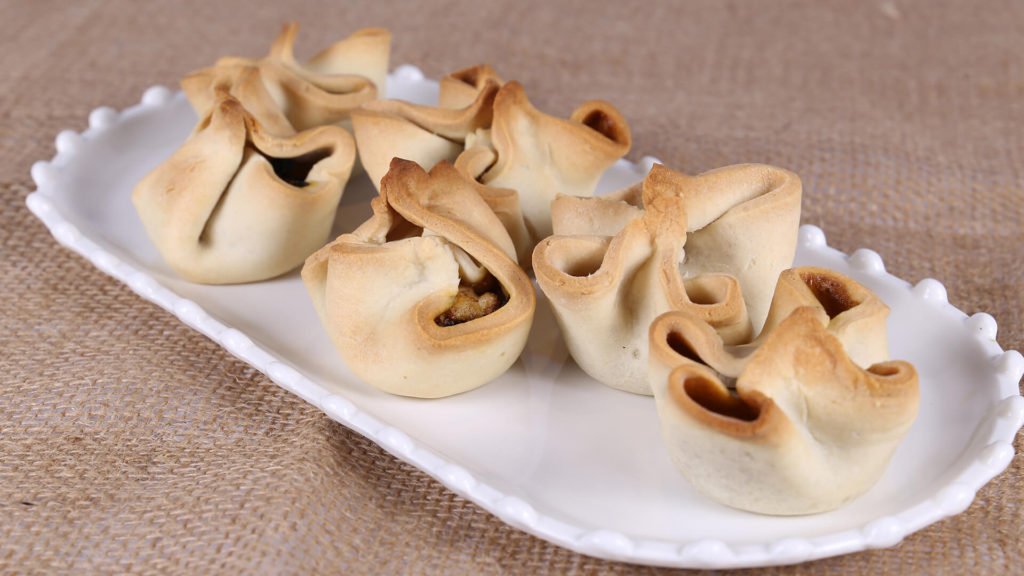 Oct 02, 2023 at 05:17 PM (GMT -04:00)

Check out the Cheese Spinach Puff Recipe in Urdu. Learn how to make best Cheese Spinach Puff Recipe , cooking at its finest by chef Zarnak Sidhwa at Masala TV show Food Diaries. Check all the Pakistan Cooking recipes in Urdu of Masala TV. Also Check Cheese Spinach Puff Recipe , ingredients and complete Method.
These Cheese Spinach Puffs are just as appetizing as the pictures show. The filling of cheese and spinach is beautifully done. This is a must-try dish!
Watch this Masala TV video to learn how to make Cheese Spinach Puff,Chicken Chowmein and Egg Potato Salad Recipes. This show of Food Diaries with Chef Zarnak Sidhwa aired on 20 January 2020
Ingredients :
200 grams Cottage cheese crumbled
250 grams Spinach chopped
3 cloves Garlic chopped
1 teaspoon Red chilli flakes
1 teaspoon All spice powder
to taste Salt
Ingredients for Crust:
1-1/2 cups Flour
1/4 cup Butter, chopped
1/2 teaspoon Salt
Method :
• To make the puff crust, combine salt, flour and butter and knead with your fingers until you get a coarse crumb like mixture.
• Add a few tablespoons of cold water at a time and make a smooth dough.
• Knead well and wrap in a cling film and refrigerate for a couple of hours.
• While the pastry is refrigerating, prepare the spinach filling.
• Heat oil, add the garlic and sauté.
• Add the chopped spinach and stir fry until all the moisture has evaporated.
• Add the cottage cheese and the remaining ingredients, Sauté until all is well combined.
• Grease the muffin pans with butter and keep aside.
• Place the chilled puff dough on a flat surface.
• Dust flour on the surface and roll the rough into a large square.
• Cut large square pieces of the dough and place each square into the muffin cavity.
• Spoon the spinach filling into the cavity and bring the edges of the puff together and pinch to seal.
• Place the spinach and paneer puff in the oven and bake until golden brown and crisp.
• Once done, remove and serve warm.
Ingredients:
1 packet Egg noodles
1 teaspoon Sesame oil
½ kg Chicken breasts, sliced
a dash Soya sauce
1 teaspoon Five-spice powder
1 teaspoon Chili sauce
1 tablespoon Corn flour
1 Capsicum sliced
1 Carrot sliced
1 Spring onion sliced
as required Ground black pepper
Method :
• Cook the noodles for 3 minutes in a pan of boiling water until cooked.
• Drain, then run them under cold running water, and drain again.
• Drizzle with a few splashes of sesame oil, and toss through to prevent them from sticking.
• Season the chicken with a splash of soya sauce, five-spice powder and chili sauce.
• Coat the chicken breasts lightly with the corn flour.
• Heat a wok over a high heat, add the oil and heat until smoking.
• Then, add the chicken, and stir-fry for 2 to 3 minutes, or until cooked through.
• Add the capsicum and stir-fry for 1 minute, then add the green onions and stir-fry for less than 1 minute.
• Add the cooked noodles, and season with soya sauce, 1 teaspoon toasted sesame oil and black pepper.
• Stir well and serve immediately.
Ingredients :
5 Potatoes boiled
3 Eggs boiled
1 Onion, chopped
1/2 cup Dill, chopped
2 Gherkins, chopped
1-1/2 cups Sour cream
1 teaspoon Black pepper powder
1/2 teaspoon Red chili flakes
to taste Salt
lemon juice 1 lemon
Method :
• Whisk the hung yogurt along with a little salt and a dash of lemon and set aside the sour cream.
• Mix all the ingredients and stir well.
• Serve chilled.

Cheese Spinach Puff Recipe in Urdu and English
At Masala TV you can check complete Cheese Spinach Puff Recipe in Urdu and English. This is one of the best recipes by chef Zarnak Sidhwa at Masala TV show Food Diaries. Check out the other best recipes of chefs Zarnak Sidhwa.
Top relevant recipes of Cheese Spinach Puff Recipe in Urdu