Chinese Egg Fried Rice Recipe | Fusion Food | Chef Mahnoor Malik | 17 October 2022 | Masala Tv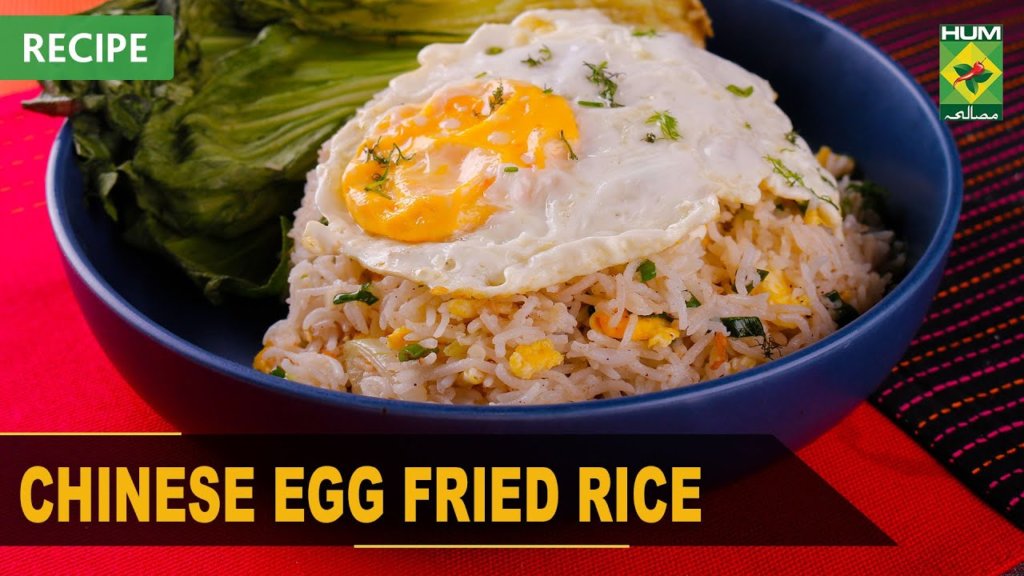 Oct 02, 2023 at 06:11 PM (GMT -04:00)

Check out the Chinese Egg Fried Rice Recipe in Urdu. Learn how to make best Chinese Egg Fried Rice Recipe , cooking at its finest by chef Mahnoor Malik at Masala TV show Fusion Food. Check all the Pakistan Cooking recipes in Urdu of Masala TV. Also Check Chinese Egg Fried Rice Recipe , ingredients and complete Method.
Subscribe To Masala TV Recipes YouTube Channel! MasalaTV
This show is hosted by Chef Mahnoor Malik who gives a personalized fusion twist to international cuisines. The chef also makes sure to provide a calorie count for each dish in the episode as well as to mention healthy substitutes for the ingredients to ensure a touch of healthiness in her dishes.
Serving Size 3
Total Calories 554
Protein15gm
Fat 15gm
Carbs 90gm
Ingredients
Cold cooked white rice 3 cups
Eggs 2
Cooking oil 1 ½ tablespoon
Garlic, minced 2 cloves
Green onions, finely chopped 1 stalk
Soy sauce 1 teaspoon
Sesame oil ½ teaspoon
Salt ¼ teaspoon – or to taste
Ground white pepper a pinch
Black pepper a pinch
Method
Loosen the rice grains as much as possible with chopsticks or a spoon. Lightly beat the eggs until the whites and yolks are fully incorporated. Heat up an empty, well-seasoned wok over high heat until it becomes very hot (smoke rises). Pour in 1 tablespoon of oil then swirl it around to coat the side of the wok. Pour in the egg. Once it begins to set at the bottom, stir to help the running part flow. Use a spatula to scramble quickly so that it turns into small pieces. Transfer out and set aside. Place the wok back on the burner. Add the remaining ½ tablespoon of oil. Fry garlic until fragrant then add the rice. Stir and toss continuously until the rice is piping hot. Use the spatula to break any clumps. Return the egg to the wok, along with green onions. Continue frying until everything is heated thoroughly. Season with soy sauce, sesame oil, salt and white pepper, black pepper. Give everything a good stir. Dish out and serve immediately.
Serving size 1
Total calories 406
Protein 39.2gm
Fat 13.8gm
Carbs 28gm
Ingredients For Marination
Sliced raw beef 300 gm
Water 2 tbsp
Cornstarch 1 tbsp
Soy sauce 2 tsp
Egg white 1
Salt to taste
White pepper to taste
Other Ingredients
Mushrooms ½ cup
Tomato 1
Fungus 1
Bamboo shoots 2-4 slices
Ice berg as required
Dry chili whole 3-6
Sichuan peppercorn 6-8
Ginger 1tsp
Garlic 1tsp
Chili bean sauce 1 tsp
Mala sauce 1 tbsp
Chicken powder 1 tbsp
White pepper to taste
Salt to taste
Olive oil/peanut oil as required
Sugar sizzling topping 1 tsp
Garlic minced 1 tbsp
Dill leaves 1 tbsp
Green onion 2 tsp
Chili flakes 1 tsp
Peanut oil/ olive oil/vegetable oil 2 tbsp
Method
We begin making Sichuan poached beef by 'marinating' the meat. This technique involves soaking the sliced beef in a marination that contains water, corn-starch, egg white, and salt and soy sauce and white pepper for added flavouring. The marinade cover the beef in a thin coating that protects it from the heat of the wok and transforms into a silky coating leaving meat tender from inside. In a medium bowl, mix the beef with the marinated ingredients until thoroughly coated. Set aside for now. Heat a wok over high heat. Add oil. When the oil just begins to smoke, toss in sliced mushrooms and continue stir frying until the mushrooms have softened. Remove the wok from the heat. Transfer the mushrooms into a bowl and spread them. Clean the wok before you continue. Heat oil in the wok over medium heat. Add in the ginger slices and cook until they turn a light brown colour. Then, add in the and Sichuan peppercorns. Stir fry for a couple minutes, being very careful not to burn them. Add in the garlic and stir fry for about twenty seconds, then add in mala sauce and chili bean sauce. Continue stir frying for about four minutes until you get a bright red colour (make sure that heat is at medium in order to achieve the red colour). Mix in the chicken stock and sugar. Turn the heat up to high and continue to stir as you bring the broth to a boil. As soon as the broth begins to boil, turn down the heat to low and immediately add in the marinated beef. Slowly stir and separate the pieces of beef from each other. Cook for a brief amount of time, just until the outside of the beef has browned. It's ok for the inside of the beef to be less cooked and still pink as this will result in more tender meat.

Chinese Egg Fried Rice Recipe in Urdu and English
At Masala TV you can check complete Chinese Egg Fried Rice Recipe in Urdu and English. This is one of the best recipes by chef Mahnoor Malik at Masala TV show Fusion Food. Check out the other best recipes of chefs Mahnoor Malik.
Top relevant recipes of Chinese Egg Fried Rice Recipe in Urdu