Chocolate Banana Biscuit Pudding Recipe | Food Diaries | Chef Zarnak Sidhwa | Dessert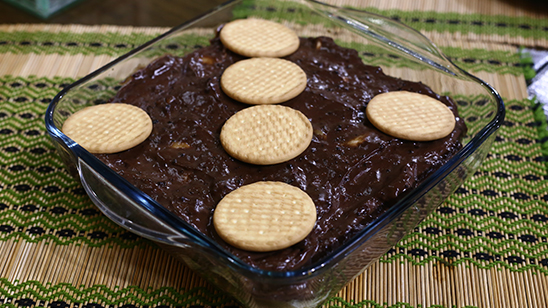 Mar 28, 2023 at 12:13 PM (GMT -04:00)

Check out the Chocolate Banana Biscuit Pudding Recipe in Urdu. Learn how to make best Chocolate Banana Biscuit Pudding Recipe , cooking at its finest by chef Zarnak Sidhwa at Masala TV show Food Diaries. Check all the Pakistan Cooking recipes in Urdu of Masala TV. Also Check Chocolate Banana Biscuit Pudding Recipe , ingredients and complete Method.
Chocolate Banana Biscuit Pudding tastes as incredible as it sounds. Having Pudding is a classic tradition that we must keep following but take it up a notch with the twist of chocolate and banana !
Watch this Masala TV video to learn how to make Chocolate Banana Biscuit Pudding and Rawa Upma Recipes. This show of Food Diaries with Chef Zarnak Sidhwa aired on 6 August 2021.
Ingredients for the Base:
Milk 4 cups + 1 cup
Corn flour 4 tbsp
Cocoa powder ½ cup
Powdered sugar ½ cup
For The Coffee Syrup:
Water 1 cup
Coffee powder 2 tbsp
Vanilla essence 1 tsp
For Layering:
Bananas (sliced) 2
Biscuits 30
Method:
In a saucepan add 4 cups of milk and bring it to a simmer. In a bowl add ½ cup of milk and mix in corn flour in it. Make sure there are no corn flour lumps. Bring this mixture to a boil, till it becomes thick in consistency. Once nicely mixed in, add this mixture to the saucepan. Take a separate small bowl and add the last remaining ½ cup of milk in it and very nicely mix in the cocoa powder. Again, make sure there are no lumps and then add this chocolate mixture in the saucepan as well. Add in powdered sugar and mix well. Once your milk and chocolate mixture has gotten thick, transfer it to a bowl, cover it with plastic wrap and let it cool down completely. Set this aside.
To make your coffee syrup, add water in a bowl and mix it in with coffee powder and vanilla essence.
To assemble the chocolate-banana pudding, first soak in your biscuits in the coffee syrup and spread them all over the base of your serving dish.
Top the biscuit layer with cooled pudding mixture. Spread this evenly and then layer it with sliced bananas. Repeat this process till your serving dish is full. Refrigerate the pudding for a few hours before serving.
Ingredients:
Semolina 1 cup
Onion (chopped) 1
Green chili (chopped) 1
Ginger (finely chopped) ½ inch
Peas 1/2 cup
Green beans 1/4 cup
Oil 2 tbsp
Split bengal gram 1 tbsp
Black gram lentil ½ tbsp
Mustard seeds 1 tsp
Curry leaves 10-12
Cashew nuts 7-8
Water 2 cups
Lemon juice 1 lemon
Salt 1 tsp
To Serve:
Lemon wedges as required
Coconut chutney as required
Method:
Roast the semolina without any oil until the semolina becomes light brown and the aroma comes out. Keep the semolina aside. Heat 2 tbsp Oil. Add Mustard Seeds, once they start popping, add Split bengal gram, Black gram lentil. Fry till they start to brown a little. Add cashew nuts and fry them for a min. Add curry leaves, ginger, green chili and stir the mixture. Add chopped onions and sauté till they turn translucent, add green beans and peas, water and salt. Cover and cook on low flame for 5-6 minutes. Add semolina gradually continuously stirring. Simmer and cook till the Upma is thick. Squeeze the lemon juice over the Upma and mix well. Serve hot with lemon wedges and coconut chutney.

Chocolate Banana Biscuit Pudding Recipe in Urdu and English
At Masala TV you can check complete Chocolate Banana Biscuit Pudding Recipe in Urdu and English. This is one of the best recipes by chef Zarnak Sidhwa at Masala TV show Food Diaries. Check out the other best recipes of chefs Zarnak Sidhwa.
Top relevant recipes of Chocolate Banana Biscuit Pudding Recipe in Urdu