Chocolate Peanut Caramel Tart Recipe | Food Diaries | Masala TV | Zarnak Sidhwa | Dessert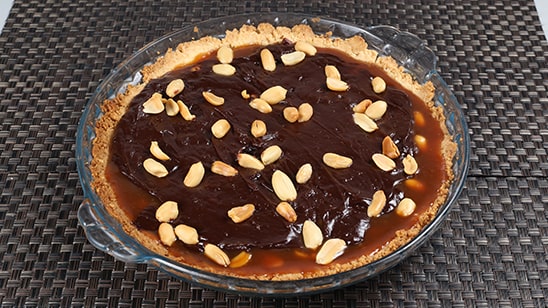 Sep 25, 2023 at 05:06 PM (GMT -04:00)

Check out the Chocolate Peanut Caramel Tart Recipe in Urdu. Learn how to make best Chocolate Peanut Caramel Tart Recipe , cooking at its finest by chef Zarnak Sidhwa at Masala TV show Food Diaries. Check all the Pakistan Cooking recipes in Urdu of Masala TV. Also Check Chocolate Peanut Caramel Tart Recipe , ingredients and complete Method.
Chocolate Peanut Caramel Tart make an iconic dessert. It is the perfect thing to make at tea-time. Enjoy a relaxing cup of coffee or tea with these beautiful looking tarts.
Watch this Masala TV video to learn how to make Chocolate Peanut Caramel Tart and Mongolian Beef Recipes. This show of Food Diaries with Chef Zarnak Sidhwa aired on 16 September 2021.
Ingredients For Peanut Pastry:
Salted peanuts 40gm
Flour 150gm
Icing sugar 1 tbsp
Unsalted butter (cubed) 90gm
Salt a pinch
Egg yolk 1
For Peanut Caramel:
Caster sugar 150gm
Cream 125ml
Unsalted butter 25gm
Salted peanuts (chopped) 50gm
For The Ganache:
Cream 200ml
Dark chocolate (chopped) 150gm
Method:
For the pastry, put the peanuts into a food processor and whizz until fine. Add the flour, icing sugar, butter and a pinch of salt, and pulse until the mixture resembles breadcrumbs. Add the egg yolk and pulse briefly, then add ice-cold water, 1 tbsp at a time, whizzing until it comes together as a dough. Form into a rough disc, wrap and chill for 30 minutes. Roll out the dough on a lightly floured surface, then line a shallow loose-bottomed tart tin. prick the base all over with a fork and line with baking paper, then fill with baking beans and bake at 180 degrees c for 20-25 minutes or until the edges are just browning. Remove the baking beans and paper, and bake again for 10-15 minutes more. Cool completely in the tin.
For the peanut caramel, put the caster sugar in a steel pan. Heat gently until the sugar melts and turns caramel. Carefully pour in the cream, butter and stir until melted. Leave to cool slightly then pour into the tart case. Sprinkle evenly with the chopped salted peanuts and leave at room temperature for 1 hour or until fully set.
For the ganache, gently heat the cream and chopped chocolate until simmering. Pour over the set caramel, even out with a spatula and chill for 1-2 hours or until set. Cut into slices to serve.
Ingredients:
Beef (undercut strips) ½ kg
Soy sauce 3 tbsp
Hoisin sauce 2 tbsp
Sesame oil 1 tsp
Brown sugar 2 tsp
Garlic (crushed) 2 tsp
Red chili flakes 1 tsp
Ground ginger 1/2 tsp
Olive oil 1 tsp
Green onions (sliced) 1/4 cup
Method:
Marinate the beef strips with soya sauce, hoisin sauce, sesame oil, brown sugar, garlic, ginger, and red chili flakes. Heat olive oil and stir fry the meat until done. Do not overcook it. Top with green onions. Serve hot over cooked rice or rice noodles.

Chocolate Peanut Caramel Tart Recipe in Urdu and English
At Masala TV you can check complete Chocolate Peanut Caramel Tart Recipe in Urdu and English. This is one of the best recipes by chef Zarnak Sidhwa at Masala TV show Food Diaries. Check out the other best recipes of chefs Zarnak Sidhwa.
Top relevant recipes of Chocolate Peanut Caramel Tart Recipe in Urdu