Chocolate Pistachio Cookies Recipe | Food Diaries | Zarnak Sidhwa | Bakery Item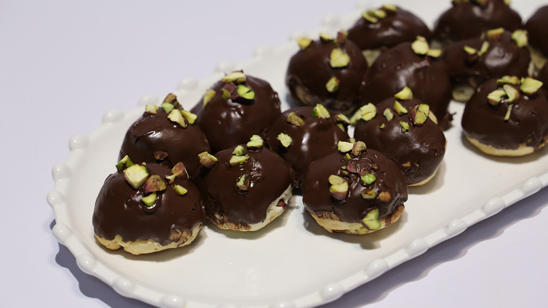 Sep 24, 2023 at 01:29 PM (GMT -04:00)

Check out the Chocolate Pistachio Cookies Recipe in Urdu. Learn how to make best Chocolate Pistachio Cookies Recipe , cooking at its finest by chef Zarnak Sidhwa at Masala TV show Food Diaries. Check all the Pakistan Cooking recipes in Urdu of Masala TV. Also Check Chocolate Pistachio Cookies Recipe , ingredients and complete Method.
Chocolate Pistachio Cookies are one of the best there are. These are certainly the most delectable ones you have tried.
Watch this Masala TV video to learn how to make Chocolate Pistachio Cookies ,Majestic Chicken and Mango Custard Pudding Recipe. This show of Food Diaries with Zarnak Sidhwa aired on 4 June 2020.
Ingredients:
Unsalted pistachios 1 cup
Unsalted butter 4 oz
Caster sugar 1/2 cup
Egg 1
Flour 1 1/2 cups
Dark chocolate, chopped 8 oz
Method:
Place the pistachios in a small bowl and cover with water; set aside for 30 minutes. Drain the pistachios well and place them on a paper towel to dry. Beat the butter and sugar until pale and fluffy. Add in the egg and beat, add in the flour and pistachios and mix. Your dough should be stiff. Scrape the cookie dough onto a floured surface and gently knead it for 30 seconds. Divide the dough in half, then roll each portion of cookie dough into a log that's roughly 2″ in diameter. Wrap each log tightly in plastic wrap and refrigerate for at least 2 hours (or upto 5 days). Remove the dough from the fridge and place it on a cutting board. Using a sharp knife, slice the logs of cookie dough into 1/4″ rounds. Place the cookies 1/2″ apart on the prepared baking sheet, and bake at 180 degrees C for 10 to 12 minutes, or until lightly golden. Remove the oven and place the pan on a cooling rack. Cool for at least 15 minutes before removing. In the meantime, make the chocolate coating. Melt the chopped chocolate in a double boiler or in the microwave. Dip each cookie halfway into the chocolate then return to the lined baking sheet. Sprinkle with sea salt or additional chopped pistachios, if desired. Allow the chocolate to set before serving. Place the baking sheet into the refrigerator.
Ingredients for Marination:
½ kg Boneless chicken ½ kg
Buttermilk 6 tbsp
Salt 1tsp
Pepper 1 tsp
Ginger garlic paste 2 tsp
Egg 1
Corn flour 3 tbsp
Chili sauce 2 tbsp
Tempering:
Slitted green chilies 6
Curry leaves 10
Mint leaves 7-8
Chopped garlic 1 tbsp
Red chili powder 1 tsp
Cumin powder 1/2 tsp
Coriander powder 1tsp
Yoghurt 2 tbsp
Salt to taste
Soy sauce 2 tsp
Oil to deep fry
Method:
Marinate the chicken in buttermilk, salt and pepper for 30 minutes. Now remove the chicken from the 1st marinate, and add the rest of the marinade ingredients to it and leave it aside for few hrs. Now heat oil, deep fry the chicken pieces and keep it aside . Heat some oil in a pan, add chopped garlic, once they start smelling, add curry leaves, mint leaves and green chilies. Stir for few seconds and add the powdered masalas. Now add the yoghurt, salt, soya sauce and stir for 2 minutes and add the fried chicken. Coat them well and serve.
Ingredients:
Eggs 2
Mango paste 2 tbsp
Mango custard 2-3 tbsp
Milk 200 ml
Flour 2 tbsp
Icing sugar 4 tbsp
Method:
First dissolve mango custard in 6 tbsp milk. Then in a mixing bowl add eggs and beat well with hand mixer. Now add the remaining milk and icing sugar, beat well with hand mixer. Then add flour and mix properly with spoon. Now add dissolved custard and mango paste, mix well. Then add the mixture in a microwave proof bowl and allow it to set. Now place the bowl in the microwave and set it on Dessert on A-59. Press the start button. Once it is done, take the bowl out of the microwave and let it to cool down on room temperature. Lastly keep the pudding in the freezer to cool and serve.

Chocolate Pistachio Cookies Recipe in Urdu and English
At Masala TV you can check complete Chocolate Pistachio Cookies Recipe in Urdu and English. This is one of the best recipes by chef Zarnak Sidhwa at Masala TV show Food Diaries. Check out the other best recipes of chefs Zarnak Sidhwa.
Top relevant recipes of Chocolate Pistachio Cookies Recipe in Urdu