Cinnamon Rolls Recipe | Bake With An Expert | Chef Saad Ahmed | 17 Oct 2022 | Masala Tv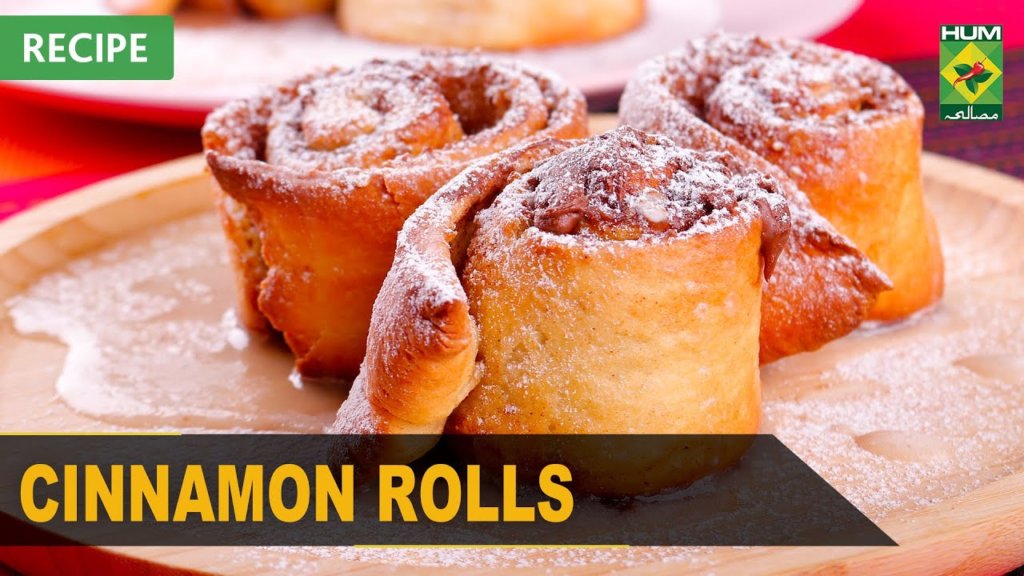 Sep 22, 2023 at 06:04 PM (GMT -04:00)

Check out the Cinnamon Rolls Recipe in Urdu. Learn how to make best Cinnamon Rolls Recipe , cooking at its finest by chef Saad Ahmed at Masala TV show Bake With An Expert. Check all the Pakistan Cooking recipes in Urdu of Masala TV. Also Check Cinnamon Rolls Recipe , ingredients and complete Method.
Subscribe To Masala TV Recipes YouTube Channel! https://bit.ly/MasalaTV
This show features two new fresh faces from the culinary world; Chef Saba Aftab and Chef Saad Ahmed. Chef Saba provides theme-based patisserie solutions while Chef Saad provides an insight to savory and dessert based baking solutions.
Ingredients
Flour 4 cups
Instant Yeast 1 tsp
Warm Milk 1 cup
Unsalted Butter 3 tbsp
Castor Sugar 2 tbsp
Salt a pinch
Egg 1
For icing:
Unsalted Butter 2 tbsp
Brown Sugar 1/2 cup
Icing Sugar 1/2 cup
Cinnamon Powder 1 tbsp
Unsalted Cream Cheese 2 tbsp
Butter 1/3 cup
Vanilla Essence few drop
Flour 2 tbsp
Salt a pinch
METHOD
1. Put the yeast, sugar, warm milk and some flour into a bowl stir it and leave it to rest for 10-15
mins.
2. Then add the other ingredients and make a smooth dough.
3. Knead the dough and keep it aside for about 1 hour or until double in size.
4. Roll the dough about 1/4 inch thick in a rectangle.
5. Preheat oven at 350 degree.
6. Line rimmed baking sheet with parchment paper, spray or grease with oil an set aside .
7. Spread softened butter over dough, covering the edges.
8. Leaving an inch strip untouched on one of the longer sides of the dough.
9. Dumb brown sugar and cinnamon mix in the center of the dough and spread it with your
hands, creating even layers.
10.Lightly press the sugar mix to the butter on the dough.
11.Slice your rolls into 1-1/2-inch rounds and place them on prepared baking tray
12.Bake for about 20 minutes
13.Then or filling first spread the butter, then sugar, cinnamon and the with the sieve sprinkle
flour.
14.Bake it for 10-15 mins or until golden brown.
15.when the rolls are baked spread generously with icing and serve warm.
Ingredients for Ranch Sauce:
Cream 1 Cup
Lemon juice 3 tbsp
Mayonnaise 1 Cup
Black pepper powder ½ tsp
Dried parsley 1 – ½ tsp
Onion powder ½ tsp
Garlic powder ½ tsp
Salt 1 pinch
Dill finely chopped 1 – ½ tbsp
Ingredients for Pizza Dough:
Warm water ½ Cup
Milkwarm ¼ Cup
Sugar 1 tbsp
yeast 3 tsp
Flour 3 Cups
Salt 1 tsp
oil 2 tbsp
Lukewarm water 2-3 tbsp
Ingredients for Chicken Filling:
oil 2 tbsp
Boneless chicken cubes 400g
Ginger garlic paste 1 tsp
Salt to taste
Red chilli powder to taste
Turmeric powder ½ tsp
Cumin powder 1 tsp
Black pepper 1 tsp
Lemon juice 1 tbsp
Yogurt 3tbsp
For Assembling:
Cheddar cheese grated as required
Mozzarella cheese grated as required
Capsicum cubes as required
Onion as required
Tomatoes as required
Mushrooms sliced as required
Black olives sliced as required
Cheddar cheese grated as required
Mozzarella cheese grated as required
Dried oregano as required
Red chilli crushed as required
METHOD :
Prepare Ranch Sauce:
1. In a bowl,addcream,lemon juice & whisk well.
2. Add mayonnaise,black pepper powder,driedparsley,onionpowder,garlic
powder,salt,dill& mix until well combined.Ranch sauce is ready.
Prepare Pizza Dough:
1. In a jug,add warm water,milk,sugar,instant yeast and mix well,cover& let it
rest for 10-15 minutes.
2. In a bowl,add all-purpose flour,salt& mix well.
3. Add cooking oil and mix well until it crumbles.
4. Gradually add dissolved yeast mixture & mix well.
5. Add water & knead until dough is formed,cover& let it proof for 1 hour
(warm place).
Prepare Chicken Filling:
1. In a frying pan,add cooking oil,chicken& mix well until it changes color.
2. Add ginger garlic paste,salt,redchillipowder,turmericpowder,cumin
powder,black pepper crushed, lemon juice,mix well and cook for 1-2 minutes.
3. Add yogurt & mix well,cover& cook on medium flame for 4-5 minutes then
cook on high flame until dries up & set aside.
4. Sprinkle dry flour & knead dough again until smooth.
5. Divide the dough into 3 parts,take one part,sprinkle dry flour & roll out with
the help of rolling pin.
6. On 9" inch pizza pan,place rolled dough,press gently & prick with fork.
7. Add & spread ranch sauce 3-4 tbs,cheddarcheese,mozzarella
cheese,cookedchicken,capsicum,onion, tomatoes,mushrooms,black
olives,cheddarcheese,mozzarellacheese,dried oregano & red chilli crushed
(makes 3 medium Pizzas).
8. Bake in preheated oven at 200 C for 10-12 minutes.
9. Take out from pizza pan & drizzle prepared ranch sauce then cut into slices
& serve!

Cinnamon Rolls Recipe in Urdu and English
At Masala TV you can check complete Cinnamon Rolls Recipe in Urdu and English. This is one of the best recipes by chef Saad Ahmed at Masala TV show Bake With An Expert. Check out the other best recipes of chefs Saad Ahmed.
Top relevant recipes of Cinnamon Rolls Recipe in Urdu