Cinnamon Sugar Palmiers Recipe | Food Diaries | Zarnak Sidhwa | Bakery Item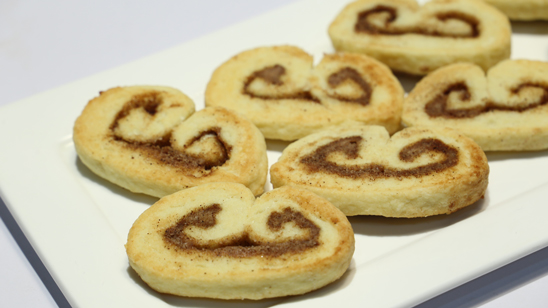 Sep 22, 2023 at 05:40 PM (GMT -04:00)

Check out the Cinnamon Sugar Palmiers Recipe in Urdu. Learn how to make best Cinnamon Sugar Palmiers Recipe , cooking at its finest by chef Zarnak Sidhwa at Masala TV show Food Diaries. Check all the Pakistan Cooking recipes in Urdu of Masala TV. Also Check Cinnamon Sugar Palmiers Recipe , ingredients and complete Method.
These Cinnamon Sugar Palmiers will make the ideal combination with your tea. Take a tea break and have these!
Watch this Masala TV video to learn how to make Cinnamon Sugar Palmiers , French Lentil Salad and Tandoori Fish Recipes. This show of Food Diaries with Chef Zarnak Sidhwa aired on 12 June 2020.
Ingredients:
For the Short crust:
Flour 3 cups
Sugar 1 1/2 tbsp
Salt 1 1/2 tsp
Cold unsalted butter, cubed 1 1/2 cups
Ice water 9 tbsp
Lemon juice 2 tsp
For the Palmiers:
Caster sugar 1/2 cup
Ground cinnamon 1 1/2 tsp
Egg 1
Method:
Place the flour, sugar, and salt in a mixer and mix to combine with the whisk attachment. Add a quarter of the butter and mix until the butter is in tiny pieces. Add the remaining butter and mix to coat the cubes with flour. Combine the ice water and lemon juice in a bowl. Add half the liquid to the flour mixture and mix until just combined. Keep adding the liquid, 1 Tbsp at a time until the dough starts to clump together. The dough will be dry at this point. Turn the dough onto a floured surface and knead. Press the dough into a 8×4" rectangle. Wrap it in plastic wrap and refrigerate for at least 30 minutes. Mix together the sugar and cinnamon. Lightly flour a large piece of parchment paper. Place the dough on the parchment and roll it into a 16 by 14 inch rectangle about 1/4 inch thick. Brush with the beaten egg. Sprinkle the dough liberally with the cinnamon sugar, gently smoothing the sugar and patting it onto the dough. With the long side of the dough closest to you, fold 3 inches of the outer edges toward the center, leaving a 2 inch strip in the middle. Fold the outer edges in again so that both sides of the rectangles are folded in (on top of themselves). Fold the dough in half, forming a rectangular log. Wrap in plastic wrap and refrigerate until firm (about 1 hour). Preheat the oven to 400 degrees. Slice the chilled roll into 1/2 inch thick slices and position 1 inch apart on a baking sheet. Bake until the palmiers are golden brown, about 20-24 minutes. Cool on a cooling rack.
Ingredients:
Onion, diced 1
Garlic, minced 1 clove
Carrot, diced 1
Beetroot, diced 1
Dried herbs (Thyme/Tarragon/Oregano) 1 tsp
Olive Oil as required
Lemon Juice 1 tsp
Lentils, boiled 1 cup
Water 2 cups
Cucumber, diced 1
Capsicum, diced 1
Parsley, chopped 2 tbsp
Dressing:
White Vinegar 1 1/2 tbsp
Mustard 1 tsp
Olive Oil 3 tbsp
Dried Tarragon 1/2 tsp
Hot sauce a dash
Iceberg or lettuce leaves as required
Method:
Mix together Onion, Garlic, Carrot, Beetroot, Herbs, Lemon Juice & Olive Oil and arrange on a foil lined baking tray. Bake at 180 degrees C for 20-30 minutes or until Beetroot & Carrot cooked through. Remove and allow to cool. Meanwhile, boil the Lentils until al dente. Rinse with cold water and drain. Add Roast Veggies, Cucumber, capsicum & Lentils to a large bowl. Combine Dressing ingredients in a jar and shake to combine. Pour over Salad, and fold in chopped Parsley. Serve on a bed of iceberg or lettuce leaves.
Ingredients:
Fish fillets 250 gm
Garlic paste 1 tbsp
Red chili powder 1 tsp
Turmeric powder ½ tsp
Lemon juice 2 tbsp
Red food color 1/3 tsp
Oil 2 tbsp
Salt to taste
Method:
In a mixing bowl add fish fillets, garlic paste, red chili powder, turmeric powder, lemon juice, red food color, oil and salt. Marinate for about 1/2 an hour. Then grease the microwave oven plate with oil and set the fish fillets onto the plate. Now set the microwave oven on Snacks & Bake on A-13 and start the machine. After the Beep, turn the fillets. Once the time is over, dish out and garnish with Salad leaves and tomatoes. Serve hot.

Cinnamon Sugar Palmiers Recipe in Urdu and English
At Masala TV you can check complete Cinnamon Sugar Palmiers Recipe in Urdu and English. This is one of the best recipes by chef Zarnak Sidhwa at Masala TV show Food Diaries. Check out the other best recipes of chefs Zarnak Sidhwa.
Top relevant recipes of Cinnamon Sugar Palmiers Recipe in Urdu