Dark Chocolate Cheesecake Recipe | Food Diaries | Zarnak Sidhwa | 5 November 2022 | Masala Tv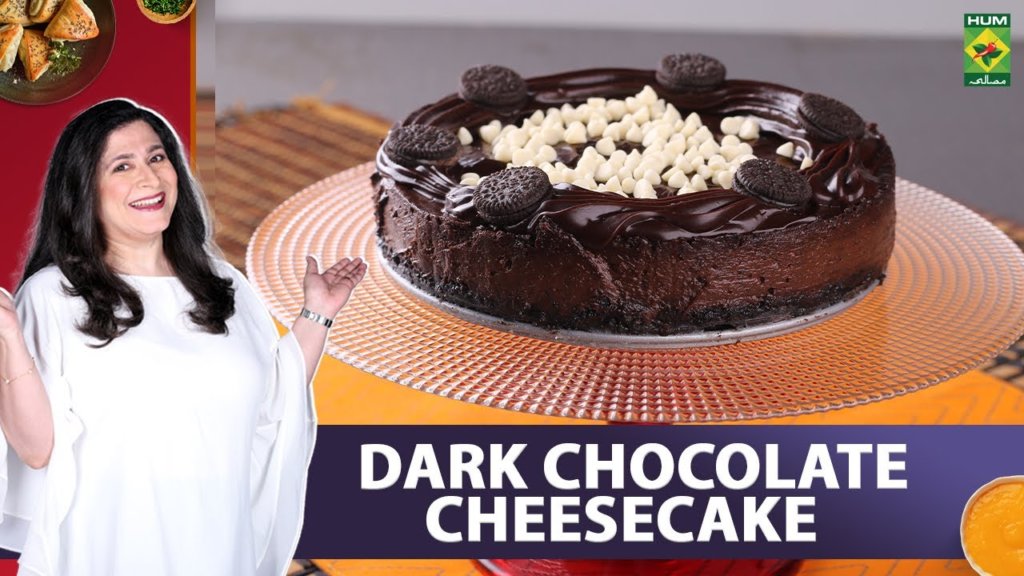 Jun 08, 2023 at 12:17 AM (GMT -04:00)

Check out the Dark Chocolate Cheesecake Recipe in Urdu. Learn how to make best Dark Chocolate Cheesecake Recipe , cooking at its finest by chef Zarnak Sidhwa at Masala TV show Food Diaries. Check all the Pakistan Cooking recipes in Urdu of Masala TV. Also Check Dark Chocolate Cheesecake Recipe , ingredients and complete Method.
Subscribe To Masala TV Recipes YouTube Channel! https://bit.ly/MasalaTV
Who doesn't love Dark Chocolate Cheesecake Recipe. Make this recipe at home and you'll love it.
#chocolatecheesecake #PrawnGravy #food #pakistanifood #masalatv
This show of Food Diaries with Zarnak Sidhwa aired on 05 Nov 2022.
If you enjoy cooking Pakistani food and are looking for recipes, videos of LIVE shows, totkas, and other food stories in both Urdu and English, subscribe to this YouTube channel or go to our Website: https://www.masala.tv/
#masalatv #Food #MasalaRecipes #Recipe #EveningWithShireen #ShireenAnwar#Dawat #AbidaBaloch #Lazzat #SaminaJalil #FlameOnHai #IrfanWasti #Tarka #RidaAftab #MehboobsKitchen #MehboobKhan #FoodDiaries #ZarnakSidhwa #Breakfast #Dinner #Lunch #Chef #Cooking#Baking #Eating #KarachiFood #FastFood #desifood
Ingredients:
Prawns 350 gm
Coconut Milk 250 gm
Finely Chopped Onions 2
Ginger Garlic Paste 1 tsp
Green Chillies 4
Red Chili Powder 2 Tsp
Turmeric Powder 2 1/2 Tsp
Kashmiri red chili powder 1/2 Tsp
Salt 1 tsp
Oil 1 Tbsp
Green cardamom powder ¼ tsp
Cinnamon powder ¼ tsp
Bay leaf 1
Method :
Grind the prawns with 1/2 Tsp Salt, 1/2 Tsp Turmeric & 1/2 Tsp Red Chilli powder. Heat oil, add the bayleaf, cardamom and cinnamon powders, finely chopped onions and fry them till golden brown. Then add Ginger & Garlic Paste and saute. Added Kashmiri red chilli powder, remaining red chili powder & turmeric and saute, add water, salt, green chillies. Add the coconut milk and simmer on low. Make a small ball with the prawn paste like a dumpling and add very slowly in the boiling gravy, so they dont break. Do not mix, cover and simmer. After few minutes, these dumplings will start to float on the gravy. Slowly turn them so they get cooked on the other side.
Serve with Rice.
Ingredients
Crust:
Dark chocolate cookie crumbs 3 cups
Butter, melted 4 tbsp
Filling:
Cream Cheese 24 oz
Caster sugar 1 cup
Cocoa powder 6 tbsp
Sour cream 1 cup
Vanilla essence 1 tsp
Dark chocolate, melted 8 oz
Eggs 4
Gouache:
Dark chocolate 9 oz
Cream 3/4 cup
Chocolate, grated 3 oz
Method :
Combine the melted butter with the biscuit crumbs in a bowl. Press the mixture into the bottom and up the sides of a 9" springform pan. Bake the crust at 180 degrees C for 10 minutes, then set aside to cool. Cover the outsides of the pan with aluminum foil so that water from the water bath cannot get in. Reduce oven temperature to 148°C. Beat the cream cheese, sugar and cocoa until well completely combined. Add the sour cream, melted chocolate and vanilla essence. Add the eggs one at a time. Pour the cheesecake batter evenly into the crust. Place the springform pan inside another larger pan. Fill the outside pan with enough warm water to go about halfway up the sides of the springform pan. Bake for 1 hour. The center should be set, but still jiggly. Turn off the oven and leave the door closed for 30 minutes. Slightly open the door of the oven for 30 minutes to allow the cheesecake to continue to cool slowly. This process helps prevent cracking. Remove the cheesecake from the oven and cool and then refrigerate overnight. Just before serving, make the chocolate ganache by melting cream and chocolate in a pan. Let cool at room temperature and then pour on top of the cheesecake and spread evenly. Allow to firm up a bit. Decorate with swirls using remaining ganache and grate the chocolate bar using a vegetable peeler over the cheesecake. Chill and then serve.

Dark Chocolate Cheesecake Recipe in Urdu and English
At Masala TV you can check complete Dark Chocolate Cheesecake Recipe in Urdu and English. This is one of the best recipes by chef Zarnak Sidhwa at Masala TV show Food Diaries. Check out the other best recipes of chefs Zarnak Sidhwa.
Top relevant recipes of Dark Chocolate Cheesecake Recipe in Urdu