Thai Basil Rice Recipe | Food Diaries | Zarnak Sidhwa | Thai Food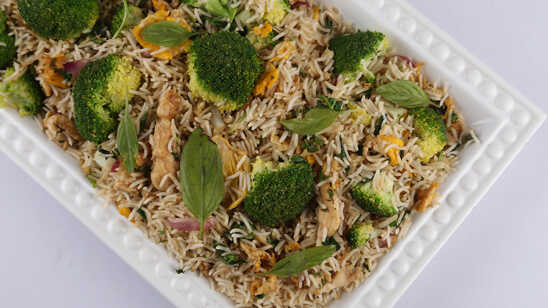 Jun 04, 2023 at 05:12 PM (GMT -04:00)

Check out the Thai Basil Rice Recipe in Urdu. Learn how to make best Thai Basil Rice Recipe , cooking at its finest by chef Zarnak Sidhwa at Masala TV show Food Diaries. Check all the Pakistan Cooking recipes in Urdu of Masala TV. Also Check Thai Basil Rice Recipe , ingredients and complete Method.
This easy Thai Basil Rice recipe makes for an amazing dinner that the whole family will love.
Watch this Masala TV video to learn how to make Thai Basil Rice and Dark chocolate cake Recipes. This show of Food Diaries with Chef Zarnak Sidhwa aired on 19 January 2020.
Ingredients:
Rice 1- 1/2 cups
Salt 3 tsp
Broccoli, cut in florets 1
Onion, cut in thick slices 1
Garlic, minced 2 Cloves
Chicken breasts, thinly sliced 2
Corn flour 2 Tbsp
Eggs 2
Soya sauce 2 tbsp
Sesame oil 2 tsp
Oil 3-4 Tbsp
Basil, chopped 1/4 cup
Lemon 1
Coriander 1 bunch
Method:
Boil the rice with salt and drain and set aside. Blanch the broccoli in salty hot water for very few minutes and set aside. Add salt and cornflour to the chicken pieces. Boil the chicken for 4 minutes. Strain and set the chicken aside. Beat the eggs with ½ tsp sesame oil, 1 tsp soya sauce and ¼ tsp salt. Heat 1 tablespoon oil and 1 teaspoon sesame oil in a wok. Add the garlic, broccoli and onions and sauté add eggs and quickly fry them. Next, fry the chicken pieces for just a couple of minutes to brown them, adding a bit more oil to the pan if needed. Add more oil if needed and then stir fry the rice. Mix everything well and add the basil and coriander leaves and lemon juice. Serve immediately.
INGREDIENTS:
dark chocolate, chopped 500gm
unsalted butter 125gm
eggs, separated 6
caster sugar 90gm
cream 150ml
vanilla essence 1 tsp
cream of tartar 1/2 tsp
GANACHE:
dark chocolate, chopped 450gm
unsalted butter 175gm
cream 600ml
liquid glucose 1/4 cup
METHOD:
Melt the chocolate and butter in a pan and set aside to cool slightly. Beat the egg yolks and sugar until thick and pale. Stir in the cream, vanilla essence and cooled chocolate mixture. Whisk the egg whites and cream of tartar in a clean, dry bowl until soft peaks form. In batches, gently fold the egg whites into the chocolate mixture, trying to keep as much air in the mixture as possible. Spread into a greased 8" pan and bake at 180 degrees C for 25 minutes or until a skewer inserted into the center comes out with a few moist crumbs. Transfer to a wire rack and cool in the pan. Meanwhile, for the ganache, melt chocolate and butter in a pan until smooth. Remove from heat and set aside. Gently heat cream and glucose in a separate pan. Pour over the chocolate mixture and stir until smooth. Chill for 30 minutes or until thick. Remove cake from the pan and spread the ganache over the cooled cake.

Thai Basil Rice Recipe in Urdu and English
At Masala TV you can check complete Thai Basil Rice Recipe in Urdu and English. This is one of the best recipes by chef Zarnak Sidhwa at Masala TV show Food Diaries. Check out the other best recipes of chefs Zarnak Sidhwa.
Top relevant recipes of Thai Basil Rice Recipe in Urdu