Dum ka Qeema Recipe | Tarka | Rida Aftab | Desi Food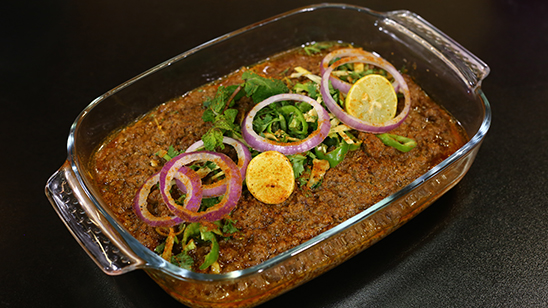 Nov 29, 2023 at 04:28 AM (GMT -05:00)

Check out the Dum ka Qeema Recipe in Urdu. Learn how to make best Dum ka Qeema Recipe , cooking at its finest by chef Rida Aftab at Masala TV show Tarka. Check all the Pakistan Cooking recipes in Urdu of Masala TV. Also Check Dum ka Qeema Recipe , ingredients and complete Method.
Dum ka Qeema makes one of the best desi dishes do give it a try and enjoy it with a fresh naan.
Watch this Masala TV video to learn how to make Dum ka Qeema , Mash Daal tarka and Saucy Chickpea Salad Recipes. This show of Tarka with Chef Rida Aftab aired on 26 July 2021.
Ingredients:
Beef Mince ½ kg
Yogurt 250 grams
Finely Chopped Mint Leaves 1 bunch
Clarified butter, Oil 1 cup
Finely Chopped Green Chilies 4
Lemons 6
Green Cardamoms 6
All spice Powder 1 tsp
Kachri qeema masala 2 tbsp
White Cumin Seeds 1 tsp
Black Cumin Seeds 1 tsp
Ginger Garlic Paste 1tbsp
Red Chili Powder 1 tbsp
Poppy Seeds 1 tbsp
Chickpeas (roasted) 2 tbsp
Raw Papaya 2-12 tbsp
Salt to taste
Method:
In a bowl, add mince, yogurt, salt, black cumin seeds, ginger garlic paste, garam masala powder, Kachri qeema masala,red chili powder, raw papaya and mix.
In a blender add chickpeas, poppy seeds, green cardamoms,white cumin seeds blended well.
Now add in mince
In a pan, heat oil adds mice and cover it.
When mince are tender then fry well.
Now add lemon juice, finely chopped mint leaves, green chilies, oil and cook.
In the end add onion, mint leaves, green chilies, lemon and serve.
Dum ka Qeema is ready.
Ingredients:
Black gram ½ kg
Oil 4 tbsp
Onion (sliced) 1
Tomatoes 250 gm
Ginger 1 piece
Green chilies 4
Red chili flakes 1 tsp
Fenugreek leaves 1 tbsp
Cumin 2 tsp
Red chili powder 1 tsp
Turmeric powder 1/2 tsp
Salt 1/2 tsp
Fresh coriander for garnish
To Temper:
Butter 100 gm
Garlic 4 cloves
Cumin 1 tsp
Method:
In the black gram add turmeric powder and boil the lentil well. Once the lentil is boiled sieve it and set aside. Then heat oil in a wok and fry the sliced onion. Now add ginger, green chilies, tomatoes, cumin, fenugreek leaves, red chili flakes, red chili powder and salt. Cook well. Then add the boiled black gram and cook properly.
For The Temper, heat butter. Fry garlic and cumin. Temper the lentil and mix well. Lastly garnish with fresh coriander and serve hot.
Ingredients:
Macaroni (boiled) 1 cup
Chick Peas (boiled) 1 cup
Potato (boiled) 1
Apple 1
Lettuce leaves few
Cucumber 1
Spring Onion 2
Capsicum 1
Yogurt ½ cup
Mayonnaise 1 cup
Black Pepper ½ tsp
Salt ½ tsp
Red Chili (crushed) ½ tsp
Chili sauce as required
Method:
Apple, boil potato, lettuce leaves, cucumber, green onion and capsicum finely chopped .now in a separate bowl yogurt, Chili sauce,mayonnaise, and black paper, salt and crushed red chili mix .then pour vegetables in the dish, boil chickpeas and boiled spaghetti .after this add mayonnaise mixture and mix well and serve it .

Dum ka Qeema Recipe in Urdu and English
At Masala TV you can check complete Dum ka Qeema Recipe in Urdu and English. This is one of the best recipes by chef Rida Aftab at Masala TV show Tarka. Check out the other best recipes of chefs Rida Aftab.
Top relevant recipes of Dum ka Qeema Recipe in Urdu