Fattoush Salad Recipe | Lazzat | Samina Jalil | Lebanese Food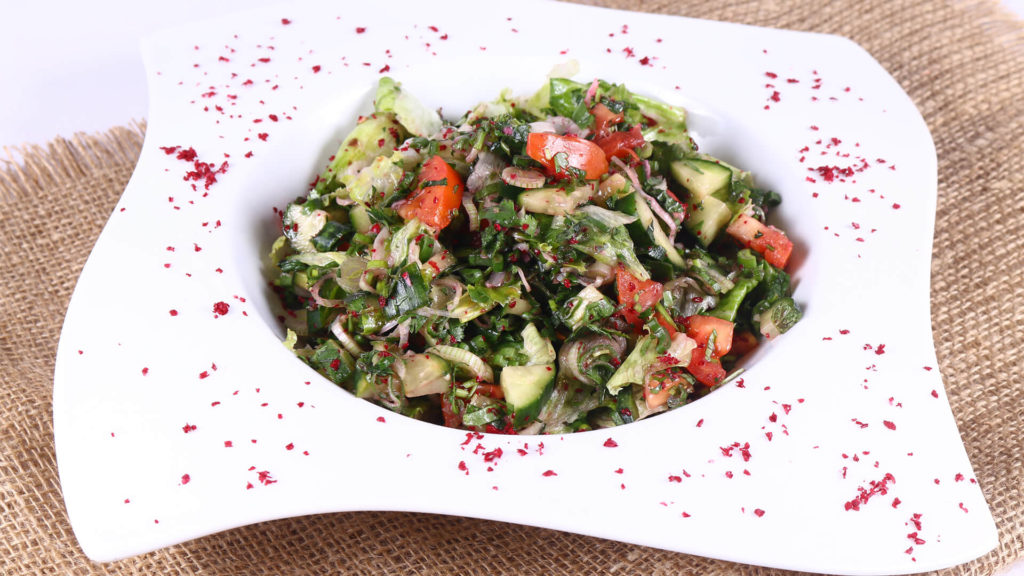 Oct 21, 2021 at 08:09 AM (GMT -04:00)

Check out the Fattoush Salad Recipe in Urdu. Learn how to make best Fattoush Salad Recipe, cooking at its finest by chef Samina Jalil at Masala TV show Lazzat. Check all the Pakistan Cooking recipes in Urdu of Masala TV. Also Check Fattoush Salad Recipe, ingredients and complete Method.
Fattoush Salad has the mouth-watering chopped up vegetables with a dressing that makes it even more lovable.
Watch this Masala TV video to learn how to make Fattoush Salad and Lebanese Kafta with Yogurt Dip Recipes. This show of Lazzat with Chef Samina Jalil aired on 15 January 2020.
Ingredients:
Cucumber 2
Tomatoes 2-3
Green onion 2-3
Mint ½ cup
Parsley ½ cup
Ice burg lettuce as required
Ingredients for dressing:
Sumac 2 tbsp
Lemon juice 1 tbsp
Salt to taste
Crushed garlic 1 tsp
Olive oil 4 tbsp
Pita bread sliced as required
Method:
• Chopped cucumber, tomatoes and green onion thick form.
• Add chopped mint and parsley.
• Add ice burg mix well.
• Mix all ingredient of dressing.
• Then mix in salad bowl.
• Serve with fried pita bread sliced.
Ingredients for Kafta:
Chicken minced 300 gm
Beef minced 250 gm
Bread slice 1
Green coriander ½ bunch
Green chilies 4-5
Melon seeds 2 tbsp
White pepper ¾ tsp
Salt as required
Crushed onion 1
Crushed garlic 1 tbsp
White cumin 1 tsp
Ginger 1 tsp
Cinnamon powder ½ tsp
Oil for fry
Ingredients for Garlic Sauce:
Yogurt ¾ cup
Tahini paste 1-1/2 tsp
Lemon juice 1 tbsp
Crushed ginger garlic 1-1/2 tsp
Salt to taste
Olive oil 1 tbsp
Ingredients for Garnish:
Lemon sliced for garnish
Chopped cabbage for garnish
Fried green chilies for garnish
Pita bread as required
Method:
• Mix all ingredient with chicken and beef mince except oil in bowl.
• Marinate for 3 to 4 hour.
• Make kabab and heat in hot oil.
• For garlic tahini sauce mix yogurt, tahini paste, crushed garlic ginger, lemon juice and salt mix well. Add olive oil serve. Garnish with lemon slices, chopped cabbage and green chilies. Serve with pita bread.

Fattoush Salad Recipe in Urdu and English
At Masala TV you can check complete Fattoush Salad Recipe in Urdu and English. This is one of the best recipes by chef Samina Jalil at Masala TV show Lazzat. Check out the other best recipes of chefs Samina Jalil.
Top relevant recipes of Fattoush Salad Recipe in Urdu