Fish Black Pepper Recipe | Masala Mornings | Masala TV | Shireen Anwar | Sea Food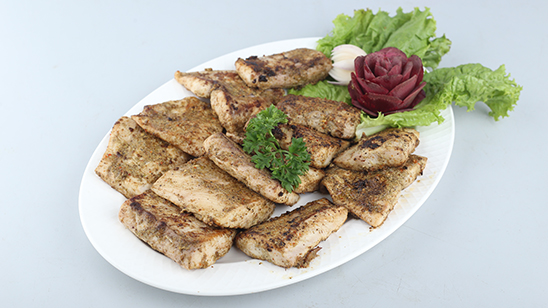 Sep 25, 2023 at 04:07 PM (GMT -04:00)

Check out the Fish Black Pepper Recipe in Urdu. Learn how to make best Fish Black Pepper Recipe , cooking at its finest by chef Shireen Anwar at Masala TV show Masala Mornings. Check all the Pakistan Cooking recipes in Urdu of Masala TV. Also Check Fish Black Pepper Recipe , ingredients and complete Method.
Fish Black Pepperis a burst of flavor that you very much need to tantalize your taste buds!
Watch this Masala TV video to learn how to make Fish Black Pepper ,Mouth Melting Cheesy Kabab and Rabri Faluda Recipes. This show of Masala Mornings with Chef Shireen Anwar aired on 15 October 2021.
Ingredients:
Fish slices ½ kg
Black pepper 2 tsp
Whole cumin seeds 1 tsp
Fennel seeds 1 tsp
Garlic crushed 1 tbsp
Coriander leaves 1 tbsp
Green chilies 4
Salt 1 tsp
Lemon juice 2 tbsp
Yogurt 3 tbsp
Oil for frying
Crushed red pepper 1 tsp
Method:
Grind together whole black pepper, cumin, fennel seeds, garlic, coriander leaves, green chilies very well, add in salt, lemon juice and yogurt, apply this on the fish slices, shallow fry or bake in the oven till done.
Ingredients:
Seekh kabab 1packet
Ginger garlic paste 1 tbsp
Green chilies grinded 1 tsp heaped
Lemon juice 1 tbsp
Oil 2 tbsp
Chopped onion 2 tbsp
Chopped garlic 1 tbsp
Chopped green chili 1 tbsp
Salt ¼ tsp
Black pepper ½ tsp
Turmeric pinch
Allspice ½ tsp
Cottage cheese grated ½ cup
Grated cheddar cheese ½ cup
Mayonnaise ¼ tsp
Coriander leaves 2 tbsp
Beaten eggs 2
Fresh bread crumbs 2 cups
Oil for deep frying
Parathas to serve
Method:
Take seekh kabab marinate with ginger garlic paste, green chili paste, salt, black pepper, grind all this together until smooth, leave it for 30 mins. In a wok add 2 tbsp oil with chopped onion, chopped garlic, chopped green chilies, fry well, add 250 gm chicken mince, fry well, add salt, black pepper, turmeric, allspice, cook till done and dry, remove from heat, cool, mix with cottage cheese grated, cheddar cheese, mayonnaise, chopped coriander, mix well, till it forms like a soft dough, grease your hands, take a ball of the marinated mince, spread till flat, put a ball of cooked keema and cheese filling, close from all the sides to make a flat patties, dip in egg, then fresh bread crumbs, fry on medium heat till crisp, serve hot.
Ingredients:
Milk 3 cups
Almonds / pistachio sliced 2 tbsp each
Saffron ¼ tsp
Vermicelli faluda soaked ½ cup
Bread blend in milk 3 slices
Milk powder 4 tbsp
Condensed milk ½ cup
Basil seeds 1 tbsp soaked
Kulfi to serve
Method:
Heat 2 cups milk, when it boils, add almonds and pistachios, saffron, blended paste of bread with 1 cup milk, milk powder, condensed milk, cook well for 10 mins, keep stirring, add faluda vermicelli, remove, chill this rabri very well. In a glass put a spoonful of basil seeds followed by rabri milk and sliced kulfi, serve chilled.

Fish Black Pepper Recipe in Urdu and English
At Masala TV you can check complete Fish Black Pepper Recipe in Urdu and English. This is one of the best recipes by chef Shireen Anwar at Masala TV show Masala Mornings. Check out the other best recipes of chefs Shireen Anwar.
Top relevant recipes of Fish Black Pepper Recipe in Urdu