Fried Chicken Parcels Recipe | Masala Mornings | Shireen Anwer | 23 Sep 2022 | Masala Tv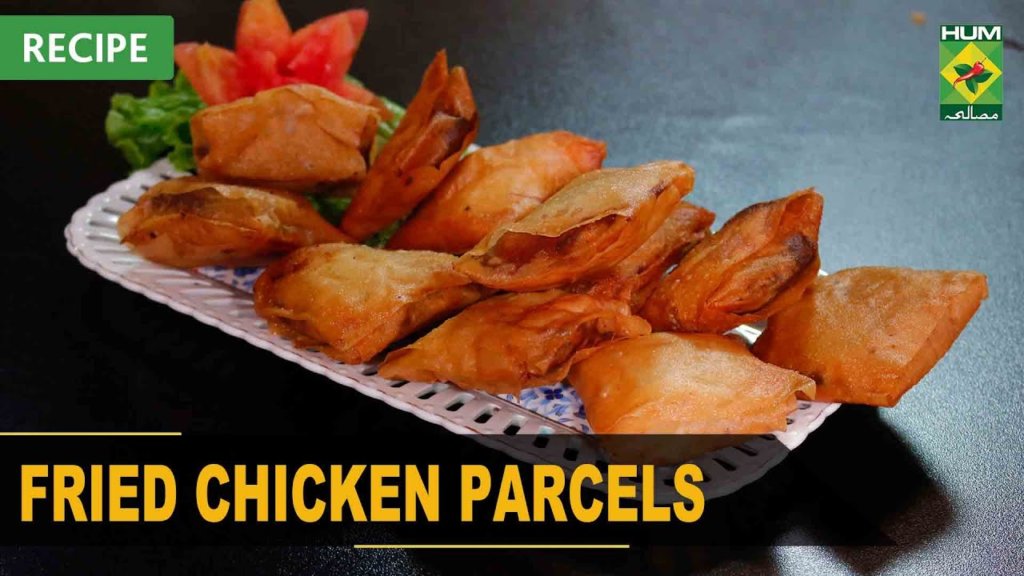 Nov 28, 2023 at 09:42 AM (GMT -05:00)

Check out the Fried Chicken Parcels Recipe in Urdu. Learn how to make best Fried Chicken Parcels Recipe , cooking at its finest by chef Shireen Anwar at Masala TV show Masala Mornings. Check all the Pakistan Cooking recipes in Urdu of Masala TV. Also Check Fried Chicken Parcels Recipe , ingredients and complete Method.
The best Desi food recipes right at your finger tips. Subscribe to Masala Tv Recipes YouTube channel and never miss an updates !
Subscribe To Masala TV Recipes YouTube Channel! https://bit.ly/MasalaTV
Fried Chicken Parcels Recipe will help you achieve the perfect combination of flavours. Try out this very yummy recipe!
#FriedChickenParcels #BreakfastPie #MasalaTv #Foodie #food
Watch this Masala TV video to learn how to make Fried Chicken Parcels, Murgh Rogan Josh and Breakfast Pie Recipe.
This show of Masala Mornings with Chef Shireen Anwer aired on 23 September 2022.
If you enjoy cooking Pakistani food and are looking for recipes, videos of LIVE shows, totkas, and other food stories in both Urdu and English, subscribe to this YouTube channel @ https://bit.ly/3ac5djo or go to our website: https://www.masala.tv/
Ingredients
Boneless chicken ½ kg cut into 2 inch cubes
Oil ½ cup
Ginger garlic 1 tbsp
Onion grated 2
Allspice 1 tsp
Chili powder 1 tsp
Turmeric ½ tsp
Fennel seeds powdered 1 tspGinger powder ½ tsp
Salt 1 tsp
Tomatoes blended 4
Yogurt ¾ cup beaten
Chopped coriander leaves for garnishing
METHOD
Heat oil, fry ginger garlic and onions till brown, mix in all the spices with salt, add chicken, fry for 10 mins, stirring occasionally, add in tomato puree, fry till oil starts to bubble, add one cup water, cover and simmer for 20 mins, add beaten yogurt, cook for another 10 mins, put chicken in a dish, garnish with coriander leaves, serve with nan or paratha.
Ingredients
Chicken mince 250 gm boiled
Salt ½ tsp
Crushed red pepper ½ tsp
Eggs 3
Tomato 1 cut into tiny cubes
Onion 1 chopped into small cubes
Capsicum ½ cut into tiny cubes
Bread slices 8-10
Sweet corn ½ cup
Black pepper ½ tsp
Oregano ½ tsp
Mustard paste ½ tsp
Cheddar cheese 1 cup grated
Oil to grease the muffin tray
METHOD
Boil mince with salt and chili powder, pre heat oven to 180 D, cut the edges of bread slices and fix it in a greased muffin cup, fix each slice into cup, fill it with chicken mince, veggies, beat eggs with salt, pepper, mustard, pour it equally into the cups, bake it in the oven for 10 mins, when the eggs are set and fully cooked, tale out the tray, spread with cheese on top, sprinkle with oregano, put it again in the oven for 5 mins until cheese melts, serve immediately.
Ingredients
Boneless chicken cut into fine cubes 250 gm
Ginger garlic paste 1 tbsp
Green chilies finely chopped 1 tbsp
White pepper ½ tsp
Black pepper ½ tsp
Soy sauce 1 tbsp
Salt ½ tsp
Mayonnaise 2 tbsp
Fresh cream 2 tbsp
Mozzarella cheese shredded 4 tbsp
Sweet corn 2 tbsp
Capsicum finely chopped 2 tbsp
Flour 2 tbsp
Water as required
Samosa wrappers 2 dozen
METHOD
Marinate chicken with ginger garlic, green chilies, white pepper, black pepper, soy sauce and salt. In a wok, put chicken with ½ cup water and let it boiled till tender, and allow it to cool. In a bowl mix together, chicken, mayonnaise, fresh cream, mozzarella cheese, sweet corn and capsicum. In another bowl, make paste with flour and little water, keep aside. Take two strips of samosa wrappers and put one on top of the other forming a cross, take a tbsp prepared chicken mix, and place it in the center, fold to form into a parcel, use the flour paste to stick the wrapper, deep fry in oil until golden, serve with ketchup.

Fried Chicken Parcels Recipe in Urdu and English
At Masala TV you can check complete Fried Chicken Parcels Recipe in Urdu and English. This is one of the best recipes by chef Shireen Anwar at Masala TV show Masala Mornings. Check out the other best recipes of chefs Shireen Anwar.
Top relevant recipes of Fried Chicken Parcels Recipe in Urdu