Fried Rice Recipe | Masala Mornings | Shireen Anwer | 19 Oct 2022 | Masala Tv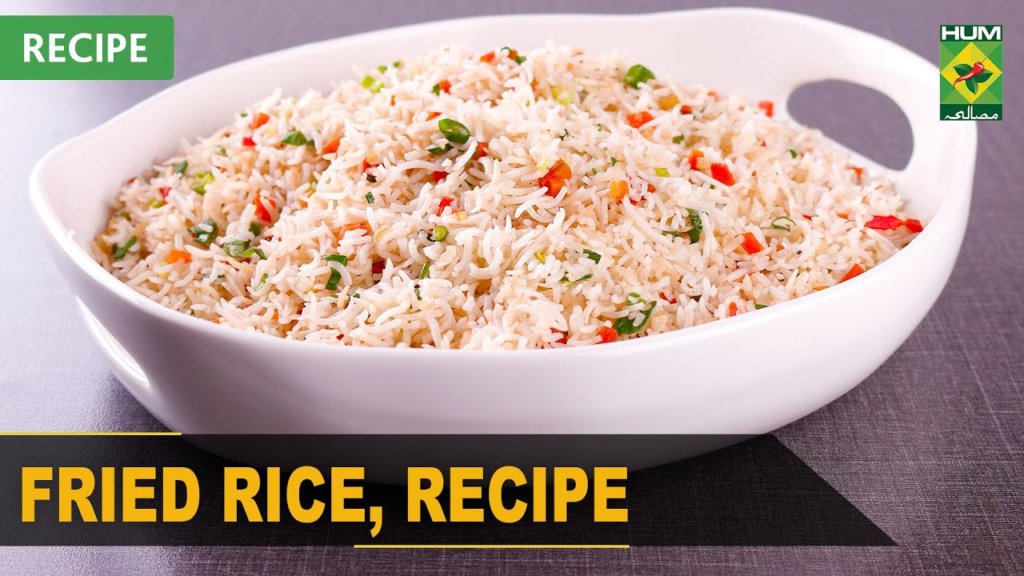 Nov 29, 2023 at 04:20 AM (GMT -05:00)

Check out the Fried Rice Recipe in Urdu. Learn how to make best Fried Rice Recipe , cooking at its finest by chef Shireen Anwar at Masala TV show Masala Mornings. Check all the Pakistan Cooking recipes in Urdu of Masala TV. Also Check Fried Rice Recipe , ingredients and complete Method.
Subscribe To Masala TV Recipes YouTube Channel! https://bit.ly/MasalaTV
The show features the renowned Chef Shireen Anwar who cooks audience-centric South Asian and Continental cuisines for her audience. The chef makes sure to interact with her audience by taking in live-calls during her show and answering queries related to cooking which are often asked by house-wives.
Fried Rice Recipe will help you achieve the perfect combination of flavours. Try out this Amazing recipe!
#FriedRice #chickensizzler #masalatv #foodie #food #masalamornings
Watch this Masala TV video to learn how to make Fried Rice And Chicken Oyster Sizzler Recipe.
This show of Masala Mornings with Chef Shireen Anwer aired on 19 Oct 2022.
If you enjoy cooking Pakistani food and are looking for recipes, videos of LIVE shows, totkas, and other food stories in both Urdu and English, subscribe to this YouTube channel @ https://bit.ly/3ac5djo or go to our website: https://www.masala.tv/
Ingredients
Boneless chicken cubes ½ kg
Soy sauce 1 tbsp
Black pepper 1 tsp
Salt ½ tsp
Oil 2 tbsp

Ingredients for Sauce
Chicken stock 1 cup
Oyster sauce ¼ cup
Dark soy sauce 1 tbsp
Vinegar 2 tbsp
Corn flour 1 tbsp heaped
Sugar 1 tbsp
Chicken power 1 tsp
Black pepper ½ tsp
Ingredients to Sauté
Ginger julienne 2 tbsp
Garlic crushed 1 tbsp
Green chilies 4 sliced
Mushrooms 6 chopped
Salt ¼ tsp
Crushed red pepper 1 tsp
METHOD
Marinate chicken with the ingredients given for marinade, and fry on high flame for 5 mins till done. Stir together all the ingredients for sauces, keep aside. Heat ¼ cup oil in a wok, fry ginger garlic, green chilies and mushrooms. Now add the fried chicken, crushed red pepper, stir fry, add the mixed sauce, stir for a min till sauce thickens, and serve with rice.
Ingredients
Boiled rice ½ kg
Carrot 1 finely chopped
Capsicum ½ finely chopped
Spring onion leaves finely chopped 1 cup
Ginger chopped 1 tbsp
Oil ¼ cup
Soy sauce 3 tbsp
Vinegar 3 tbsp
Salt ½ tsp
Black pepper ½ tsp
METHOD
Heat oil in the wok and fry all the vegetables with the sauces and seasonings, add in rice, stir fry for 5 mins on high flame. Finally add in chopped spring onion leaves, toss well and remove.

Fried Rice Recipe in Urdu and English
At Masala TV you can check complete Fried Rice Recipe in Urdu and English. This is one of the best recipes by chef Shireen Anwar at Masala TV show Masala Mornings. Check out the other best recipes of chefs Shireen Anwar.
Top relevant recipes of Fried Rice Recipe in Urdu