Galawati Gosht Recipe | Tarka | Rida Aftab | Desi Food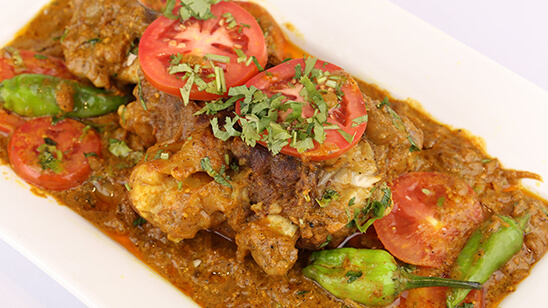 Sep 24, 2023 at 02:05 PM (GMT -04:00)

Check out the Galawati Gosht Recipe in Urdu. Learn how to make best Galawati Gosht Recipe , cooking at its finest by chef Rida Aftab at Masala TV show Tarka. Check all the Pakistan Cooking recipes in Urdu of Masala TV. Also Check Galawati Gosht Recipe , ingredients and complete Method.
Galawati Gosht is the perfect blend of spices and seasonings that you'll enjoy every bite of.
Watch this Masala TV video to learn how to make Galawati Gosht and Spicy Prawn Karahi Recipes. This show of Tarka with Chef Rida Aftab aired on 23 October 2020.
Ingredients:
Mutton (whole pieces) ½ kg
Tomatoes 2
Fried onion 1 cup
Oil 1 cup
Green chilies 1 cup
Mint leaves ½ bunch
Onion (sliced) 250 gm
Yogurt 150 gm
Turmeric powder 1 tsp
Cumin (roasted) 1 tsp
Black pepper 1 tsp
Red chili powder 1 tsp
Coriander powder 2 tsp
Papaya paste 2 tbsp
Salt to salt
Method:
In the mutton add yogurt, roasted cumin, black pepper, red chili powder, papaya paste, coriander powder, turmeric powder and salt. Mix well and marinate it for about 2 hours. Then heat oil and add sliced onion. Also add marinated mutton, cover and cook well. Once the mutton is cooked thoroughly add fried onion, tomatoes, green chilies and mint leaves. Cover and cook for another 15 minutes. Lastly add to the serving dish and serve with hot naan.
Ingredients:
Prawns ½ kg
Oil ½ cup
Bay leaves 2
Onions (sliced) 2
Tomatoes (chopped) 6
Red chili flakes 1 tsp
Ginger (chopped) 1 tbsp
Ginger garlic paste 1 tbsp
Red chili paste 1 tbsp
Turmeric powder 1 tsp
Salt 1 tsp
Cumin (crushed) 1 ½ tsp
Coriander seeds 1 tsp
Green chilies 6
Fresh coriander for garnish
Method:
Heat oil in a wok and fry bay leaves and chopped ginger. Then add sliced onions and ginger garlic paste. Now in a bowl add half cup water, red chili flakes, salt, turmeric powder, red chili paste, cumin and coriander seeds. Dissolve well and add to the onion mixture. Cook well. Then add tomatoes and cook well. Now add prawns and cook on a high flame. Then add green chilies and cook for another 5 minutes. Lastly garnish with fresh coriander and serve hot.

Galawati Gosht Recipe in Urdu and English
At Masala TV you can check complete Galawati Gosht Recipe in Urdu and English. This is one of the best recipes by chef Rida Aftab at Masala TV show Tarka. Check out the other best recipes of chefs Rida Aftab.
Top relevant recipes of Galawati Gosht Recipe in Urdu