Gallery Cake Recipe | Masala Mornings | Shireen Anwar | Dessert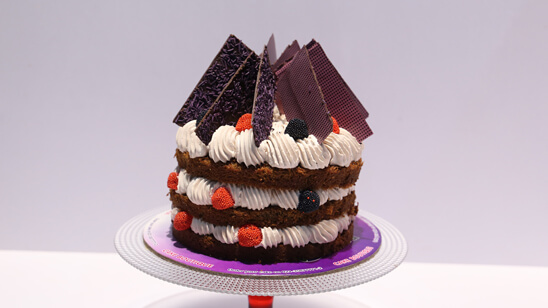 Oct 28, 2020 at 08:01 PM (GMT -04:00)

Check out the Gallery Cake Recipe in Urdu. Learn how to make best Gallery Cake Recipe , cooking at its finest by chef Shireen Anwar at Masala TV show Masala Mornings. Check all the Pakistan Cooking recipes in Urdu of Masala TV. Also Check Gallery Cake Recipe , ingredients and complete Method.
You do not need to order special cakes for events anymore when you can make this Gallery Cake at home. Try it and let us know how much everyone loved it!
Watch this Masala TV video to Learn how to make Gallery Cake , Chocolate Chunk Cookies and Vol au Vent Recipes. This show of Masala Mornings with Chef Shireen Anwar aired on 18 August 2020.
Ingredients for Sponge:
Eggs 2
Sugar 150gm
Butter 300gm
Liquid milk 100gm
Yogurt 100gm
Chocolate Chip 50gm
Flour 250gm
Coco powder 5gm
Baking powder 4gm
Baking soda 4gm
Ingredients for frosting:
cream 300gm
Dark chocolate 100gm
Liquid cream 100gm
Ingredients for Topping:
Berries as required
Chocolate as required
Vermicelli's as required
Method for sponge :
Sugar and eggs ko hand wisk sy mix krna Hy phir butter ko melt KR k esi me mix KR dyna Hy last me All ingredients ko b add KR k achy sy mix krna Hy or 28inch k mold me pour krna Hy or bake krna Hy 180c° py 35 minute
Method for frosting:
chocolate ko melt KR k usmy liquid Whipy Whip cream ko mix kry gy chocolate gnash bn jye ga phir 300g Whipy whip cream ko whip kry gy or gnash ko esi me mix krdy gy or cake icing kry gy
Topping:
Transfer sheet py temp ki Hui chocolate ko apply kry or garnish bny gy garnish frozen mix Barrie's and chocolate vermicelli k sth cake ko top sy decorate kry gy.
Ingredients:
Butter 150gm
Icing sugar 75gm
Brown sugar 75gm
Egg 1
Flour 210gm
Baking soda 2pinch
Chocolate chunks 100gm
Method:
Butter , icing sugar and brown sugar ko achy sy creamy foam me krna Hy phir egg add KR k achy sy mix krna Hy last me flour, chocolate chunk and baking soda add KR k mix krna Hy cookies ki dough ready hojye gi 50g ka 1cookie bnna Hy or 160c° py bake krna Hy 12mintes oven sy remove kry chocolate chunks cookies ready.
Ingredients:
Readymade puff pastry 500gm
Heavy cream 200gm
Mushroom 100gm
Chicken chunks 100gm
Garlic chopped 20gm
Salt 1pinch
Coriander for Garnish
Method:
Sab sy phle puff pastry dough ko roll KR k patties cutter sy cutt kry gy 1base lgy gy 2sry me whole KR k upr lgy gy and egg wash kry gy or bake kry gy.180c° py 35 minute.
1souce pan me Heavy cream ko warm kry gy or eskmy mashroom, chicken k chunks,Garlic fine chop and salt add KR k achy sy mix kry gy or stove sy remove kry gy or bake huye puff me fill kry gy sth e coriander ki garnish kry gy vol au vent redy.

Gallery Cake Recipe in Urdu and English
At Masala TV you can check complete Gallery Cake Recipe in Urdu and English. This is one of the best recipes by chef Shireen Anwar at Masala TV show Masala Mornings. Check out the other best recipes of chefs Shireen Anwar.
Top relevant recipes of Gallery Cake Recipe in Urdu