Here are 10 reasons why you should attend the Masala Family Festival!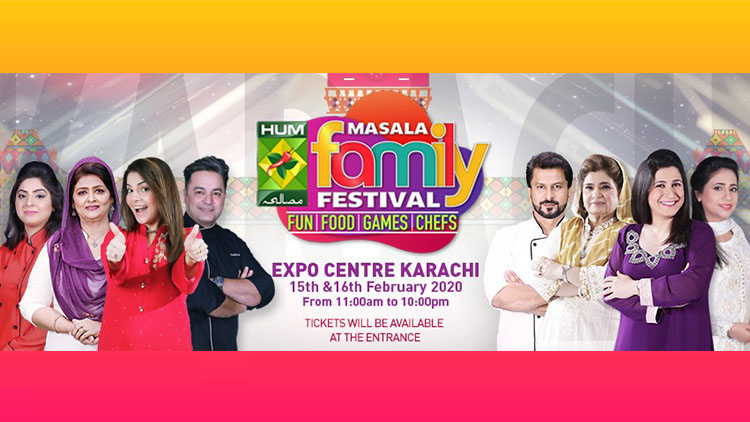 Feb 03, 2023 at 12:37 PM (GMT -05:00)
Masala Family Festival is just around the corner and we couldn't be more excited!
It's Karachi's turn to enjoy the Masala family festival. This festival is all about fun, food, and games. This is the biggest family festival in Karachi and you cannot afford to miss it.
Masala family festival only takes place once a year and it is the perfect opportunity to have great family time and meet your favorite Masala Tv's chefs live.
Here are 10 reasons you cannot miss this year's Masala family Festival:
Inexpensive tickets
Masala Family festival, unlike other festivals, charges a very nominal price for entry tickets. These are easily affordable. We understand that expensive tickets can be different to afford. This is a family festival so come and enjoy such inexpensive tickets and have fun.
Chance to meet chefs
You would have seen chefs cooking delicious recipes at Masala TV!
This festival brings to you the perfect chance to meet your chefs, appreciate them, share your experiences, ask them anything you want and much more. Meet these chefs personally and ask away all your queries and become a master at cooking scrumptious foods.
 Live Cooking
While most of your problems are solved by our chefs during the showtime, their online live sessions and on calls that you make during the show; a few problems can be only be solved when you see a live cooking session. You can see live cooking sessions and get mesmerized by them.
Free Concert
Masala family festival helps you enjoy an experience that is one of a kind.
This also includes a concert. This concert has your favorite performer too. Imagine a night filled with fun, food and such great performers. This year at the family festival, Kashmir band, Hasan Jahangir and the man with a soulful voice, Sajjad Ali will be performing. These great singers and bands will sweep you off your feet. Come and sing along!
Games and Rides
Let your children make the most of their weekend. This festival is not the one where your kids will be pestering you to take them back home. The kids love this festival as much as the adults. It has games and rides that your kids can enjoy while you have the fun of your own.
Pet Show
This is a platform to show the skills your pets have. Even if you do not own pets, enjoy cute little balls of fur show some style of their own on the masala family festival.
Amazing Food Stalls
Food Stalls! Of course those amazing food stalls! How can you even miss out on all that beautifully cooked food? The food that tastes heavenly. There will be freshly cooked food that will be served hot and crisp. This food will be irritable and satisfy all your cravings.
Chance to win giveaways
Masala Family Festival has lots of gifts and giveaways planned for you. This is the perfect chance to win valuable giveaways that will be loved by all your family members.
Enjoy to the fullest on the Masala Family Festival and take back gifts with you. What could possibly be better than this?
Lucky Draws
There will be a lucky draw held at Masala Family Festival that might be the reason you win something big. You can become a part of the lucky draw very easily and if it's your day then you might win some exclusive gifts that will surprise you and everyone else too.
Magic Show for kids
Masala family festival is the right way to enjoy a family day. There will be a magic show for kids that will blow away their minds. This will be the reason that your kids will love this festival even more.
The Masala Family Festival is bringing its audience all the more reasons to love it and enjoy this festival with your families to the fullest. Come and enjoy this day!