Makhani Murgh Recipe | Food Diaries | Zarnak Sidhwa | Desi Food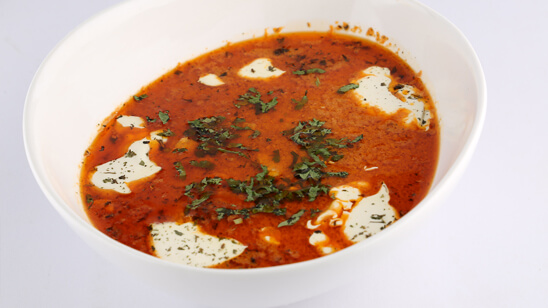 Jun 08, 2023 at 02:24 AM (GMT -04:00)

Check out the Makhani Murgh Recipe in Urdu. Learn how to make best Makhani Murgh Recipe , cooking at its finest by chef Zarnak Sidhwa at Masala TV show Food Diaries. Check all the Pakistan Cooking recipes in Urdu of Masala TV. Also Check Makhani Murgh Recipe , ingredients and complete Method.
Makhani Murgh will blow away your mind with it's aromatic flavors and soft texture that almost make you feel like it's melting on the tip of your tongue.
Watch this Masala TV video to learn how to make Makhani Murgh and Triple Chocolate Pudding Recipes. This show of Food Diaries with Chef Zarnak Sidhwa aired on 7 December 2020.
Ingredients:
Marination ingredients:
Boneless chicken 750 gm
Salt a pinch
Kashmiri red chili powder 1 tsp
All spice powder 1/2 tsp
Lemon juice 1 tsp
Oil 1 tbsp
Ginger paste 1 tsp
Garlic paste 1 tsp
Thick yogurt 1/4 cup
For gravy :
Large red tomatoes 1 kg
Ginger garlic paste 1 tbsp
Whole dried milk 70 gm
Kashmiri red chili powder 1 tbsp
Butter 100 gm
Dry fenugreek leaves 1 tsp
All spice powder 1 tsp
Cream 2 tbsp
Salt to taste
Cashews 5-6
Cinnamon stick 1
Green cardamoms 2
Cloves 2
Clarified butter 2 tbsp
Sugar 1 tbsp
Method:
For marination:
Marinate the chicken with all the ingredients. Cover the bowl and refrigerate for at least 2 hours.
For gravy:
Boil the chopped tomatoes in just enough water along with all the whole spices. Remove from the heat and cool completely. Blend to a puree and strain. In a pan sauté the cashews in little ghee and add the khoya. Blend to a paste. Heat the remaining ghee and sauté the ginger garlic paste along with the khoya and cashew paste. Now add all the remaining ingredients for the gravy. Cook covered until it thickens, add water if need be. Add the sugar, butter and cream. In a pan heat about 1 tbsp butter and 1 tbsp oil. Add the marinated chicken and cook till done and all the liquid has evaporated. Now stir in enough of the prepared butter gravy and bring to a boil, lower the heat and cook for about 10 minutes. Crush dry fenugreek leaves and add and serve.
Ingredients:
Milk 185ml
unsalted butter 80gm
vanilla essence 1 teaspoon
flour 225gm
brown sugar 155gm
cocoa powder 30gm
eggs 2
Dark chocolate squares 300gm
Cream or ice-cream, to serve
For Sauce:
brown sugar 140gm
cocoa powder 30gm
boiling water 375ml
Method:
Place the milk, butter and vanilla in a saucepan and heat until the butter melts. Set aside to cool slightly. Whisk in the flour, brown sugar and cocoa. Add the egg and whisk gently until well combined. Transfer to a greased oven dish. Place the dish on a baking tray. For the sauce, combine the sugar, cocoa powder and boiling water in a heatproof jug. Stir to combine. Pour sauce over the back of a large metal spoon, over the batter. Bake at 180 degrees C for 25 minutes. Gently place the chocolate squares on top of the pudding to cover it. Bake for a further 1-2 minutes or until the chocolate melts slightly. Serve with cream or ice-cream.

Makhani Murgh Recipe in Urdu and English
At Masala TV you can check complete Makhani Murgh Recipe in Urdu and English. This is one of the best recipes by chef Zarnak Sidhwa at Masala TV show Food Diaries. Check out the other best recipes of chefs Zarnak Sidhwa.
Top relevant recipes of Makhani Murgh Recipe in Urdu