Mango Firni Recipe | Food Diaries | Zarnak Sidhwa | Continental Food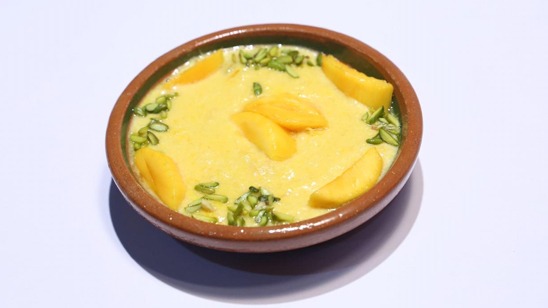 Feb 03, 2023 at 12:27 PM (GMT -05:00)

Check out the Mango Firni Recipe in Urdu. Learn how to make best Mango Firni Recipe , cooking at its finest by chef Zarnak Sidhwa at Masala TV show Food Diaries. Check all the Pakistan Cooking recipes in Urdu of Masala TV. Also Check Mango Firni Recipe , ingredients and complete Method.
Enjoy the mango season to the fullest with this Mango Firni Recipe that you can easily make at home!
Watch this Masala TV video to learn how to make Mango Firni ,Khichri and Persi Keri Kolmi No Patio (Parsi Mango Prawn Patia) Recipes. This show of Food Diaries with Chef Zarnak Sidhwa aired on 14 July 2020.
Ingredients:
Clarified butter 2tbsp
Stick cinnamon 1
Milk boiled 1 litre
Soaked and ground rice ½ cup
Cardamom pods 3
Mango pulp 2 mangoes
Rose water as dash
Saffron a pinch
Sugar 2-4 tbsp
Pistachios few
Rose petals to garnish
Method:
Boil the milk. Add clarified butter, cinnamon and ground rice when the milk is boiled. Add cardamom pods when rice is cooked. Next the mango pulp, dash of rose water, pinch saffron and sugar, cook and serve in a platter or flat bowl garnished with pistachios and rose petals.
Ingredients:
Rice 1 cup
Split green gram 3 tbsp
Turmeric powder a pinch
Onion chopped 1
Whole cumin seeds a pinch
Oil 1tbsp
Salt a pinch
Method:
Heat oil. Add in onion and let turn golden, next add the rice and lentil and sauté well. Add turmeric powder, cumin seeds, salt and little water and cook covered till done. Fluff up the rice and serve with patio.
Ingredients:
Onions chopped 6
Green chili 2 tbsp
Garlic paste 2 tbsp
Mangoes, cubed 5
Mango seeds as required
Red chili powder 2-3 tsp
Turmeric powder 1/2 tsp
Cumin 1 tsp
Coriander powder 1 tsp
Sugar 3 tbsp
Vinegar 5 tbsp
Salt 1 tsp
Prawns ½ kg
Chopped coriander 2 tbsp
To Serve:
Khichri as required
Papad as required
Method:
Marinate the prawns in salt, turmeric, red chili and cumin-coriander powders. In a pan heat oil and fry onions till golden brown. Add the garlic and green chili paste and fry for a couple of minutes. Add the mango and seeds and simmer on low flame for a few minutes. Add the marinated prawns, sugar and vinegar. Bring to a slow simmer. Add finely chopped coriander just before serving. Serve with khichri and papad.

Mango Firni Recipe in Urdu and English
At Masala TV you can check complete Mango Firni Recipe in Urdu and English. This is one of the best recipes by chef Zarnak Sidhwa at Masala TV show Food Diaries. Check out the other best recipes of chefs Zarnak Sidhwa.
Top relevant recipes of Mango Firni Recipe in Urdu