Moongray Aalu Recipe | Lazzat | Samina Jalil | Desi Food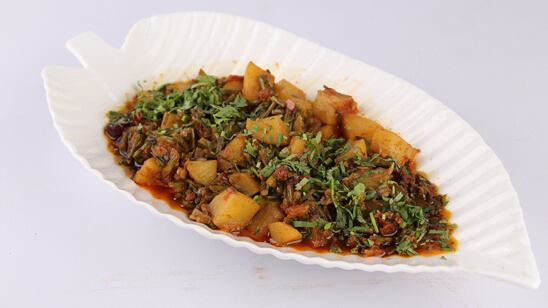 Aug 12, 2022 at 07:13 PM (GMT -04:00)

Check out the Moongray Aalu Recipe in Urdu. Learn how to make best Moongray Aalu Recipe , cooking at its finest by chef Samina Jalil at Masala TV show Lazzat. Check all the Pakistan Cooking recipes in Urdu of Masala TV. Also Check Moongray Aalu Recipe , ingredients and complete Method.
Moongray Aalu are a must-have this season! This is that one dish that will make everyone gather around on the dining room together.
Watch this Masala TV video to learn how to make Moongray Aalu and Mutton katakat Masala Recipes. This show of Lazzat with Samina Jalil aired on 17 December 2020.
Ingredients:
Potatoes 2
Mongray 250 gm
Chopped onion 1
Chopped garlic 1 tsp
Chopped tomatoes 2
Oil ½ cup
Salt, chili, turmeric as required
White cumin powder ½ tsp
Green chilies, green coriander 2 tbsp
Whole red chilies 3-4
Method:
Cut mongray and potatoes. Fry mongray in hot oil. Add onion, ginger garlic paste, whole red chilies fry well. Add tomatoes, salt, chilies, turmeric and white cumin powder, cook till tomatoes done. Add potatoes with ½ cup of water cook till potatoes is done. Add mongary cook till water dries out. Add green coriander and chilies. Remove and serve in dish.
Ingredients:
Mutton chops 8
Mutton Brain 1
Mutton Heart 1
Mutton Kidneys 4
Ginger garlic paste 1 tbsp
Tomatoes (thickly cut) 4
Onions (finely cut) 1
Chaat masala 1-1/2tsp
Oil 1/2cup
Butter 1/2cup
Salt 1-1/2tsp
Carom seeds 2 pinches
Red chili powder 1-1/2tsp
Turmeric 1/2tsp
Red chili (crushed) 1 tsp
Cumin powder 1-1/2tsp
All spices powder 1 tsp
Fenugreek 1-1/2tsp
Cream 2tsp
Ginger (chopped) 2tbsp
Coriander (chopped), green chili as required
Method:
Firstly boil the mutton ribs and brain with salt. Dry the ribs when they are done. Now on iron griddle put Onions (chopped), Tomatoes, oil, butter, ginger garlic paste and half cup of water and cook till the onions and tomatoes are done. Then add kidneys, heart, red chili powder, turmeric, crushed red chili and salt for katakat. Now add brain, crushed cumin and all spices powder and cook it covered. After 10mins add boiled ribs, cream, fenugreek, carom seeds, chaat masala, chopped coriander, green chili and finely cut ginger and roast it thoroughly and simmer it for 5mins.lastly add chopped coriander, finely cut ginger and butter for garnishing.

Moongray Aalu Recipe in Urdu and English
At Masala TV you can check complete Moongray Aalu Recipe in Urdu and English. This is one of the best recipes by chef Samina Jalil at Masala TV show Lazzat. Check out the other best recipes of chefs Samina Jalil.
Top relevant recipes of Moongray Aalu Recipe in Urdu