Murgh Nawabi Recipe | Lively Weekends | Masala TV Show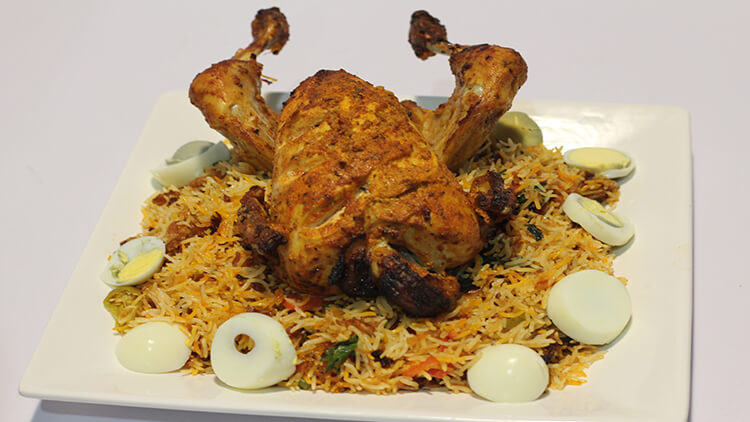 Jun 08, 2023 at 01:08 AM (GMT -04:00)

Check out the Murgh Nawabi Recipe in Urdu. Learn how to make best Murgh Nawabi Recipe, cooking at its finest by chef at Masala TV show Lively Weekend. Check all the Pakistan Cooking recipes in Urdu of Masala TV. Also Check Murgh Nawabi Recipe, ingredients and complete Method.
Lively weekends always bring you unique and different dishes every week. This week was no different when this special recipe of Murgh Nawabi was made. whole Chicken prepared and served with special rice, try this recipe out and let us know what you think!
Watch this Masala TV video to learn how to make Murgh Nawabi,Sweet Chilli Fish ,Golden Froth Drink and Double ka Meetha Recipes. This show of Lively Weekend with Host Kiran Khan aired on 16 November 2019.
Ingredients:
Whole chicken 1
Oil ½ cup
Salt 1tbsp
Yogurt 150 gm
Dry fenugreek a pinch
Red chili powder 1 tbsp
Cayenne pepper ½ tbsp
Coriander powder 1 tbsp
Cumin powder 1 tbsp
Turmeric 1 tsp
Hot spices 1 tbsp
Screw pine essence 1 tsp
Saffron essence ½ tsp
Vinegar 3 tbsp
Yellow color ½ tsp
Ginger garlic paste 1 tbsp
Ingredients for Rice:
Rice boiled 300 gm
Onion sliced 150gm
Tomatoes sliced 150gm
Brown onion 150gm
Green chilies sliced 5-6
Coriander chopped 1 bunch
Bay leaves 2
Star anise 2
Clove whole ½ tsp
Cinnamon sticks 1
Cumin seeds ½ tsp
Green cardamom 2
Black cardamom 2
Ginger garlic paste 2 tbsp
Salt as per taste
Crushed red chili 1 tsp
Coriander powder 1 tsp
Cumin powder 1tsp
Turmeric ½ tsp
Cayenne pepper 1 tsp
Oil ½ cup
Roasted almond for garnish
Boil eggs for garnish
METHOD:
mix all the ingredients in yogurt and marinate chicken for 2-3 hours or overnight and then bake it for 1 hour on 220c in oven.
Rice Method:
Preheat oil then fry onion and whole spices then add all spices and tomatoes green chills all ingredients and cook well for 10 min then set aside… Then set boil rice layer then add gravy then add brown onion coriander screw pine essence and simmer it for 15 min then serve it with boil eggs and bake chicken and roasted almonds.
Ingredients:
Fish cubes 250 gm
Flour ½ cup
Corn flour ¼ cup
Egg half
Water as need
Oil for frying
Salt as per taste
FOR SAUCE:
Oil 1tbsp
Ginger garlic 1tbsp
Ketchup ½ cup
Chili sauce ¼ cup
Sugar 1tsp
Soya sauce ½ tbsp
Apple cider 1tsp
Water as need
Salt as per taste
Black pepper as per taste
METHOD:
mix all ingredients and marinate on fish for 20 min then fry it and set aside.
SAUCE METHOD:
preheat oil in pan then add ginger garlic and fry it then add all ingredients and mix well then add fry fish and dish out..
Golden Froth Drink Ingredients:
Soft drink 300ml
Lemon juice 1 tbsp
Vanilla ice cream 2tbsp
Orange for garnish
Double ka Meetha Ingredients:
Fried bread sliced 5-6
Sugar 8 tbsp
Water 200ml
Almonds for garnish
Pistachios for garnish
Silver wrap for garnish
Whole dried milk 100gm
Milk 300ml
Screw pine essence few drops
Cardamoms as required
Golden Froth Drink  Method:
Mix all ingredients in blender and blend it well
Double ka Meetha Method:
first of all make syrup add water and sugar, cardamoms and cook it till then thickness foam then add fried bread slice.
Then make milk gravy, add milk in pan and add whole dried milk cardamoms, screw pine essence and cook it for 5-8mins.then pour it on bread sliced and garnish with almonds and pistachios.

Murgh Nawabi Recipe in Urdu and English
At Masala TV you can check complete Murgh Nawabi Recipe in Urdu and English. This is one of the best recipes by chef at Masala TV show Lively Weekend. Check out the other best recipes of chefs .
Top relevant recipes of Murgh Nawabi Recipe in Urdu