Musakhan Recipe | Palestinian Roasted Chicken With Caramelized Onion | Flame On Hai | Irfan Wasti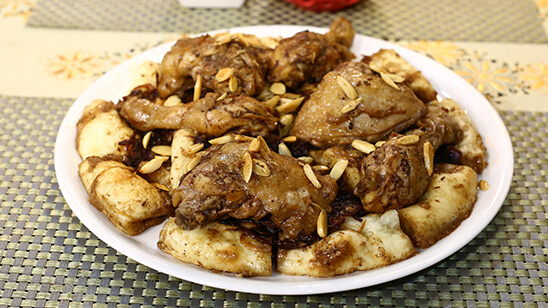 Mar 21, 2023 at 03:37 AM (GMT -04:00)

Check out the Musakhan Recipe in Urdu. Learn how to make best Musakhan Recipe , cooking at its finest by chef Irfan Wasti at Masala TV show Flame On Hai. Check all the Pakistan Cooking recipes in Urdu of Masala TV. Also Check Musakhan Recipe , ingredients and complete Method.
Musakhan Recipe (Palestinian Roasted Chicken With Caramelized Onion) is an elegant dish that will make a perfect supper. Try this out for tonight!
Watch this Masala TV video to learn how to make Musakhan , Peach & Banana Fizz and Qidreh Recipes. This show of Flame On Hai with Chef Irfan Wasti aired on 21 August 2021.
Ingredients for Marinate:
Chicken with skin 4
Garlic paste 2 tbsp
Black pepper 1 tsp
Cinnamon powder 1 tbsp
All spice powder 1 tsp
Nutmeg ¼ tsp
Sun flower 1 tsp
Salt 1 tbsp
Cloves powder 1 tsp
Cardamom powder 1 tsp
Lemon juice ¼ cup
To Prepare:
Oil ¼ cup
Onion slices 3
Cumin seeds 1 tbsp
Water 1 cup
For Serving:
Stock as required
Tandoori Naan 1
Roasted almonds 6 to 8
Chaat masala as required
METHOD:
in mixing bowl add chicken breast and all ingredients to marinate chicken. Keep in fridge for 2 to 3 hour. Hear oil add onion and cumin fry well. Add chicken breast cook well. Add 1 cup of water cook for 20 to 25 minute leave for simmer. Heat oil in separate pan adds onion, cumin and second marination powder fry onion well. Cut tandoori naan into 4 pieces and dip in stock. Keep in serving platter then add onion, chicken on it. add almond and chaat masala serve.
Ingredients:
Peach 2 medium
Banana 2 medium
Sugar 2 tbsp
Cinnamon powder ½ tsp
Milk 2 cups
Ice cubes 8 to 10 cubes
METHOD:
Blend all ingredients in blender for 1 minute.
Ingredients:
Chicken wings 4 to 5
Chicken peas 2 cups
Rice 400 gm
Onion cubes 1 medium
Oil ¼ cup
Garlic cloves 5 to 6
Cumin crushed 1 tbsp
Cardamom small 5 to 6
Ginger chopped 1 tbsp
Salt to taste
Black pepper 1 tsp
METHOD:
Cook chicken wing with onion and water in pan for 20 to 25 minute. Sauté garlic on another pan. add all spices, ginger and chickpeas fry well. Add rice then add chicken stock cook well. When rice at water level leave for simmer. Keep chicken wings in grill pan and sprinkle black pepper, grill well. Serve with rice.

Musakhan Recipe in Urdu and English
At Masala TV you can check complete Musakhan Recipe in Urdu and English. This is one of the best recipes by chef Irfan Wasti at Masala TV show Flame On Hai. Check out the other best recipes of chefs Irfan Wasti.
Top relevant recipes of Musakhan Recipe in Urdu