Osmania Biscuits Recipe | Food Diaries | Zarnak Sidhwa | Dessert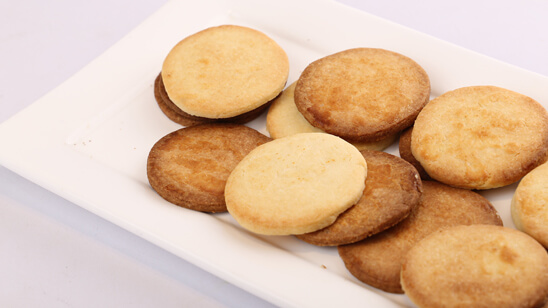 Mar 25, 2023 at 02:04 PM (GMT -04:00)

Check out the Osmania Biscuits Recipe in Urdu. Learn how to make best Osmania Biscuits Recipe , cooking at its finest by chef Zarnak Sidhwa at Masala TV show Food Diaries. Check all the Pakistan Cooking recipes in Urdu of Masala TV. Also Check Osmania Biscuits Recipe , ingredients and complete Method.
Osmania Biscuits are the tea-time biscuits that taste wonderful with a hot cup of tea and coffee. Try these today!
Watch this Masala TV video to learn how to make Osmania Biscuits , Mexican Seasoning and Chicken Stuffed Potatoes Recipes. This show of Food Diaries with Chef Zarnak Sidhwa aired on 27 October 2020.
Ingredients:
Butter unsalted 200 grams
Flour 260 grams
Milk powder 3 tbsp
Salt 1 tsp
Sugar 100 grams
Baking powder 2 tsp
Milk for brushing
Method:
Sift the flour with baking powder and salt in a bowl. Beat the butter, add the sifted flour. Once all the flour is mixed in with light hands knead the dough in order to incorporate some air. Now add milk powder and caster sugar. Knead for couple of minutes until well combined. Divide the dough into two portions. Dust the working surface with little flour and roll out one dough portion into 1/4 inch thick. Using round cookie cutter, cut out cookies 3 inches in diameter. Place them on a baking sheet and brush with milk. Bake at 200 degrees c for 20-25 minutes until golden brown. Place them on wire rack and cool.
Ingredients:
Chili powder 1 tsp
Garlic powder 1tsp
Onion powder 1 tsp
Crushed red chili flakes ½ tsp
Dried oregano ½ tsp
Paprika 2 tsp
Ground cumin 1 ½ tsp
Salt ½ tsp
Black pepper ½ tsp
Ground cinnamon a pinch
Ground cloves 1 pinch
Method:
Mix all and store in an airtight box and use as Mexican seasoning.
Ingredients:
Potatoes 4
Cooked Chicken shredded 1-1/2 cups
Barbecue Sauce 1/3 cup
Butter 1 tbsp
Cheddar Cheese grated 1-1/2 cups
Cream Cheese 100 grams
Mexican Seasoning 2 tsp
Salt and Pepper ½ tsp
METHOD:
Roast the whole potatoes at 190 degrees C for 1 hour or until soft. Cut in half and scoop out the baked potato into a bowl, leaving the skin and some of the potato intact. Add the butter, cream cheese, Mexican seasoning, salt and pepper. Mash this with a fork until all combined, and then spoon back into the potato skins. In another bowl mix the cooked shredded chicken with some BBQ sauce. Divide evenly between the potatoes and top with grated cheese. Bake for a further 15 minutes, including a minute or two under the grill. Serve warm.

Osmania Biscuits Recipe in Urdu and English
At Masala TV you can check complete Osmania Biscuits Recipe in Urdu and English. This is one of the best recipes by chef Zarnak Sidhwa at Masala TV show Food Diaries. Check out the other best recipes of chefs Zarnak Sidhwa.
Top relevant recipes of Osmania Biscuits Recipe in Urdu