Palak aur Daal Cutlets Recipe | Tarka | Rida Aftab | Desi Food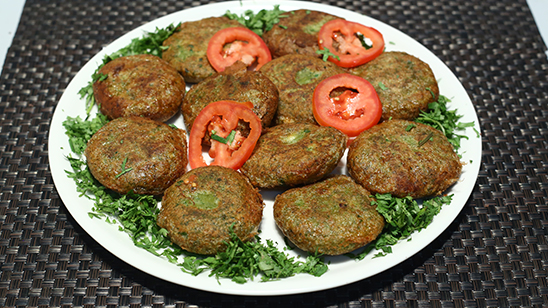 Sep 22, 2023 at 06:17 PM (GMT -04:00)

Check out the Palak aur Daal Cutlets Recipe in Urdu. Learn how to make best Palak aur Daal Cutlets Recipe , cooking at its finest by chef Rida Aftab at Masala TV show Tarka. Check all the Pakistan Cooking recipes in Urdu of Masala TV. Also Check Palak aur Daal Cutlets Recipe , ingredients and complete Method.
Palak aur Daal Cutlets are a burst of flavor in every single bite. Pair it with some freshly made Chapati and Raita to enjoy it to the fullest!
Watch this Masala TV video to learn how to make Palak aur Daal Cutlets , Boneless Chicken Pulao and Hari Chutney Recipes. This show of Tarka with Chef Rida Aftab aired on 8 September 2021.
Ingredients:
Spinach 1 bunch
Split Bengal gram 1 ½ cups
Rice Flour ½ cup
Green Chilies (Crushed) 6
Coriander Leaves (Finely chopped) 1 bunch
White Cumin (Roasted and ground) 1 tsp
Red Chilies (Crushed) 1 tbsp
Black Pepper (Crushed) 1 tsp
Bread Slices 2
Egg Whites 2
Oil as required
Method:
Wash the spinach to chop. Now sprinkle some turmeric powder and leave it for 5 minutes.
Wash the lentil with Luke warm water and dip.
Drain the water and boil the lentil in warm water till it's completely done.
Cool the lentil and chop with bread slices in chopper.
Drain the spinach and steam till it gets dry completely.
Add spinach with lentil and add crushed red chilies, black pepper, cumin, green chilies, coriander leaves, and rice flour mix well.
Make cutlets and dip in beaten egg whites and fry golden in hot oil. Place them over the napkin for soak extra oil.
Serve the warm cutlets with chutney and enjoy.
Ingredients:
Boneless Chicken ½ kg
Nut Meg 1 piece
Saffron 1 pinch
Bay Leaves 2
Green Chilies 6
Chicken Stock 1 cup
Boiled Rice 2 cups
Clarified butter ½ cup
Mint Leaves ½ bunch
Mace 2 piece
Salt 1 tsp
Black Cumin 1 tsp
Black Pepper 1 tsp
Ginger Garlic Paste 1 tbsp
Screw pine water 1 tbsp
Star Anise ½ tsp
Yellow Food Color ½ tsp
Method:
Heat oil and add ginger garlic paste, black cumin, bay leaves, nut meg, black pepper and mace.
Add boneless chicken and cook for a minute.
Add 1 cup chicken stock, salt and green chilies and close the lid for 10 minutes.
Now add boil rice, star anise , mint leaves, screw pine water, saffron and yellow color.
Cook on medium heat with close lid for about 15 minutes.
Delicious Boneless Chicken Pulao is ready.
Ingredients:
Coriander Leaves 1 bunch
Mint Leaves 1 bunch
Green Chilies 2-3
Desiccated Coconut 1tbsp
Lemon 2
Cumin Seeds (roasted) ½ tsp
Caster Sugar ½ tsp
Salt to taste
Method:
In a blender, blended Coriander Leaves, Mint Leaves, Green Chilies, Desiccated Coconut, Lemon, Cumin Seeds , Caster Sugar and Salt.
Now take it out in a dish. Serve with parathay.

Palak aur Daal Cutlets Recipe in Urdu and English
At Masala TV you can check complete Palak aur Daal Cutlets Recipe in Urdu and English. This is one of the best recipes by chef Rida Aftab at Masala TV show Tarka. Check out the other best recipes of chefs Rida Aftab.
Top relevant recipes of Palak aur Daal Cutlets Recipe in Urdu