Pasta Carbonara Recipe | Dawat | Abida Baloch | Fast Food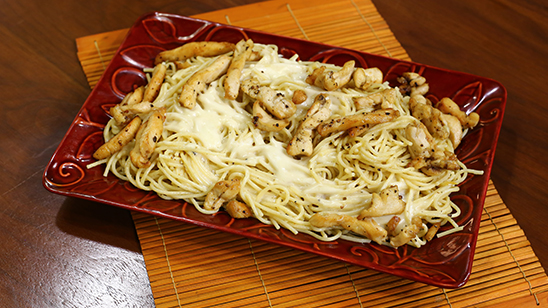 Aug 15, 2022 at 11:46 PM (GMT -04:00)

Check out the Pasta Carbonara Recipe in Urdu. Learn how to make best Pasta Carbonara Recipe , cooking at its finest by chef Abida Baloch at Masala TV show Dawat. Check all the Pakistan Cooking recipes in Urdu of Masala TV. Also Check Pasta Carbonara Recipe , ingredients and complete Method.
Pasta Carbonara has a smooth and rich texture that creates an amusing flavor. Try it and thank us later!
Watch this Masala TV video to learn how to make Pasta Carbonara And Turkish Adana kabab Recipes. This show of Dawat with Chef Abida Baloch aired on 29 July 2021.
Ingredients:
Pasta 125 gm
Egg yolk 100 gm
Beef 120 gm
Cheese 50 gm
Black pepper 2 gm
Salt 5 gm
Method:
Cook the pasta in boiling and salted water for 10 min.
In a pan, drop the beef then take out the meat from the heat and keep on the side. Keep the fat in the pan and add some fresh grounded black pepper and let roast, add some cooking water from the pasta.Now take out from the heat and add the egg yolk, and the pecorino cheese emulsified all, check the seasoning and adjust if needed. Plate and add the crispy on the top. Finalize with a pinch on fresh grounded black pepper.
Ingredients:
Beef lamb mince ½ kg
Garlic 5-6 cloves
Onion 1 large
Salt ¾ tbsp
Black pepper 1 tsp
Coriander powder 1tbsp
Cumin powder 1 tsp
Red chilli 2 tsp
Paprika powder 1 tsp
Oil for frying 2-3 tbsp
Boiled Rice as required
Onion chopped ½ cup
Red chili 2-3
Green coriander chopped 2-3 tbsp
Method :
Take a chopper add beef mince, red chili , Garlic, Onion ,onion chopped, Salt, Black pepper, green coriander , Coriander powder, Cumin , red chili, and Paprika powder and blend smooth. Wet your hands and place a quarter of the lamb mixture onto each skewer. One easy way is to use a 1-ounce scoop to form balls, thread a few onto each skewer, and then mash them together to form the kebab shape.
Grill the kebabs or fry on Tawa for approximately 12 minutes,
Serve with boiled rice and grilled tomatoes.

Pasta Carbonara Recipe in Urdu and English
At Masala TV you can check complete Pasta Carbonara Recipe in Urdu and English. This is one of the best recipes by chef Abida Baloch at Masala TV show Dawat. Check out the other best recipes of chefs Abida Baloch.
Top relevant recipes of Pasta Carbonara Recipe in Urdu