Pollo Pizza Recipe | Lively Weekends | Italian Food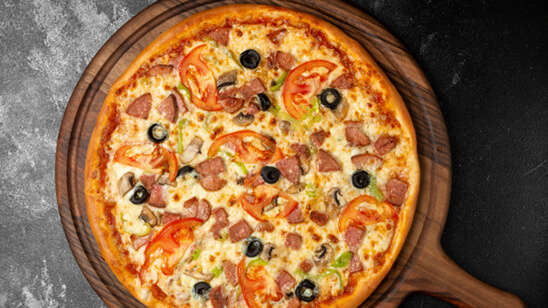 Dec 03, 2023 at 06:18 PM (GMT -05:00)

Check out the Pollo Pizza Recipe in Urdu. Learn how to make best Pollo Pizza Recipe , cooking at its finest by chef Irfan Wasti at Masala TV show Flame On Hai. Check all the Pakistan Cooking recipes in Urdu of Masala TV. Also Check Pollo Pizza Recipe , ingredients and complete Method.
Pollo Pizza is a true Italian delight you won't be able to hold yourself back on. All these calories are honestly worth it!
Watch this Masala TV video to learn how to make Pollo Pizza , Pot pie and Crème Brûlée Recipes. This show of Lively Weekend with Host Kiran Khan aired on 6 December 2020.
Ingredients for Base:
Flour 2 cups
Oil 1/4 cup
Salt to taste
Yeast 1 sachet
Sugar 1 tsp
Ingredients for Topping :
Pizza sauce ½ cup
Chicken grilled ½ cup
Cheese 1 cup
Olives as required
Rocket leaves as required
Method:
Knead the dough by mixing all the dry ingredients. Add the wet ones & knead & keep aside.
After 2-3 hours take it out & roll it in the desired shape. First put the pizza sauce then add the toppings & bake it in the pre heated oven for 30 minutes or when the crust is cooked & the cheese melts. serve hot.
Ingredients :
Puff pastry 1 roll
Chicken cubes 1/2 kg
Carrot 1/4 cup
Corn 1/4 cup
Peas 1/4 cup
Chicken powder 1 tsp
Black pepper 1/2 tsp
Butter 1 packet
Salt to taste
Milk 1 cup
Flour 1 tbsp
Egg 1
Oil as Required
Method:
In a pan heat oil add chicken fry for 5 minutes. Add mixed vegetables mix & cook by adding some water. Let it simmer. In another pan add butter let it melt add flour , cook for a min then add milk. Pour this into the chicken mixture & mix well . Now pour this in a pan cover with the puff pastry & bake until golden from top
Ingredients:
Milk 2 cups
Sugar 1 cup
Cream 1 packet
Gelatin powder 1 tsp
Egg yolks 4
Method:
Separate egg yolks add sugar & cook them in a pan on slow heat. Remove from fire & slowly add milk to it stirring continuously. Add cream at this point along with gelatine. Grease a remekin add this mixture to it & bake in a water bath until firm. Top it with sugar & bake for a few more seconds

Pollo Pizza Recipe in Urdu and English
At Masala TV you can check complete Pollo Pizza Recipe in Urdu and English. This is one of the best recipes by chef Irfan Wasti at Masala TV show Flame On Hai. Check out the other best recipes of chefs Irfan Wasti.
Top relevant recipes of Pollo Pizza Recipe in Urdu