Qeema Karahi Recipe | Tarka | Rida Aftab | Desi Food | Masala TV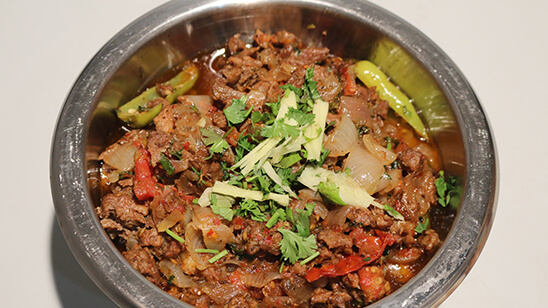 Jun 08, 2023 at 02:32 AM (GMT -04:00)

Check out the Qeema Karahi Recipe in Urdu. Learn how to make best Qeema Karahi Recipe , cooking at its finest by chef Rida Aftab at Masala TV show Tarka. Check all the Pakistan Cooking recipes in Urdu of Masala TV. Also Check Qeema Karahi Recipe , ingredients and complete Method.
Qeema Karahi is one of the best desi dishes ! Full of exquisite flavors and great taste.
Watch this Masala TV video to learn how to make Qeema Karahi , Khattay Aalu Gravy and Chapli Kabab Masala Recipes. This show of Tarka with Chef Rida Aftab aired on 1 July 2021.
Ingredients:
Beef (mince) ½ kg
Tomato 4
Coriander Leaves 1 bunch
Green Chilies 12
Onions 250 gms
Ginger Garlic 1 tbsp
Whole Coriander 1 tbsp
Red Chilies (crushed) 2 tsp
Black Pepper (crushed) 1tsp
Yogurt 250 gm
All spice Powder 1 tsp
Finely Chopped Ginger 2 tbsp
Salt 1 tsp
Cumin Seeds 1 tsp
Oil ½ cup
Method:
• Marinate mince with yogurt, ginger garlic, salt and mix leave for half an hour.
• In a pan, heat oil and fry on high flame.
• After this, add cumin seeds, whole coriander and chopped green chilies.
• Add onions cut into square shapes, garam masala powder, crushed red chilies, crushed black pepper, coriander leaves, let it simmer for 5 minutes and removes from the stove.
• Now take it out in a dish and sprinkles finely chopped ginger.
Ingredients:
Boiled potato ½ kg
Yogurt 250 gram
Crushed red chili 2 tsp
Tomato 250 gram
Water ½ cup
Sugar 1 tbsp
Vinegar 4 tbsp
Mustard seeds 1 tsp
Nigella seeds 1 tsp
Fennel seeds 1 tsp
Salt 1 tsp
All spice powder 1 tsp
Chopped garlic 2 tsp
Oil ½ cup
Finely cut ginger 1 tbsp
Green chilies 4
Salt ½ tsp
Method:
Beat sugar, yogurt, water and oil in a bowl. Then put it in pan and let it cook and whisk spoon continuously. When water gets dries and oil comes up then blend tomatoes and add. Now add crushed red chili, vinegar, mustard seeds, nigella seeds, fennel seeds, salt, garlic and all spice powder and saute gravy well. Then add cut potatoes. Add 2 cup water and cook on low flame for 10minutes. Now add finely cut ginger, green chilies and vinegar and turn off the flame.
Ingredients:
Chapli kabab (beef) ½ packet
Spring onion 250gm
Green chilies 6
Tomatoes 250gm
Capsicum 2
Black pepper 1tsp
Salt 1tsp
Soy sauce 2tbsp
Worcestershire sauce 2tbsp
Butter for frying
Oil as required
Coal 1piece
Method:
Heat oil and fry kabab then remove and break it . Now heat butter in a pan sauté veggies, now add chapli kabab, soy sauce , Worcestershire sauce , salt and black pepper mix well . finely give smoke and serve.

Qeema Karahi Recipe in Urdu and English
At Masala TV you can check complete Qeema Karahi Recipe in Urdu and English. This is one of the best recipes by chef Rida Aftab at Masala TV show Tarka. Check out the other best recipes of chefs Rida Aftab.
Top relevant recipes of Qeema Karahi Recipe in Urdu