Sticky Rice Recipe | Fusion Food | Chef Mahnoor Malik | 24 October 2022 | Masala Tv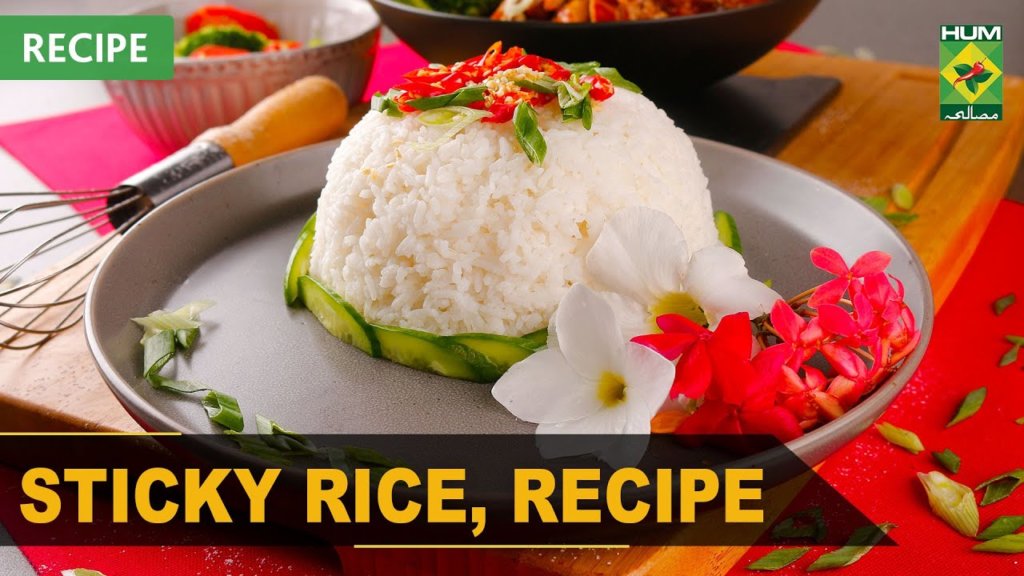 Mar 25, 2023 at 02:10 PM (GMT -04:00)

Check out the Sticky Rice Recipe in Urdu. Learn how to make best Sticky Rice Recipe , cooking at its finest by chef Mahnoor Malik at Masala TV show Fusion Food. Check all the Pakistan Cooking recipes in Urdu of Masala TV. Also Check Sticky Rice Recipe , ingredients and complete Method.
This show is hosted by Chef Mahnoor Malik who gives a personalized fusion twist to international cuisines. The chef also makes sure to provide a calorie count for each dish in the episode as well as to mention healthy substitutes for the ingredients to ensure a touch of healthiness in her dishes.
We bet you have never had as good as this one! This Sticky Rice is one of the best in
#stickyrice #chickenteriyaki #masalatv
Watch this Masala TV video to learn how to make Sticky Rice And Chicken Teriyaki recipe.
Fat 0.5 gm
Carb 55.5 gm
Protein 5.3 gm
Calories 220
Serving size 2-3
Ingredients
Rice 1.5 cup
Water for boiling
Rice vinegar 80 ml
Sugar 2-3 tbsp
Salt 1-2 tbsp
Method
Boil rice and then steam it until soft and water has been evaporated properly.
Now transfer the rice into bigger pan and allow it to cool.
Add rice vinegar, sugar and salt. Mix it well.
Serve hot.
Serving size 2 -3
Fats 8.8gm
Carbs 0.6gm
Protein 27.3 gm
Calories 182 gm
Ingredients For Sauce
Corn starch/ corn flour 2 tsp
Water ¼ cup
Soy sauce ½ cup
Brown sugar ½ cup
Rice vinegar 2 tbsp
Garlic powder ¼ tsp
Grated ginger garlic ¼ tsp
Chicken powder 1 packet
Chicken stock 1 cup
Butter 1 tbsp
For The Chicken
Boneless chicken (breast or thigh) 2-3 pieces
Sesame seeds toasted 1tbsp
Green onion 1-2
Method
In a saucepan add butter, sauté grated ginger garlic.
Then add all other ingredients and stir over medium high heat until it reached boiling point.
Keep on stirring lower the flame until thickened.
Now give a grill mark to chicken and cut into pieces add sauce and chicken together cook until it is done.
Add sesame seeds and green onions.
Serve with your favourite other dish and veggies.

Sticky Rice Recipe in Urdu and English
At Masala TV you can check complete Sticky Rice Recipe in Urdu and English. This is one of the best recipes by chef Mahnoor Malik at Masala TV show Fusion Food. Check out the other best recipes of chefs Mahnoor Malik.
Top relevant recipes of Sticky Rice Recipe in Urdu